LVCVA security officers diverted to drive Rossi Ralenkotter, Oscar Goodman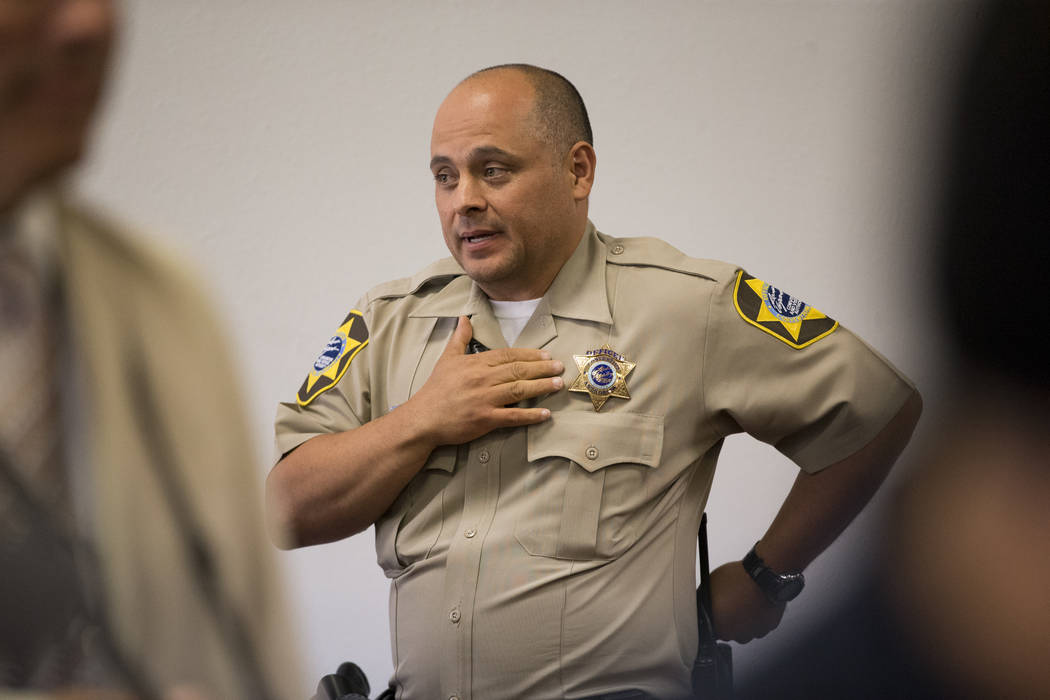 Las Vegas Convention and Visitors Authority security officers left their posts on a Sunday morning in 2014 to drive CEO Rossi Ralenkotter to the home of former Mayor Oscar Goodman, then picked him up that afternoon to take him home.
A few months earlier, officers stationed at the Las Vegas Convention Center took Ralenkotter to Guardian Angel Cathedral and picked him up an hour later, records show.
And in 2015, a guard and his bomb-sniffing dog waited about an hour outside a doctor's office near Sunrise Hospital & Medical Center until Ralenkotter emerged for his ride, a local resident said.
The officers, paid by taxpayers and charged with protecting visitors, drive Ralenkotter and Goodman to casinos, shops and other locations so often that staff members dubbed the dispatches "Rossi runs" and "Oscar runs" in security logs obtained by the Las Vegas Review-Journal.
Expand to see selected LVCVA security logs from 2016
Over three years, the logs show officers escorted Ralenkotter about 60 times to destinations across Clark County, including trips to the airport, his home and other events. Goodman, a former chairman of the board that oversees the convention authority, is not an employee at the agency, but he also received nearly 60 rides to places like The Cosmopolitan, the Golden Nugget and The Linq.
Goodman has a contract that pays him $72,000 annually to serve as the agency's tourism "ambassador," greeting visitors with a martini in hand and a showgirl on each arm. His wife, Las Vegas Mayor Carolyn Goodman, is a current authority board member.
John Delaberta, a retired Henderson businessman who saw the officer and dog wait for Ralenkotter, said the transports are not an appropriate use of taxpayer resources.
"You make $700,000, and (Ralenkotter) can't afford a $20 cab fare?" he said. "That's the height of gall."
Ray Suppe, the authority's executive director of customer safety, said the rides are not common and serve multiple purposes.
"There's an element of protection in it and which is where I'm coming from as the head of security — that is my job — and there's also an element of efficiency," he said. "It's so infrequent that it's crazy that we're even having these conversations."
Suppe said security is necessary because Ralenkotter is the "face of tourism" in Las Vegas and the authority's "number one asset."
"There have been threats, specific threats (but) I'm not going to talk about that," he said.
Ralenkotter gave a different explanation, citing health reasons in a statement provided after the Review-Journal's interview with Suppe.
"Over the last few years, on rare and intermittent occasions, members of our security team have driven me both from location to location on property, as well as to and from other destinations in the community as I performed my duties for the Convention Authority," he said in the statement, which did not address specific locations and home transport. "Unfortunately, I occasionally needed this assistance as a result of extensive chemotherapy that made it difficult to drive myself."
Convention authority spokeswoman Jacqueline Peterson said security officers have been transporting executives and VIP guests within the 200-acre convention center and around Las Vegas since the early 2000s. Before then, the agency had a "dedicated vehicle" for that service, she said.
Curtis Kalin, a spokesman for Washington, D.C.-based Citizens Against Government Waste, said Ralenkotter's health problems do not justify the public expense.
"While everyone has sympathy for anyone afflicted with a horrendous disease, all public officials need to answer for every questionable use of taxpayer dollars," he said.
SECURITY QUESTIONS
The security escorts are an additional perk for an employee who last year received more than $768,000 in compensation from the authority. That pay, funded mostly by taxes on hotel rooms, includes a $9,000 annual car allowance, records show.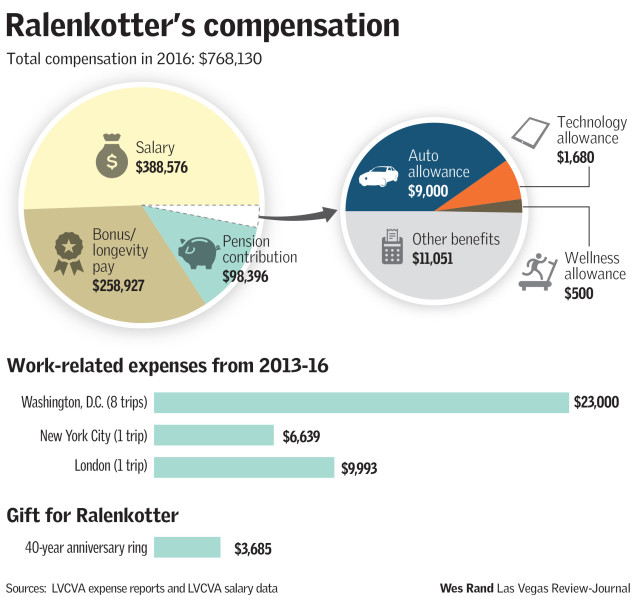 After a June 13 convention authority board meeting, Ralenkotter, flanked by security and public relations staff, fled a reporter's questions about his use of guarded transportation. Peterson said Ralenkotter was not available to answer questions. Oscar Goodman hung up the phone when a reporter called for comment.
Suppe said some of the trips could have included dignitaries within the massive convention center grounds.
But the practice takes officers, at times with bomb-sniffing dogs, away from their assigned duties of protecting convention visitors.
"Eddie will be doing a Rossi escort at 2100 so don't give him any calls!" an April 23, 2015, dispatch log entry says.
Expand to see selected LVCVA security logs from 2015
In October 2014, an officer noted he was "off property on Rossi run." Three months later, an officer was reassigned from an escort at the convention center to shuttle Ralenkotter.
Delaberta said he witnessed authority officer Woody Chan and his bomb-sniffing dog, Cooper, wait nearly an hour outside a doctor's office near Sunrise hospital until Ralenkotter emerged. Chan told Delaberta that he and Cooper were on an "executive transport."
Last year, taxpayers spent nearly $5 million on pay and benefits for the 70 security officers, supervisors and dispatchers at the authority, salary data show. The average pay and benefits for officers were $64,000 a year.
It is difficult to quantify the costs of the service because the logs often do not include specific locations or how long an officer was out of service, but a one-way trip from the convention center to Ralenkotter's current home takes 22 minutes without traffic.
Suppe could not address specific calls but said he does not allow the transports to interfere with visitor safety. "If we're able to push (an officer's) calls or area of assignment to another officer, then I do not see an issue with that at all," he said.
UNUSUAL PERK
In state government, only Gov. Brian Sandoval has full-time security and transportation service, said Jim Wright, director of the Department of Public Safety, which runs the governor's protection program.
No other top elected officials, including the secretary of state and the attorney general, or appointed state staff members have security or chauffeured transport, he said.
John Kuhlman, a spokesman for the Nevada System of Higher Education, said none of the chancellors he has served over the past 20 years received a driver.
In Las Vegas, a deputy city marshal accompanies Mayor Carolyn Goodman to public events for security reasons, and they may ride together, city spokeswoman Margaret Kurtz said in an email. No other staff member has that service unless there is a specific threat.
Oscar Goodman, who preceded his wife as mayor, also had a marshal who went to events with him when he represented the city during his three terms, Kurtz said.
But his predecessor, Jan Jones Blackhurst, did not.
"It may have been a different time, but I never had a driver," said Jones, a senior executive with Caesars Entertainment Corp. "I believe that practice began with Oscar's administration."
Clark County does not provide transportation or security for elected or appointed officials.
PERSONAL TASKS
The security logs at the convention center detail the use of officers for both work-relatedl and apparently personal trips.
Ralenkotter called dispatch on Sunday, Oct. 6, 2013, at 12:08 p.m. for a ride to Guardian Angel Cathedral and a return trip about an hour later.
The church website shows a weekly service on Sundays at 12:30 p.m.
Suppe said he did not have any information about the reason for the call, but it could have been for a memorial service or some other business purpose.
In some cases, Ralenkotter appears to use security staff to run errands for him, records show.
"Rossi wants an officer to come and get Rossi's keys, search his car for his cell phone, take the keys and cell phone (if found) back to his office," a June 24, 2015 log entry says.
On the same day, an officer brought a box from Ralenkotter's car to his executive assistant's vehicle. A January 2015 log says: "Call Cashman check the mtg rm lobby area to see if they can find Rossi's glasses."
Also in June, the logs say an officer was sent to remove luggage from the car of Ralenkotter's executive assistant and put in Ralenkotter's vehicle.
Security officers also frequently delivered Goodman's paycheck to his convention center office.
INCOMPLETE RECORDS
It is not clear how often officers travel to Ralenkotter's house on the far south side of the city, but there are at least six references in the logs to Ralenkotter being driven, picked up or canceling a request for service from his home.
The records show weeks without any transports but also short periods of time with a large number of rides.
From April 9 to April 14 last year, there were five notations in the logs for security officers to transport Ralenkotter. The officers were scheduled to drive Ralenkotter from his house to the South Point. He cancelled that ride. Officers picked him up at the Wynn and at the valet parking at the Forum Shops at Caesars, records show. There were also two additional references to "Rossi" being picked up without locations.
Expand to see selected LVCVA security logs from 2014
In 2014, Ralenkotter went to Goodman's house on a weekend and was driven by security staff. "On Sunday 1-5-2014: Have security pick up Rossi at 0900 and take him to Oscar Goodman's house." The same logs also direct security to pick Ralenkotter up from Goodman's house and take him home at 1:15 p.m.
Suppe said Ralenkotter receives the most transports and Goodman the second most while other executives rarely use the service. Most of the records in the security log provide no details about trips made for Goodman.
"If we are available and we can provide that level of protection to Oscar Goodman, I'm going to provide it," Suppe said. "I believe it's my duty to provide protection to public figures that we have working here."
The Review-Journal is owned by the family of Las Vegas Sands Corp. Chairman and CEO Sheldon Adelson. Las Vegas Sands Corp. operates the Sands Expo and Convention Center, which competes with the LVCVA-operated Las Vegas Convention Center.
The Review-Journal owns the domain lasvegas.com, which is subleased to the Las Vegas Convention and Visitors Authority. The sublease terminates Aug. 2.
Contact Arthur Kane at akane@reviewjournal.com. Contact Jeff German at jgerman@reviewjournal.com. Contact Brian Joseph at bjoseph@reviewjournal.com. Follow @ArthurMKane, @JGermanRJ and @bjoseph1 on Twitter.