At EDC, costumes, not music, matter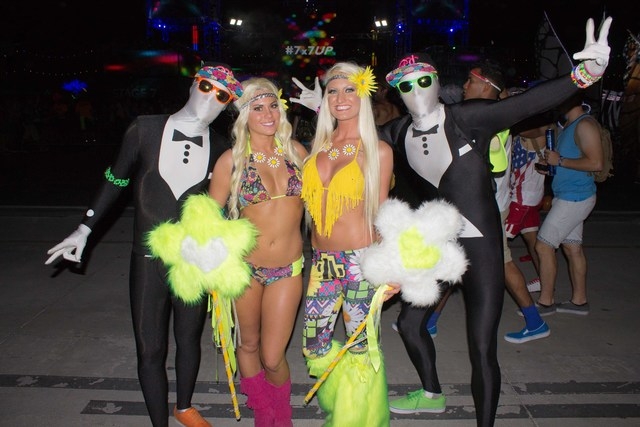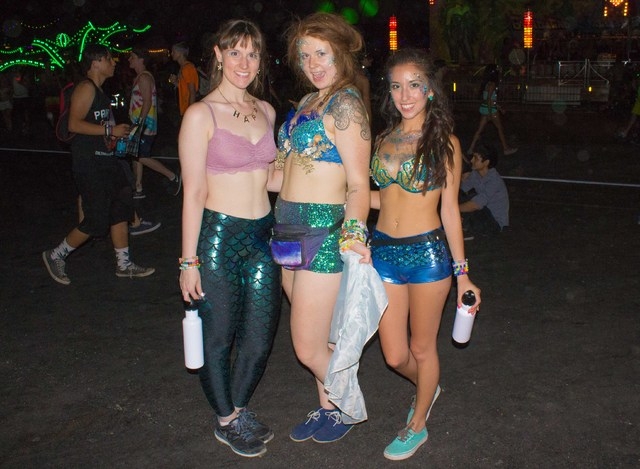 Electric Daisy Carnival really lives up to its name. It's electric in every sense of the word, there are daisies on every fixture and in everyone's hair and it truly, at the heart of it, is a carnival.
Of the 143,000 people in attendance, no one is dressed casually — some people aren't really dressed at all. But when it comes down to it, according to many festivalgoers, it's all about the outfit.
"It's almost everything," said a couple from Calgary, Canada, dressed in Hawaiian-themed hula outfits. "It's better than Halloween, I mean, it's three days of a party, you better dress up!"
Now think about how much an average Halloween costume costs. Maybe $60 for a decent one, or in the $100 – $200 range if you're looking for something extra special or scary.
How about spending as much as $500 for an outfit you'll only wear for one weekend of the entire year?
Oh, yeah. That's commonplace at EDC.
One festival-goer laid out the numbers: "I spent $375 on my EDC ticket, $530 for my plane ticket from New York City, $380 on my costume, and I think I ended up paying a few hundred for our suite at the Cosmopolitan, too," she said. "It's all worth it, though. I've saved for this for over a year."
In EDC's fourth year at the Las Vegas Motor Speedway, those who go make it a point to embrace the "wonderland" aspect of it all. Many describe the event not as an EDM festival, but as a 3-day adult playground unlike any other.
"Some of these girls are crazy. I mean, as a dude, I can just wear some shorts and I'm good," said one man, "Pasties can't really cost that much, can they?"
Many of the young women slathered in beads, touting tutus and wearing all things "glow" won't even remember how much they spent on their outfits because they end up building their complicated costumes throughout the year from different pieces.
But for many, the costume is the first thing they plan after tickets are bought.
Derrich Ortiz, 22, is one of what seems to be a surprisingly small number of locals at EDC this year. Dressed in a 1920s gangster getup, he sticks out like a sore thumb in the crowd of bikinis and shirtlessness.
"What makes it fun is carrying the old 'mobster Las Vegas' homage," he said. "I'm used to the heat, I can handle the suit. I've just loved mobsters since I was a kid."
Ortiz was a regular EDC-goer in southern California, and when he moved out to Las Vegas, he lucked out with the announcement of a new location for the Carnival — Las Vegas.
"Las Vegas is the perfect place for all (of the borderline nude costumes). It's really hot here, so it's definitely an excuse," he says. "The outfit is important — it's Las Vegas, a perfect place to advertise yourself."
Megan Demello and Renee Bollier, from the Los Angeles area, spent an entire year and almost as much as their ticket designing their outfits for this year. "We've planned these since the last EDC," said Bollier. "I'm a swimsuit designer, so it was just natural for me."
Another group of 20-somethings from out of state spent three days making their mermaid-themed costumes. Their skin shined, their hips glimmered, and their moods reflected just that image.
They said something that many others confirmed: "It's the party. We're here for the music, of course, but the party is just one lovely addition."
In just about every large group of people together at EDC, some will stick out more than others with their outfits that cost, at the very least, $300.
But why go through all the trouble?
Well, if reading "The Great Gatsby" in high school taught you anything, it's that no party is a true party without decoration.
Contact Kristen DeSilva at kdesilva@reviewjournal.com or 702-477-3895. Find her on Twitter: @kristendesilva