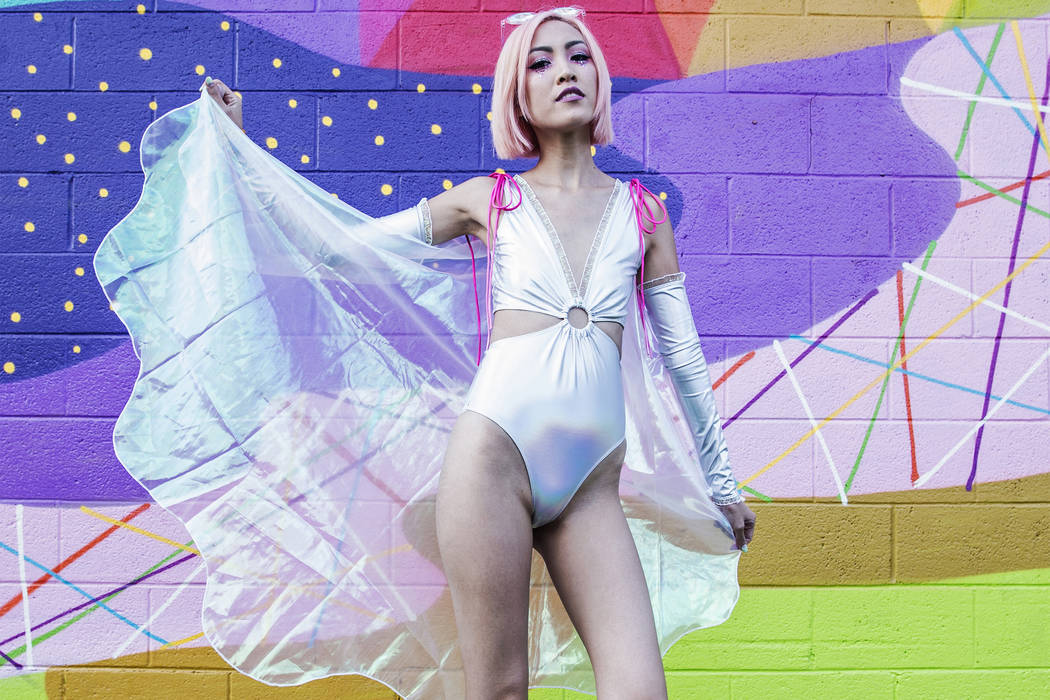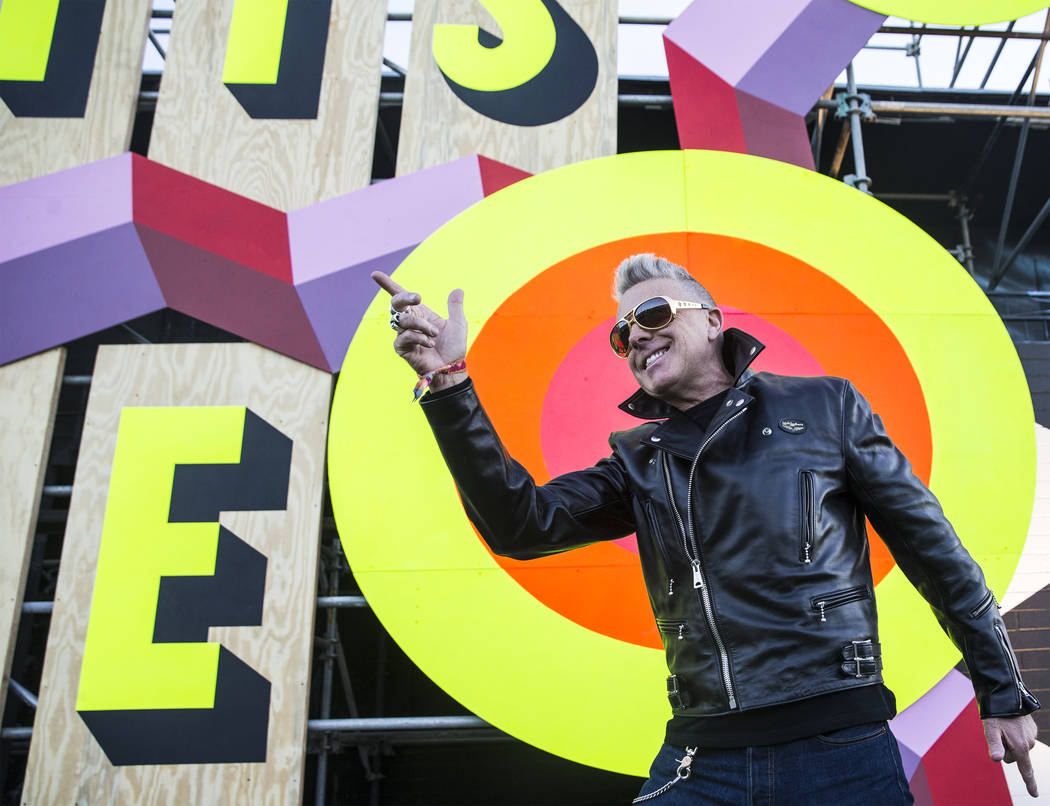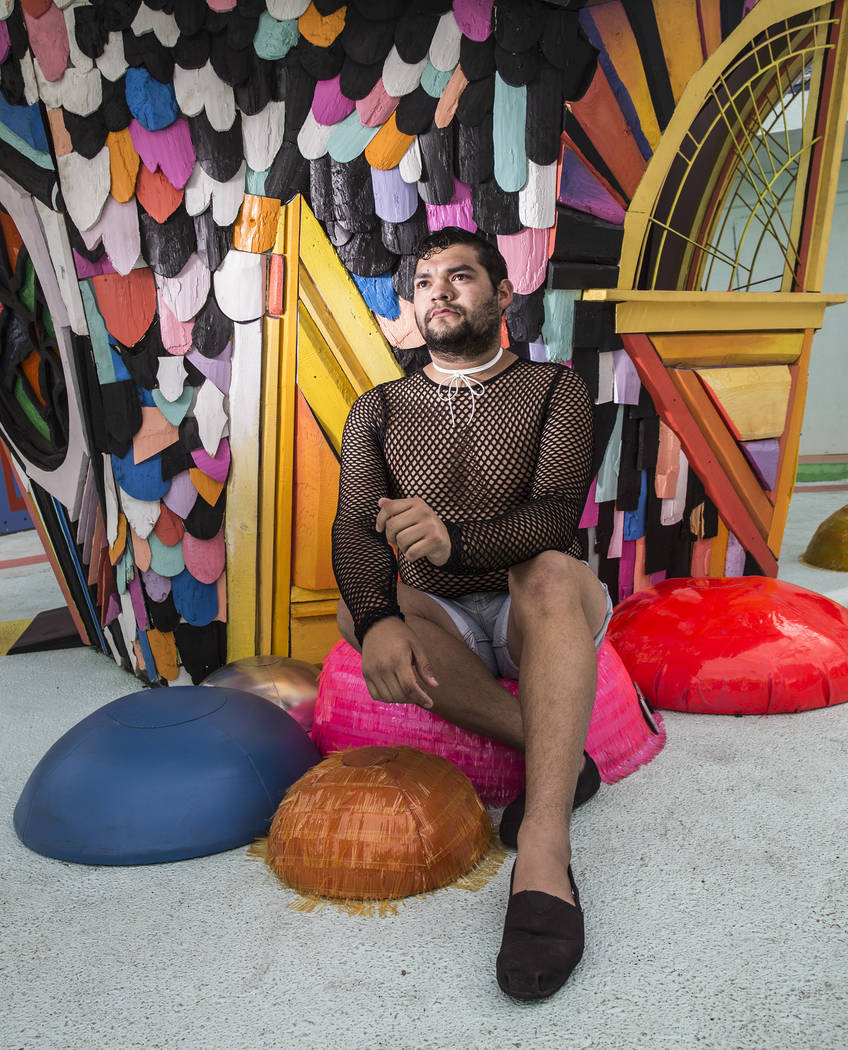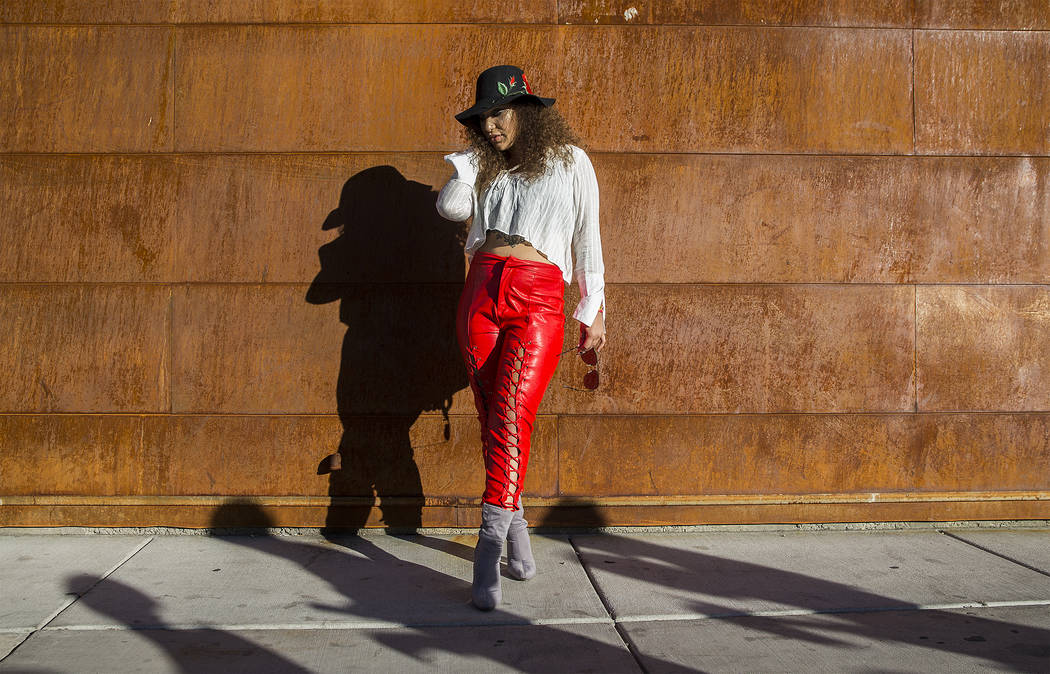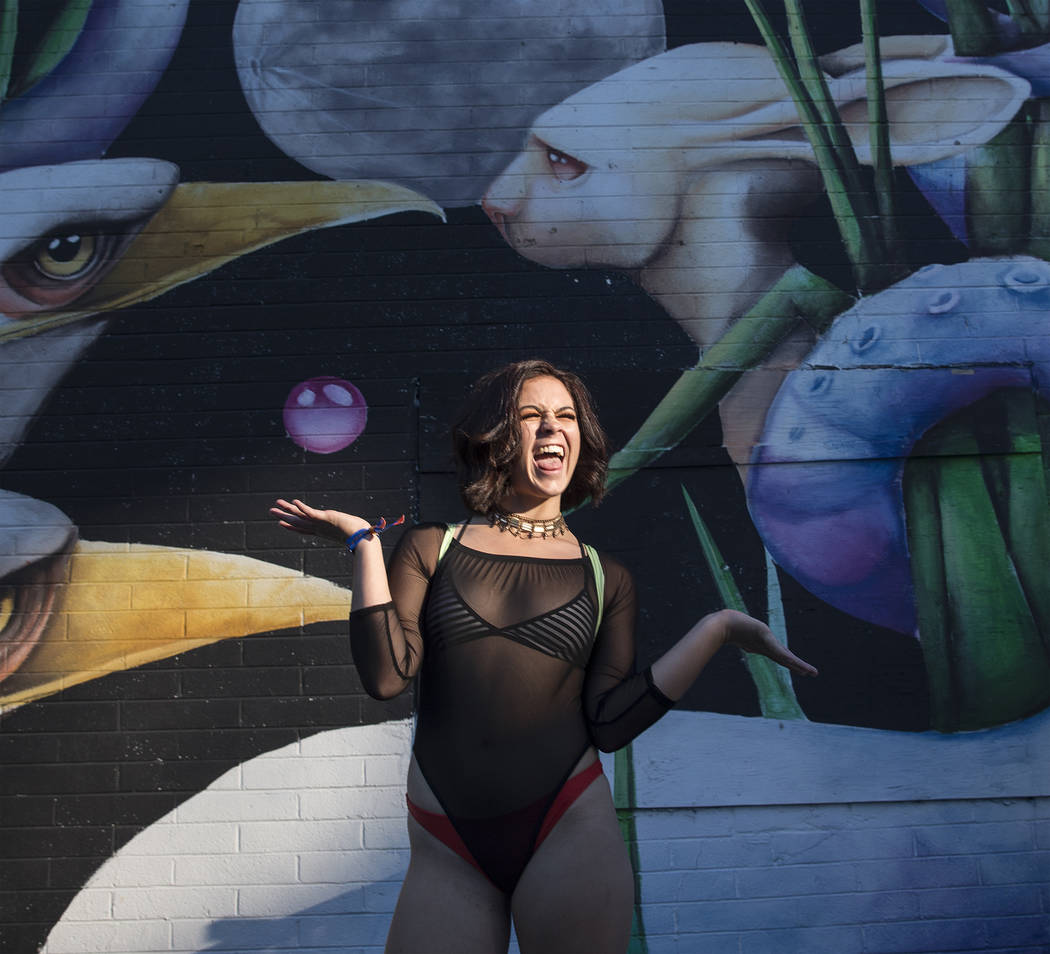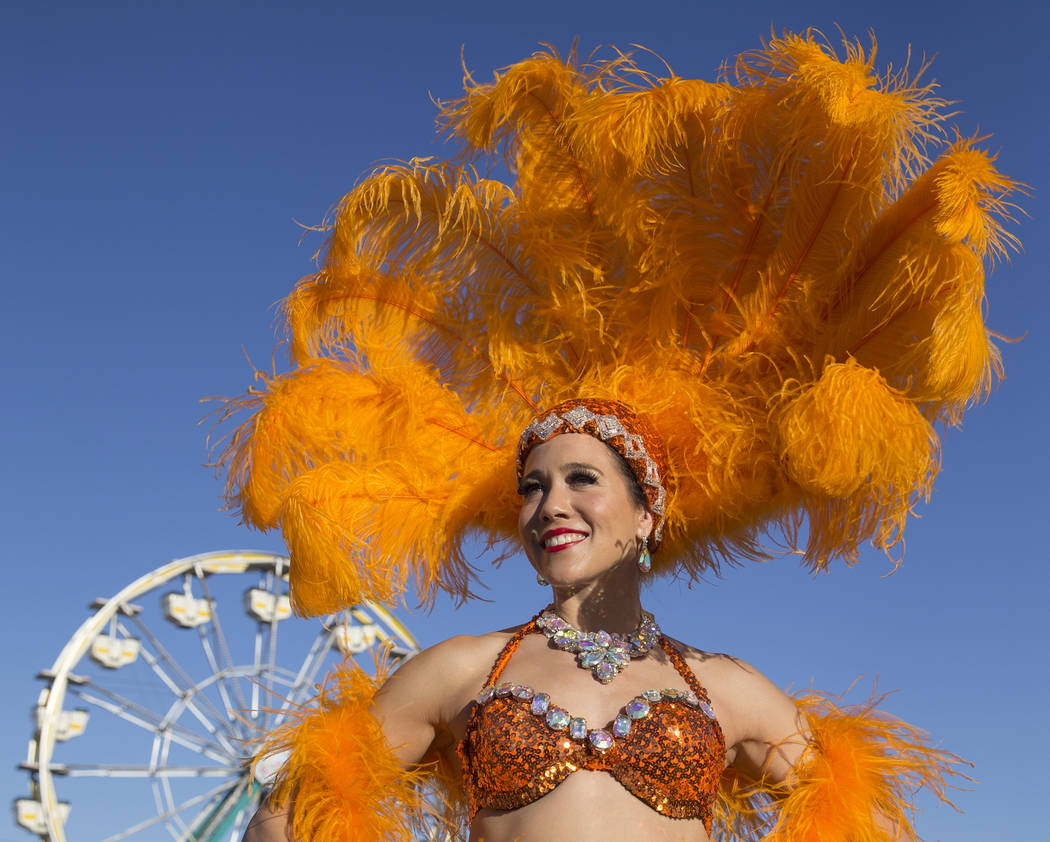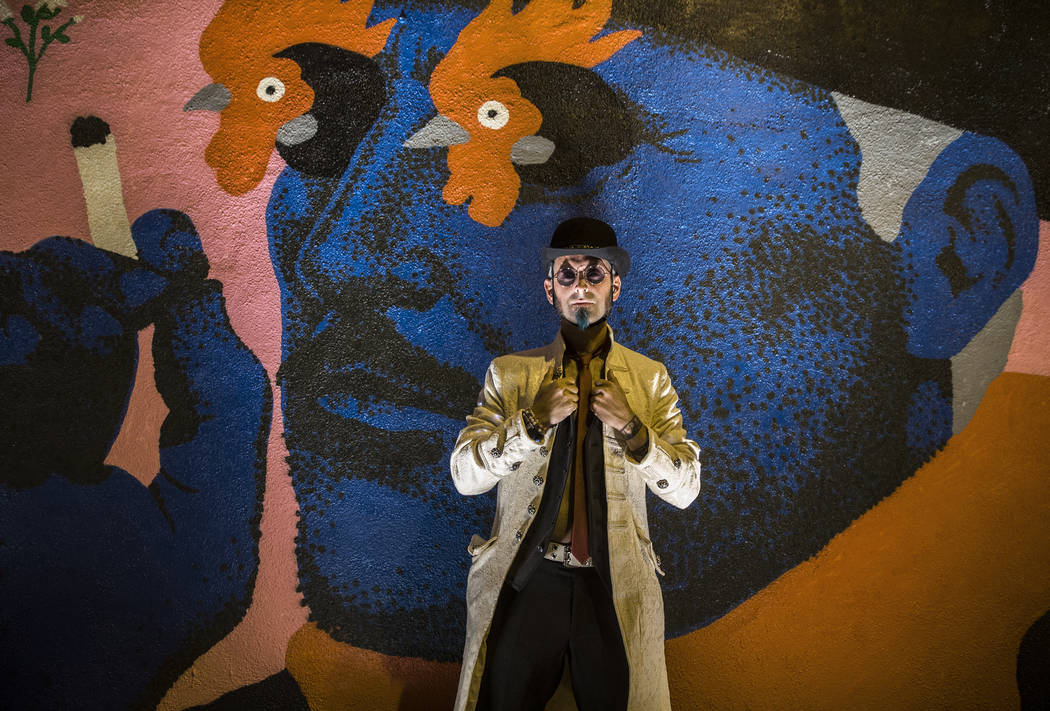 Fashion was beautiful — or at the very least, unique, provocative or outrageous — at Life is Beautiful. Here are just a few of the fest's sartorial flights of fashionista fancy:
Kirsten Pegeron
Age: 24
From: Los Angeles
Occupation: beauty blogger
Kirsten Pegeron during the first day of the Life is Beautiful. Benjamin Hager Las Vegas Review-Journal
What inspired this ensemble?
I was going for a rocker, edgy vibe, and then I decided when I was walking out the door that I wanted to do a Stevie Nicks type of thing.
Why Stevie Nicks? Why not Stevie Nicks? She's an amazing goddess and a fashion icon.
So the pants —real leather? Faux leather.
What kind of reactions have you gotten? A lot of people loved it, but I got more comments about my hair. It's my regular hairstyle. I just fluff it out and walk out the door.
I see a tattoo peeking out there, what is it of? It is of a longhorn bull with antique framing around it. I love rural; I grew up riding horses.
What other celebrities are fashion icons to you? I love Lady Gaga, but I don' t think I would ever be able to dress like her.
Emma Singleterry
Age: 20
From: Sacramento, Calif.
Occupation: College student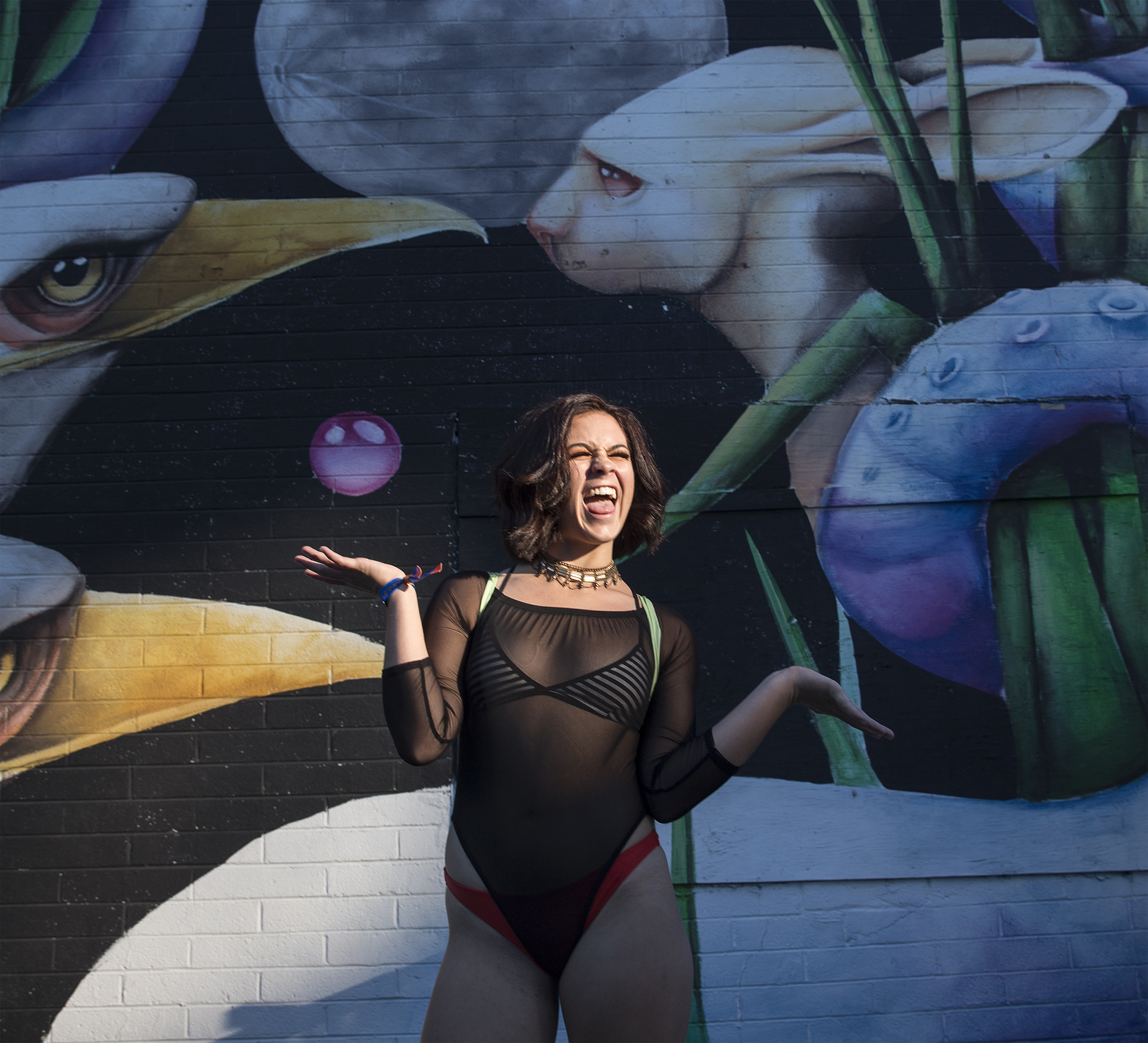 Emma Singleterry during the first day of the Life is Beautiful. Benjamin Hager Las Vegas Review-Journal
How did you choose this outfit?
I have this Instagram girl crush on a model, Sydney Carlson. Her outfits are very — oh, how would you describe her style? — it's like B-boy/steampunk.
The necklace — very chic.
I found it and it's just a gold, very chunky choker. It reminds me of Cleopatra.
Do you feel you're standing out from the crowd?
I saw people have mesh with skirts, less steampunk-y but more girly or retro looks that were similar but not the same. I felt this outfit is way more on the EDM or EDC spectrum, instead of what most people were wearing. It's like wearing a bikini.
You look like you could jump in a pool. Honestly, I could have.
Chloe Doan
Age: 28
From: Orange County, Calif.
Occupation: hairstylist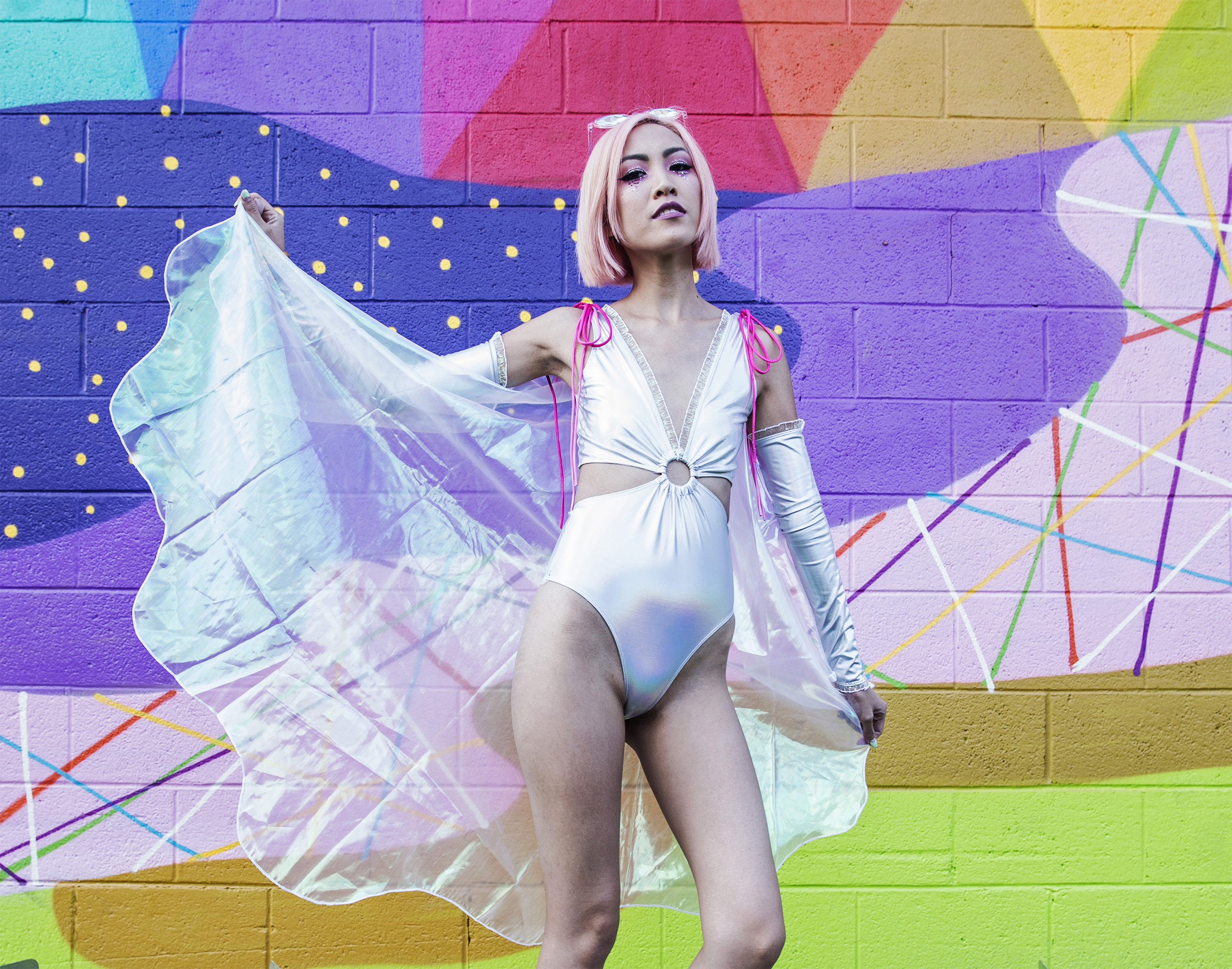 Chloe Doan on 7th Street outside the Meow Wolf Art Motel during the first day of the Life is Beautifu. Benjamin Hager Las Vegas Review-Journal
Since you're a hairstylist, tell me about your hair.
It' a classic bob cut, bleached, and I did it myself, white with soft pink.
What was the motivation behind this look?
I really wanted to be sparkly and shiny for the festival. I think it's very blinding. And I like looking a little like an alien. I like science fiction and anime.
How would you describe it?
It' a holographic, Spandex material. I found it on the website dollskill.com. It's a body suit, with these arm-warmers attached. It's like a combination between a cape and wings. You can tie it at the shoulders to make the cape. The gloves are very elegant.
Is wearing a cape and wings comfortable?
Surprisingly comfortable. But it's nippy at night and I didn't bring a jacket. That was a poor decision on my part.
James Nowlin
Age: 43
From: Prescott, Ariz.
Occupation: massage therapist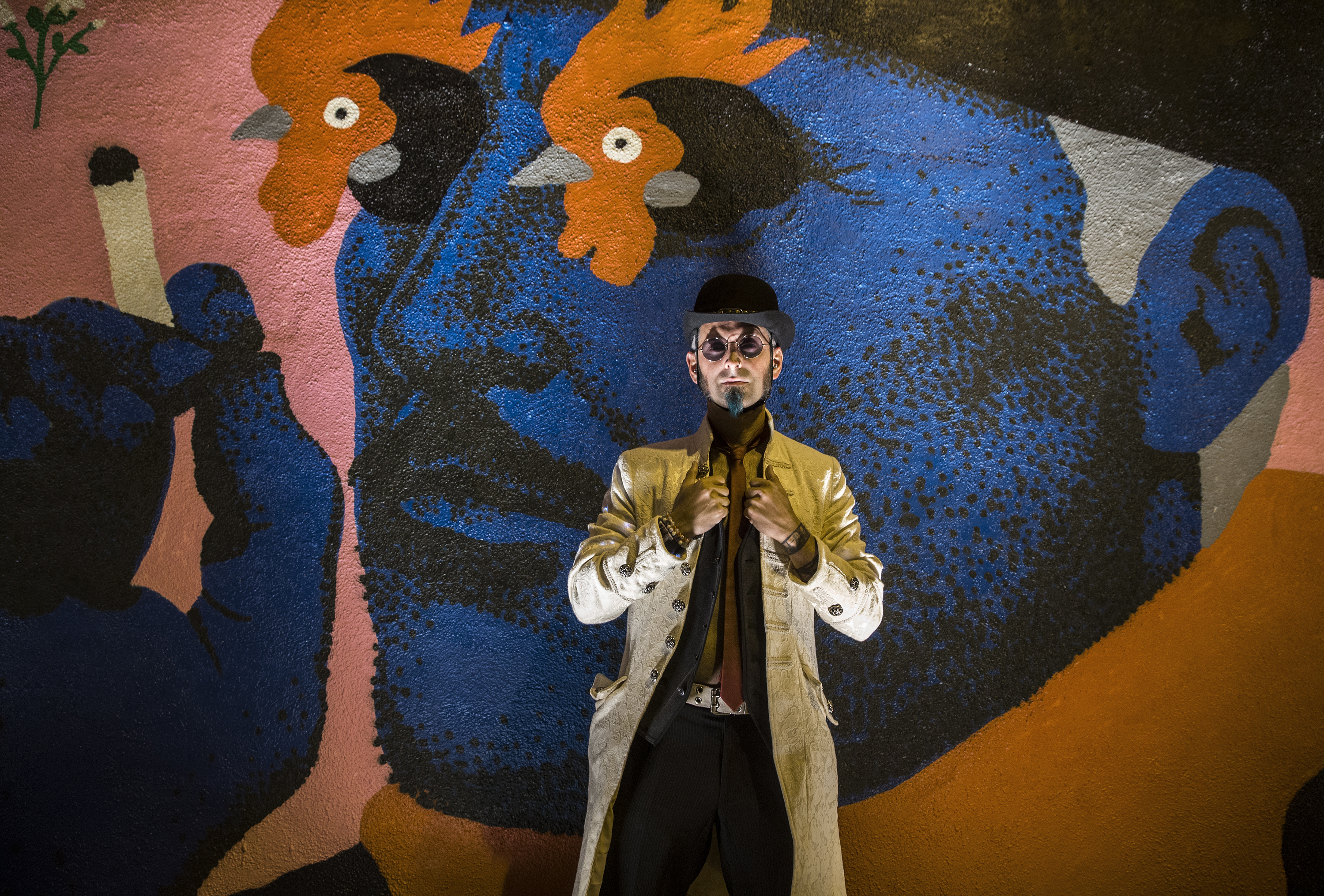 James Nowlin wearing a hand-made steampunk outfit during the first day of the Life is Beautiful. Benjamin Hager Las Vegas Review-Journal
Your outfit looks like something out of "A Clockwork Orange."
It's funny, I've had people say that, but it wasn't inspired by that. Maybe it's because of the bobby hat, but the jacket is pretty different. The characters in "A Clockwork Orange" are wearing white jumpsuits with suspenders. It's an iconic movie. It would be different if it was a (expletive) movie.
You seem very creative in how you combine the elements of an ensemble.
I do a lot of costuming and I go out to music festivals as a fire dancer, so it's always on my radar to look for pieces I can assemble for fire dancing and festivals.
Tell me about the cool jacket.
It's an inexpensive jacket I found on Amazon, shipped from China, embroidered, a fun texture. I sewed inside of the sleeve to give it more of a ruffled look, and so the cuffs aren't hanging past my wrists.
Are those lights flashing on your arms?
Yes, I wove LED lights inside the sleeves on both arms so I could turn those on and off. I ran them up the shoulders and back as far as I could.
What kind of reactions have you gotten?
It gets a lot of compliments, from men and women — probably more men hug and high-five me and are like, "Dude, I love your look."
Is the blue-dyed soul patch just an interesting accent to the whole look?
It's a bit faded. Normally it's brighter. I alternate between blue and purple.
Lesley Bear
Age: 39
From: Los Angeles
Occupation: dog groomer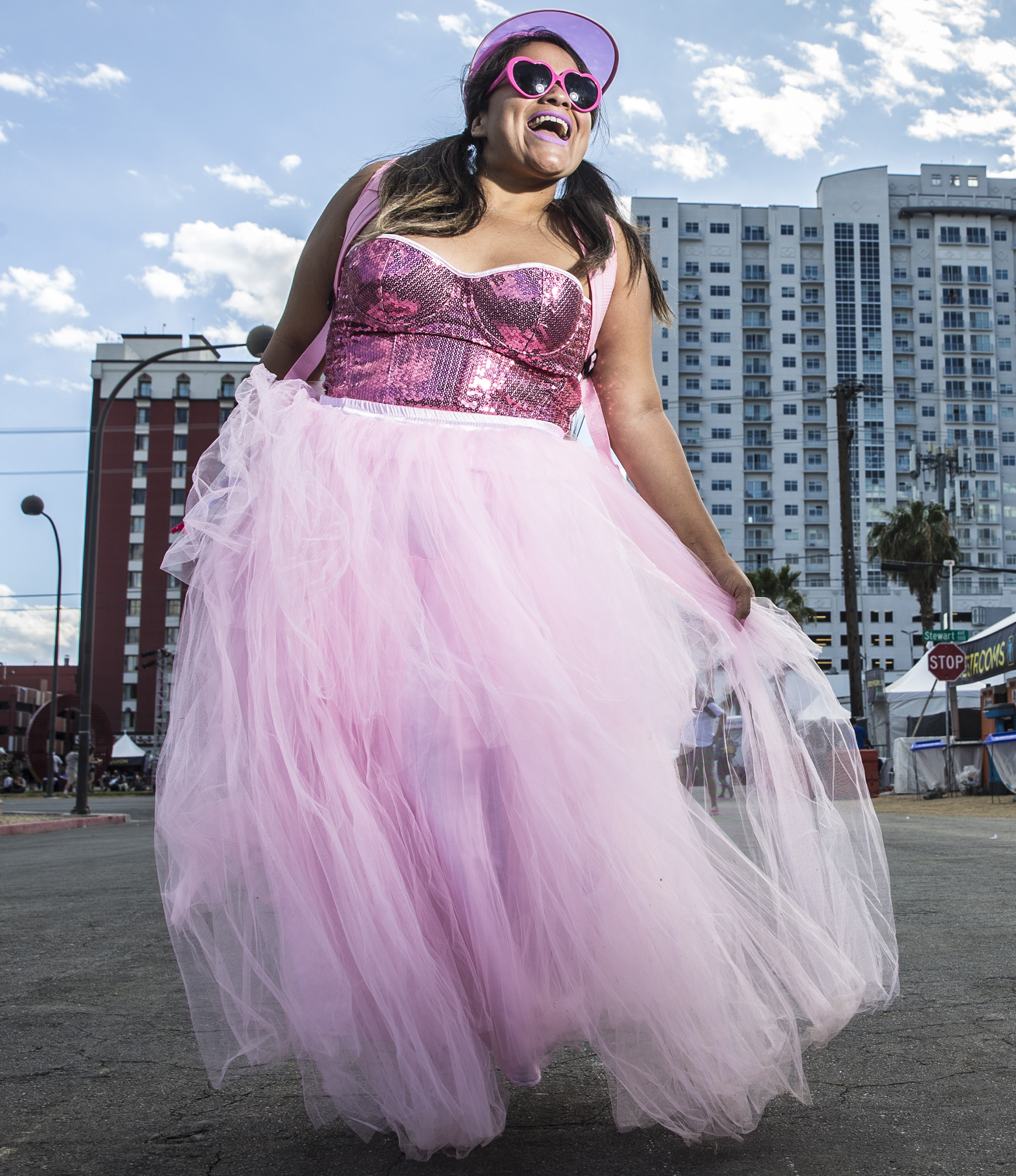 Lesley Bear at the Downtown Stage during the second day of the Life is Beautiful. Benjamin Hager Las Vegas Review-Journal
You certainly didn't skimp on the frills. What inspired this outfit?
Well, I love pink. I used to go to raves when I was a lot younger. I think it's inspired from that scene.
What is the material?
It's pink tulle. The top is just sequins. I just pick out things I really like, like tulle and anything sparkly and chic. It's a really fun outfit to wear, it's not something you wear every day, although I would love to.
And your headgear? It makes me want to deal a hand of poker.
That's a visor, which is inspired by the raves. I don't see a lot of kids wearing it now at festivals. I think they are into the flower crowns.
You must enjoy this outfit, judging by that grin on your face.
When you dress up you're really expressing how you feel, and pink is a happy color.
Eric Gutierrez
Age: 20
From: Las Vegas
Occupation: retail worker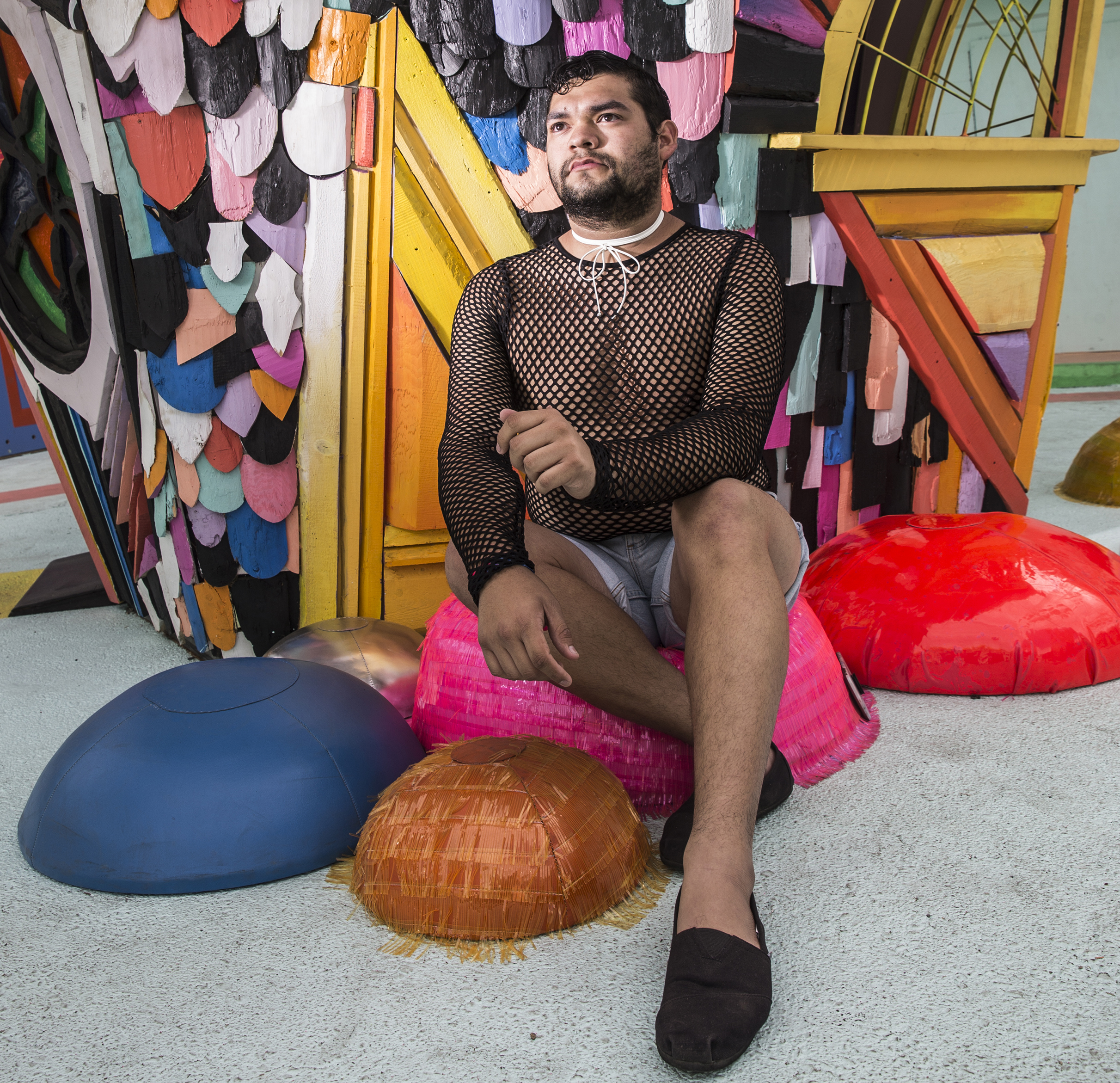 Eric Gutierrez at the Meow Wolf Art Motel during the second day of the Life is Beautiful. Benjamin Hager Las Vegas Review-Journal
Intriguing combination of …?
It's a fishnet body suit and I paired it with denim shorts. And a choker.
So you love the see-through vibe?
I think that body positivity is very important, so I strive to show that I don't really care what people think of my body, just going out and being myself.
How did shorts offset the ensemble?
Because it was the long sleeves with the body suit, I didn't want to take away from that, so the shorts are an added little bonus and I did wear them high-waisted so it would give my body a little more slimness.
Looking at everyone around you, did you feel uniquely dressed?
I did. I saw women and girls wearing mesh and body suits, but to see a guy to do it, it's something different.
Nicki Everhart
Age: 32
From: San Francisco
Occupation: receptionist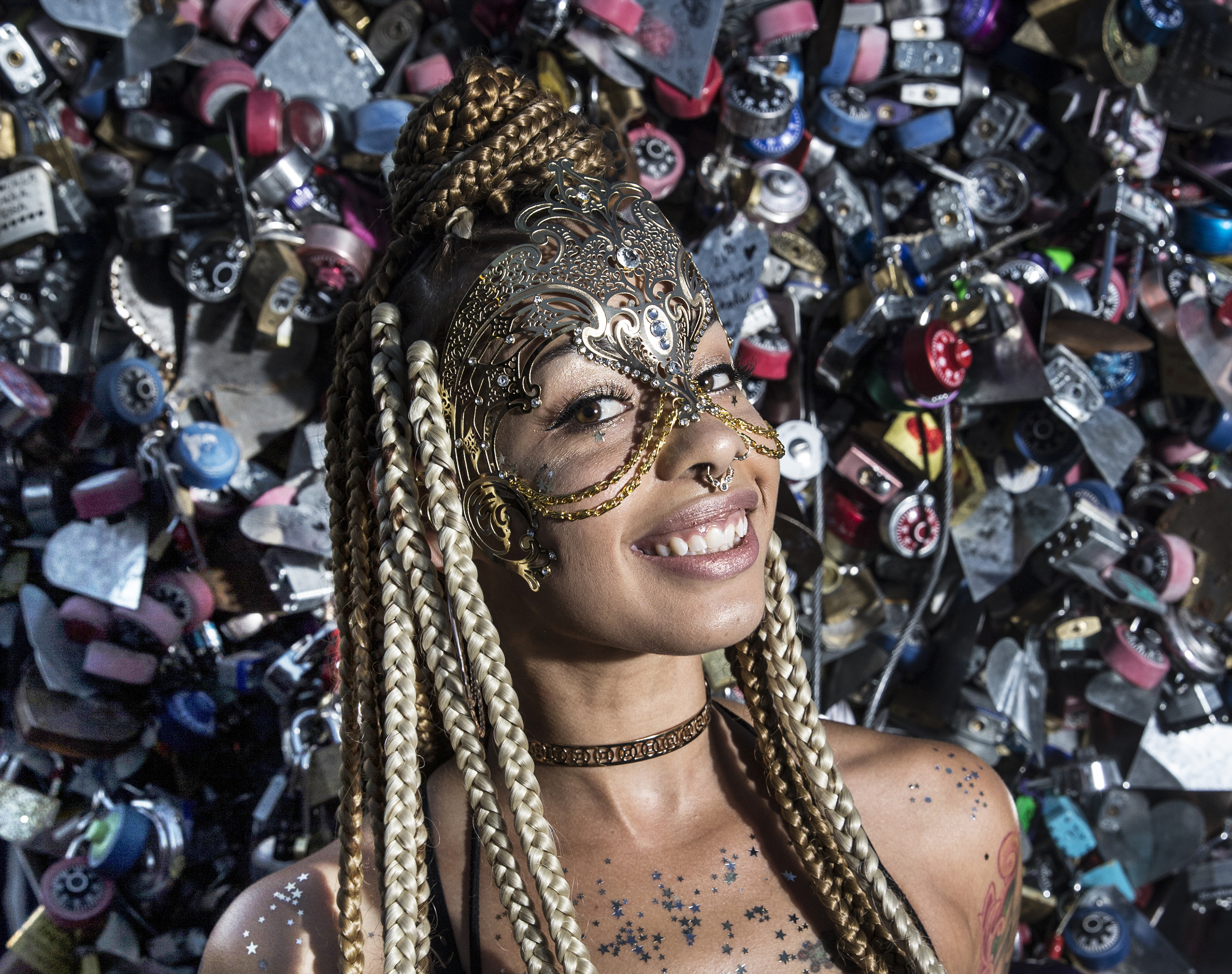 Nicki Everhart wearing an Egyptian-inspired outfit at the Downtown Container Park during the second day of the Life is Beautiful. Benjamin Hager Las Vegas Review-Journal
Wow, this makes you look like you just stepped out of Mardi Gras.
My friend and I like to wear really gold, sparkly outfits together.
And that funky face mask?
I got it from a little market in L.A. I had been saving it for Life is Beautiful and I wanted to wear it because it's spectacular.
Is that comfortable to wear all day or does it become a nuisance?
There are three little indents on my nose which kind of hurt, but other than that it's fairly comfortable, considering that it's metal.
So I guess an outfit like this just screamed out for glitter.
Yes, and we put it on our butts too. It's with the belly dance chain-belt down there.
The fancy hairdo certainly fit with your theme, although I'm not sure there actually is a theme.
I love to do braids, and diamonds in my hair too. It was all just inspired by our imagination. The reason to go is to express yourself, especially at Life is Beautiful. It's about art and music and expression. It's the perfect place to do it.
Reaction from fellow festivalgoers?
A lot of high-fives.