Liberace's rings on display at jewelry exhibit in Paris
Updated May 27, 2017 - 5:04 pm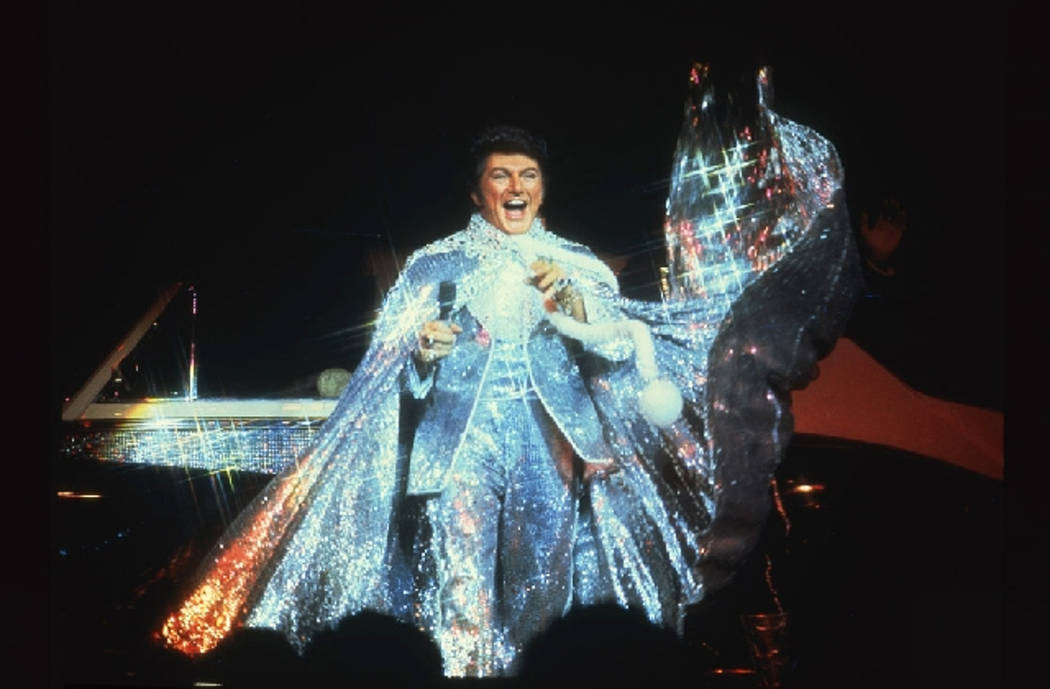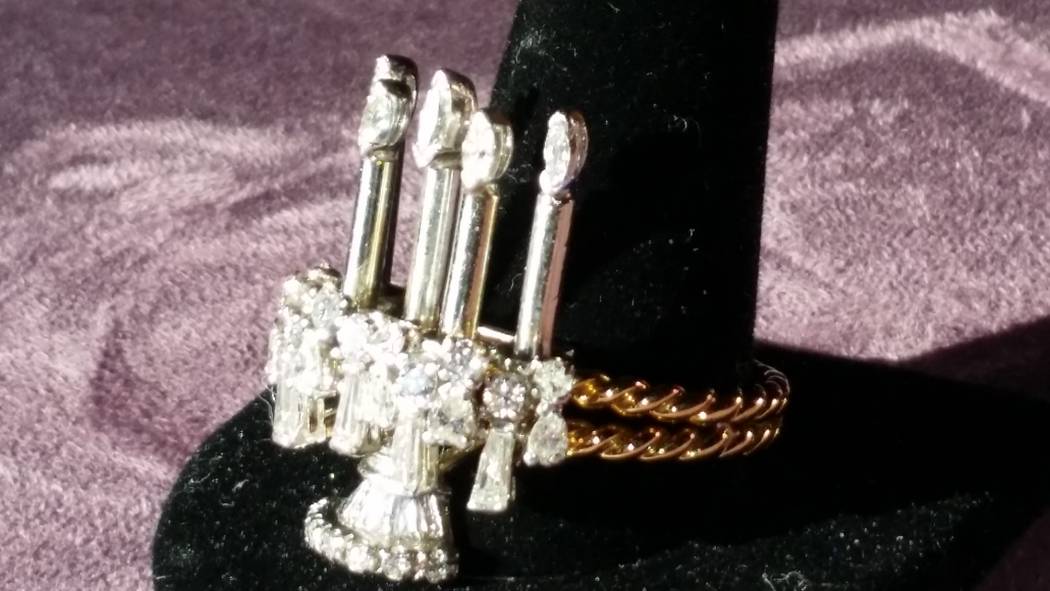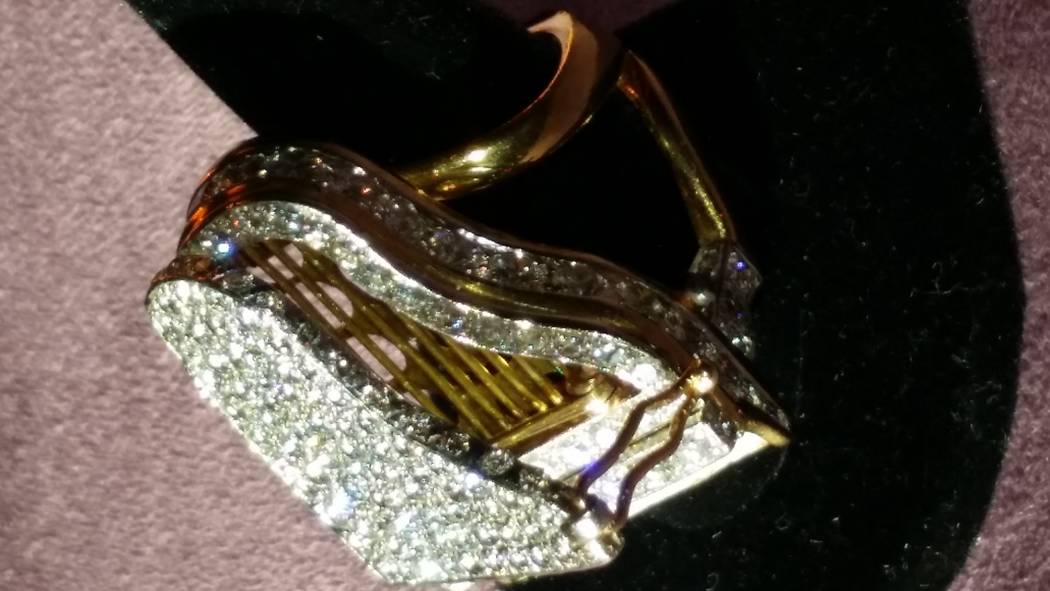 As far as Jonathan Warren can tell, Liberace never played a concert in Paris.
But Liberace did visit Paris for the first time in 1955. And by the time he returned home — and on subsequent trips he took to Paris over the years — he was a smash, says Warren, chairman of the Liberace Foundation for the Creative and Performing Arts.
This month, the blingy-before-bling-was-a-thing Las Vegas icon returned to Paris — if only in spirit — through "Medusa: Jewelry and Taboos," an exhibition at the Museum of Modern Art of the City of Paris.
The exhibition, which runs until November, explores the cultural and artistic significance of jewelry over the ages. Among the 400 pieces on display — along with pieces from Cartier and Van Cleef & Arpels and other prestigious jewelry makers — are some of the characteristically flamboyant accessories once owned by the characteristically flamboyant Liberace.
Among them: Rings fashioned in the form of a candelabra and a piano, as well as a Swarovski-encrusted grand piano, just because.
The Liberace pieces are on loan from the Liberace Foundation, and Warren says the size and "audacity" of the baubles qualify them for inclusion because they changed the course of both jewelry and entertainment. Think, Warren notes, of the 100-plus songs of every genre in which Liberace is name-checked, as well as the jewelry preferences of an entire generation of hip hop artists.
Not to mention, of course, Liberace's influence in the onstage styles of performers ranging from Elvis Presley to Michael Jackson to Prince.
Liberace died 30 years ago, and during a career that included numerous shows in Las Vegas, he became known not just for his musical abilities but for his over-the-top stage presence, out-there costumes and affinity for bangles and shiny jewelry. But Warren says the foundation spends "a lot of time and effort bringing to the attention of the public the cultural impact of Liberace. We've gone (into) a little deeper look at what these things mean and the impact Liberace had."
So, Warren was flattered when the Paris museum asked to have a few of Liberace's pieces for the exhibition, which is named after Medusa, the mythical snake-haired monster that legend had it would turn to stone anybody who looked at her. The exhibit's curator, Anne Dressen, has said that jewelry, like Medusa, "creates an attraction or repulsion for the one who stares at it, wears it or makes it."
Warren says the exhibition marks "the first time Las Vegas has made the Paris Museum of Modern Art or anything of that magnitude in Europe. Even more exciting is that Las Vegas' icon is Liberace and they see him for what he is, which is that he had this incredible impact."
Warren considers the "most iconic" Liberace pieces on loan to the exhibition a piano ring given to Liberace by hotel magnate Barron Hilton and a candelabra ring given to him by William Harrah of the Harrah hotel chain.
The exhibition will run until Nov. 5. However, Southern Nevadans who can't make the trip to Paris can check out the Liberace Garage at the Hollywood Cars Museum, 5115 Dean Martin Drive, which houses more than a half-dozen cars used by Liberace onstage, as well as outfits, chandeliers and other artifacts.
Or, fans can sate their own hunger for ostentatious jewelry by purchasing a limited-edition Paris-edition commemorative piano ring, which looks just like the one Liberace had. It's available for $349 from the Liberace Museum Store via the foundation's web site (www.Liberace.org) and proceeds benefit the nonprofit foundation.
Contact John Przybys at jprzybys@reviewjournal.com or 702-383-0280. Follow @JJPrzybys on Twitter.
Inspired by Liberace
Without Liberace and his tastes for gaudy jewelry, outlandish stage costumes and shiny baubles, the hip hop lifestyle might not even exist. Neither, a solid argument can be made, would there have been the onstage personas of Elvis, Prince and Michael Jackson that fans know and love.
Without Liberace to pave the way, who would have known that, when it comes to entertainment, excess in the name of showmanship is no vice? Even today, three decades after his death, Liberace's name serves as universal shorthand for "blingy" and "over-the-top."
It's why Usher once could describe himself as "a flamboyant type of guy, a cooler version of Liberace" and everybody knew exactly what he meant.
So it's not suprising that hip hop artists often have paid homage to the guy from West Allis, Wis. in their music. Count among this universe of latter-day Liberace fans Mobb Deep, G-Unit, Ghostface Killah, 2Pac and Nelly, while artists as disparate as Lady Gaga and Tim McGraw also have name-checked Liberace in their songs.
And while it's uncertain that this has to do with anything other than solid rhyming: How weird is it that, in "We Didn't Start the Fire," Billy Joel's rundown of mid-20th century historical figures, he lists Liberace between boxer Rocky Marciano and philosopher George Santayana, the latter best-known for his observation that "those who cannot remember the past are condemmed to repeat it"?