Mayor's Faith Initiative holds workshop to help those with addictions
September 21, 2016 - 6:36 am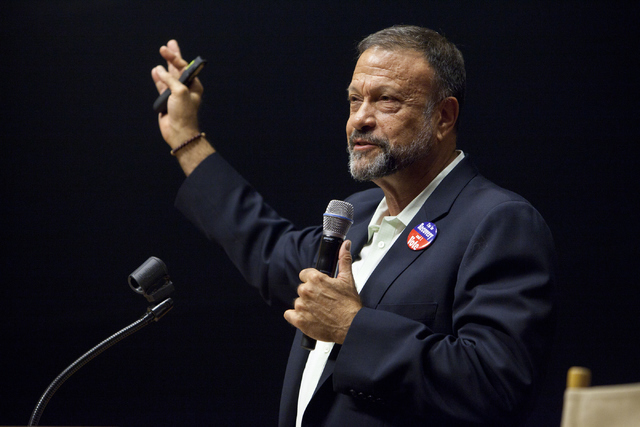 The local faith community is ramping up its efforts to help people struggling with addiction and recovery.
"I think we are on a brink of a major movement happening in Las Vegas," said the Rev. Rodney Holmstrom, national West Coast director of Celebrate Recovery, a Christian-based approach to recovery from addictions. "With the court system, the mayor, all kinds of faiths coming together in agreement that addictions are killing our families and we need to do something about it, is unique. It's going to impact big things because of what they're doing today."
Valley faith leaders recently attended a workshop in City Hall Council Chambers called "Let's Start the Conversation — Addiction &Recovery: Finding a Foundation in Faith." The idea was to increase awareness about the significant role the faith community can play in dealing with addiction and recovery.
The six-hour workshop was sponsored by Foundation for Recovery in partnership with the city of Las Vegas Mayor's Faith Initiative.
"We have city residents suffering from substance abuse and addiction, and it affects not only those individuals but their families, their co-workers, their neighbors," Mayor Carolyn Goodman said. "By engaging the faith community, we hope to make a bigger impact on eliminating community problems, such as addiction."
Sharing their personal stories, several speakers stressed the importance of eliminating the stigma surrounding addiction and focusing on a solution that involves religious groups being fully engaged and armed with information about local resources.
"You're talking about a subject that really hits the heart of every faith leader," said Nyla Christian, the event organizer and facilitator who openly shares how faith has turned her life around. "If the faith community had more core competency training to understand what addiction is, we would be stronger."
Christian, a recovery activist, is the lead for the initiative's addictions committee and is involved in several organizations dedicated to the subject. She stressed the importance of conversations about this "taboo" topic.
"(This event) brings to the table all the components that are involved in helping a person rebuild their lives," Christian said. "We don't need to silo ourselves. We need to talk about it with each other."
Mayor Pro Tem Steven Ross spoke openly about his family's public battle with his son's heroin addiction and emphasized the need to rally together to find a solution.
"Addiction affects all of us," Ross said. "We need all of you."
Keynote speaker Dr. Mel Pohl, medical director of the Las Vegas Recovery Center, presented evidence that addiction is a brain disease, not a sin or behavioral malady. He believes changing the perception of addiction is critical in fighting the disease.
"These potent drugs get into the brain in an attempt to feel good and over the course of time makes them (addicts) feel bad," Pohl said. "And that is what it's like in active addiction, the pleasure is gone. They are not getting high to have fun, they are pursuing relief."
Without treatment, Pohl said addiction is progressive and deadly.
Jimmy Monaghan, pastor of care at Canyon Ridge Christian Church who holds leadership positions with Celebrate Recovery, spoke openly about his battle with addiction and how a pastor played an integral part in saving his life.
"I went to church as a last-ditch effort," Monaghan said. "And I had a pastor who wasn't scared to look me in the eye and tell me I was loved, sought after, forgiven and free."
He went on to challenge those attending the workshop to overcome any fears about how helping those with addictions might affect their overall ministries.
"The mayor of Las Vegas and our civic leaders are saying let's unite," Monaghan said. "So why are we scared to unite?"
Other speakers included spiritual leader, author and senior rabbi Mark Borovitz; Las Vegas Municipal Court Judge Cedric A. Kerns, who developed and implemented H.O.P.E. Court; and Bea Aikens, founder of the national advocacy group Lanie's Hope, author and board member of the Nevada Council on Problem Gambling.
During the afternoon portion, an interactive roundtable discussion gave audience members a chance to ask questions from a panel of experts, including clinical addiction specialists and Sikh, Christian and Jewish clergy members.
The idea for the workshop came after the Foundation for Recovery received funds to host a faith-based event that focuses on prevention, treatment and recovery. After the foundation partnered with the Mayor's Faith Initiative earlier this year, Christian was hired to facilitate the event.
"This was the perfect partnership," Foundation for Recovery Executive Director Denna Atkinson said about working with the Mayor's Faith Initiative. "We want faith leaders to understand prayer, God and faith are important, but there are other aspects, too."
According to Atkinson, the workshop is the beginning of an ongoing conversation needed to move the issue forward and change the perception of addiction in the community.
"We are barely scratching the surface," Atkinson said. "We can't let this stop here."
The Mayor's Initiative began in 2012 when Goodman invited more than 120 faith leaders representing more than 70,000 congregants and members of the Metropolitan Police Department to "help change the city through faith in action." They identified six community issues affecting congregations, including addiction, strengthening the family, jobs, education, homelessness and human trafficking. One year later the group added youth issues.
"The faith community cares deeply about the welfare of people," Goodman said in an email. "And it seems only natural for me to ask for their help in several key areas."
Recovery month
September is Recovery Month, sponsored by the Substance Abuse and Mental Health Services Administration, to increase awareness and understanding of mental health and substance use disorders and celebrate the people who recover. For more information, visit www.recoverymonth.gov/.
In Las Vegas, the 2016 Rally for Recovery is from 10 a.m. to 2 p.m. Sept. 24 at Las Vegas City Hall, 495 Main St. For more information, contact Jacqui Reyes at 702-257-8199, ext. 949, or by email, events@forrecovery.org.