Mom and pop shops labors of love
March 27, 2010 - 11:00 pm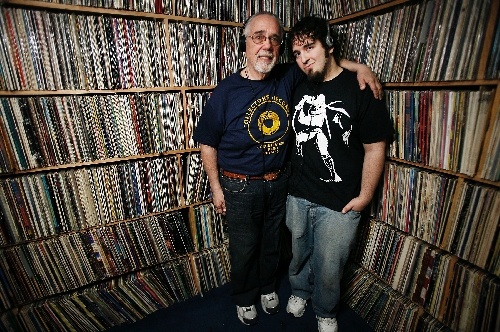 There are records everywhere, their sleeves blanketing just about every flat surface in square patchworks of color, like rock 'n' roll wallpaper.
Some are top-dollar treasures, such as the infamous "Butcher Cover" of the Beatles' "Yesterday and Today," which fetches $1,500. Others are equally rare curios, such as The Church of Satan's "Satanic Mass" LP, with a menacing looking pentagram on its cover.
It's hard to even find a light switch in some rooms while wandering through the three floors of omnipresent vinyl at Wax Trax, 2909 S. Decatur Blvd., which its owner, Rich Rosen, claims is filled with more than a million pieces of music, not to mention truckloads of memorabilia, from platinum Kenny Rogers plaques to Sex Pistols action figurines. There even are stacks of cassettes and CDs in the restroom.
For Rosen, who runs the shop with his son David, Wax Trax is a labor of love, a family business that he has helmed in Las Vegas for 11 years.
It's emblematic of the mom and pop shop, an idiosyncratic store with the kind of wares you're not going to find in chain outlets.
"This kind of stuff just isn't available in those places," David Rosen says. "It's unique just by the nature of it."
As such, Wax Trax has cultivated some famous clientele — the store entrance is framed with photos of such well-known patrons of the past and present as X frontman John Doe, Jimmy Castro, Frankie Valli and George Carlin — as well as an international following.
"People come in here from Japan, Austria, India," Rich says. "They all know of my shop."
According to Rich, the key to the success of a venture such as this is a hands-on approach.
"You'll find mom and pop shops with a worker running it, and not the pop or the mom, and that will put you out of business so quick," Rich says. "You have to be there. You have to know what you're doing."
This mentality is palpable at another successful family business, Studio 21 Tattoo Gallery, 6020 W. Flamingo Road, which is run by the husband and wife duo of Charlie and Becki Spencer, along with their son, Austin, and daughter, Courtney.
Together, they've created a bright, welcoming atmosphere at Studio 21, which runs directly counter to the gritty, grizzled vibe that has long been associated with tattoo shops, even if all that is mostly a thing of the past.
"It really sells the business," Becki says of the familial feel of Studio 21, which opened in 2003. "There are a lot of people who are intimidated by those kinds of places."
With its deep red walls, ornately painted skateboards mounted in the lobby area and sleek, gleaming decor, the place feels more like an art gallery than a tattoo joint.
Similarly distinct is the way the Spencers pool their talents — Charlie and Austin do the tattooing; Becki, who has a background in advertising, oversees marketing and administrative chores; Courtney works the front desk and greets customers.
"We're just normal everyday people," Austin says. "We definitely wanted to build something that was for normal people who just happen to like tattoos."
A similarly approachable feel greets visitors at Village Meat & Wine, 5025 S. Eastern Ave., which has been serving the community since 1977 and is operated by Tim and Chemaine Jensen, along with their son Chris.
A small, bustling shop where most every item — from fine cigars to gourmet olive oil — has been requested by a customer, the store specializes in raw game meats — rabbit, quail, elk, kangaroo, ostrich, to name but a few — as well as custom cuts, with Tim cutting and grinding everything himself.
But what really draws people in is the one-on-one service.
"It's a real personal business," Chemaine says. "A lot of people we know by first name."
Indeed, the Jensens often share recipes with customers, and if you need to know how to cook a particular meat, all you have to do is ask.
Spend 10 minutes here, and it's as if you've known the Jensens for years.
And that's the ultimate appeal of mom and pop shops such as these: The family is as important as the business.
"This is more than a job," Tim says. "This is us."
Contact reporter Jason Bracelin at jbracelin@reviewjournal.com or 702-383-0476.