Philanthropist couple honored at Camelot gala
November 25, 2012 - 2:04 am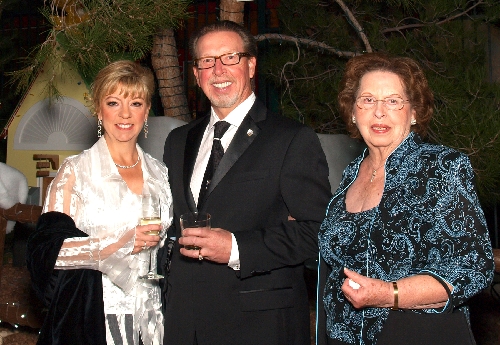 Susan and Bill Walters were honored Nov. 15 during Opportunity Village's annual Camelot gala at its holiday-themed Magical Forest.
The Walterses are quiet philanthropists who have dedicated themselves to helping people with disabilities at Opportunity Village.
It was announced at the gala that Susan and Bill Walters have donated $1 million and the Engelstad Foundation has given a $2 million challenge match as the first gifts for a project called "The Village," which will be built adjacent to the Engelstad Campus for Opportunity Village clients who have outlived their parents.
Guests entered the black-tie gala at a large, carpeted white tent with white leather furniture called the Ultra Lounge, where all partook of cocktails and passed appetizers as pianist James Hill entertained.
Guests Chuck and Stacie Mathewson, Phyllis and Jack Binion, Patricia and Michael Morrissey, Joan and Jim Hammer, Brad Friedmutter, Stephanie and Todd Bice, Mari and Thom Landers, Jewel Brooks, Jeri and Rick Crawford, Patricia and Richard Wright, Melinda and Bob Brown, Carol and Jack Sheehan, Annmarie and Fletcher Jones, Michael J. Brown, Darlene and Cliff Miller, Karen and Morgan Cashman, Thalia Dondero and Darilyne and Garry Goett strolled through the Magical Forest and bid in the silent auction.
Don Ross of Caesars Entertainment Corp. orchestrated the gourmet dinner prepared by executive chef Olivier Dubreuil of The Venetian and Palazzo. Chef Jean Hertzman of Harrah's hotel college at the University of Nevada, Las Vegas oversaw the food service volunteers.
The dinner took place in Opportunity Village's gymnasium, which had been transformed into a beautiful ice palace. The Priceless Affairs design team of Tory Cooper and Joan Hammer draped the ceiling and all the walls with pleated white material. Rhinestone and crystal chandeliers lit the room. White leather chairs accompanied the illuminated Plexiglas dining tables. The centerpieces were tall crystal vases holding all white lilies, roses and carnations.
Master of ceremonies was comedian Brad Garrett with a little help from golf commentator David Feherty. Songwriter, singer and actor Mac Davis provided entertainment.
Seven packages made up the live auction including a three-night trip to Kentucky for the 2013 Kentucky Derby with the Walters that received a high bid of $40,000.
Dessert and dancing followed with entertainment by Frankie Moreno and his band.
Other guests included County Commissioner Steve Sisolak, Las Vegas Councilman Bob Coffin and Mary Hausch, Robyne and Randolph Townsend, Beverly Rogers, Susie and Dan Lee, Diana Lanchart, Khistine and Robert Sheridan, Sandie and Ed Boyadjiana, Sig Rogich, Brenda and Mike Hengel, Sandy Marsh, Rob Dondero, Kelly Travis, Chris Trares, Linda Smith and Jeff Cooper.
Bill McBeath and Scott Sibella led the Camelot committee.