R-JENERATION: Performing a family affair for actor Eddie Mekka
January 22, 2012 - 2:03 am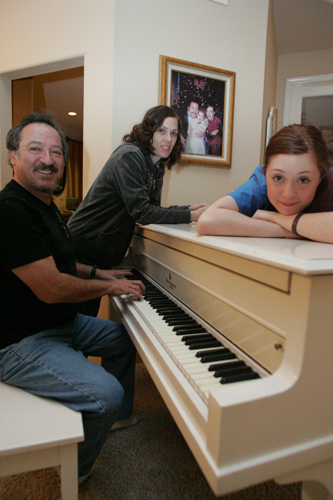 Seated casually at his white grand piano, twiddling the keys absentmindedly, Eddie Mekka becomes introspective as he reflects on his journey, his family and his memories.
Mekka, born as Edward Mekjian, has been known to most people as Carmine Ragusa, Shirley's love interest in the sitcom "Laverne & Shirley" from 1976 to 1983.
The character of "The Big Ragoo" reportedly was developed around his life away from the set — gymnast, dancer, boxer, singer. From humble beginnings, and a high school variety show, Mekka stepped into the theatrical limelight and earned a Tony nomination along the way. He's appeared in movies with Madonna and Bette Midler and has worked with Frank Sinatra, Tony Bennett and Gene Kelly.
Despite his success, Mekka says he is just a regular guy.
"I was just like Carmine — always the last guy to kiss the girl," says Mekka with a laugh.
The piano beckons him again, and soon the melody of "Rags to Riches" fills the room. Mekka sings a few lines — "I know I'd go from rags to riches, if you would only say you care" — and transports himself to the past.
"I got the performing bug when I was in high school in Worcester, Mass. I was the emcee for the Burncoat Senior High School Variety Show." Mekka and two friends introduced the acts and became the stars of the show. "The people loved our intros more than the acts. I was hooked on the applause."
After high school, Mekka performed in the community theater with the Worcester County Light Opera before attending the Boston Conservatory of Music. Soon after he arrived in Boston, the call of the theater seduced him to perform on the road at a chain of dinner theaters called Chateau De Ville. The show was "Promises Promises," and after the run Mekka left for New York with hopes of stardom rooted in his heart.
"I was still a kid when I got to New York. I lived in Harlem, drove a cab and made $50 a week. All I wanted was to perform. I taught beginner classes at Radio City. When the shows were in production, I sold candy at intermission. I took on any job that kept me close to the theater."
Mekka's eyes move to the ivories once again, and his fingers quickly find another song. Sinatra's "New York, New York" provides melodic background while Mekka shares advice for aspiring actors. "Go to New York. Humble yourself. Be tough. Get a job while you get some formal training. Nobody will make it happen but you. If you can survive the business in New York, you can succeed as an actor anywhere."
Mekka has proven the wisdom of that advice.
Onstage he's a one-man show, but at home in Las Vegas Mekka shares the stage with Yvonne Grace, his wife, and Mia, his 16-year-old daughter — all three are entertainers.
Seated on a leather sofa, Grace and Mekka open their photo albums and share memories of shows, holidays and family.
Grace, raised by a single mother who shared a love of classical music and the arts, found herself drawn to dance and the theater. The black-and-white photos of a smiling girl provide testament to a happy family and simpler times. "My mom was from Germany. She loved music and dance, and even though it was difficult, she enrolled me in dance when I was young and paid for it by selling plants at the San Diego Swap Meet. My mom was courageous, and she encouraged all of us by saying, 'Where there's a will there's a way.' "
Mekka interjects. "Yvonne's mom was a genius. She wrote a song and sent it to Jim Nabors, and he actually recorded it. Then she wrote a movie treatment and sent it to Gregory Peck. He sent her a letter suggesting that she make it a documentary set in Germany. She was so mad at the suggestion she tore up the letter from Gregory Peck!"
Grace headed to Las Vegas at 18 for a dancing audition. Over the years, she has performed in "Jubilee," "Enter the Night" and "The Lido," traveled on behalf of the Las Vegas Convention and Visitors Authority and served as one of Mayor Oscar Goodman's showgirls.
With both parents deeply engaged in entertainment, Mia Mekjian found herself loving music and the theater at an early age. "I remember Henry Winkler. He pinched my cheeks and kissed my forehead. He and Penny Marshall were really nice to me, but Cindy Williams was my favorite."
Mekjian was 4 when her father started touring with "Grease," and she rode on the bus for a week with the show. "Do you remember that trip?" Mekka queries as the pages in the album turn. "Yvonne put Mia in the cutest outfit. She was backstage, and I was onstage interacting with the audience before the show, telling jokes and stories and getting them to laugh. We were giving away T-shirts that night, and one of the stagehands gave them to Mia and sent her onstage. She tried unsuccessfully to get my attention, so Mia just dropped the shirts in the middle of the stage and walked off. The audience roared with laughter and I thought I was really funny. I had no idea what happened."
A few years later, Mekka secured one of his favorite roles, Tevye in "Fiddler on the Roof," and Mia was cast as his youngest daughter. "It was a great show and one of my favorite memories," Grace says as she lovingly touches the photo and hesitantly turns the page.
Mekjian is a junior at Faith Lutheran High School and has appeared in several Faith Theatre Co. shows. In the school's recent production of "Hairspray," she was cast as Edna, the plus-sized mother of Tracy Turnblad, a role made famous by Divine and John Travolta. "I was so excited because the role is generally given to a man, so I knew this was a once-in-a-lifetime opportunity. My dad was Wilbur in the Luxor's production of 'Hairspray,' and he was excited for me, too. So excited he called Harvey Fierstein to share the news, and Harvey's response was, 'Your daughter's playing Edna? How can she play a guy?' It was so funny."
Growing up surrounded by entertainers, Mekjian knew she wanted to perform, and as the family moves to the piano it is easy to understand why. The piano serves as the place for talking, sharing and loving.
Music and laughter quickly fill the room as Mekka plays and "his two girls" sing along.
R-Jeneration