Hiking expert shares tips for well-prepared backpack
October 26, 2014 - 9:00 am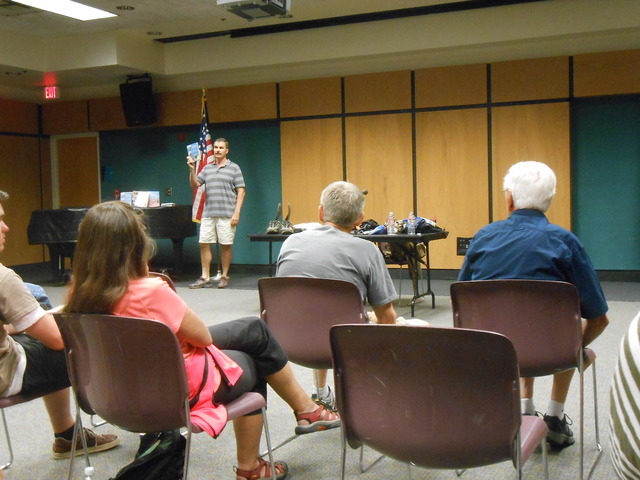 Branch Whitney has hiked and climbed more than 3,000 miles, led more than 2,000 hikers to summits and blazed wild and rewarding scrambling routes all over the Southwest.
On Sept. 9, he hosted an information session at the Rainbow Library, 3150 N. Buffalo Drive. His talk coincided with the cooling temperatures as fall and winter approached, perfect for hiking. About 75 people attended.
He said he'd rate Las Vegas a 10 for hiking "because we're the only city probably in the whole country that has three separate hiking areas, so you can hike year-round."
Of the three — Red Rock Canyon National Conservation Area, Mount Charleston and Lake Mead National Recreation Area — he said his favorite is Red Rock because there are more than 50 peaks, and most offer three different routes.
Ian Barlow was in the audience. He helps organize hikes with Whitney and said his favorite hike is Bridge Mountain in Red Rock.
"I liked the variety, climbing up the creek, going up a sheer rock face," he said. "It was like a moonscape when you got to the top, and there was a forest. You could go camping there."
Whitney explained that no matter where one hikes, being prepared is always a priority. Carry enough water and don't hike alone. Let others know where you'll be and when you expect to return. Also be aware of the weather and dress accordingly.
The type of shoe one wears is of the utmost importance, Whitney told attendees.
"Take care of your feet," he said. "They carry you and carry you back out."
Whitney unloaded his backpack and went over items hikers should carry. The first bone of contention was the pack itself.
"Buy one bigger than you think you'll need," he said. "I see people carrying backpacks that look like they were meant for 5-year-olds."
He advised treating the bottom of the pack with Gorilla Tape and painting it in a waterproofing paint.
The temperature drops 4 degrees for every 2,000 feet in elevation, he said. That means Mount Charleston can be as many as 20 degrees colder than Las Vegas.
"It's a huge difference," he said. "You don't want to be up there in just a T-shirt."
Getting caught in a storm was more than inconvenient without a pullover handy. It could affect one's core temperature, he said. He advised dressing in layers, with the innermost layer a wicking material. He pulled out a tiny satchel, unzipped it, and the audience realized it was actually a rain jacket. Another inventively tiny package unrolled to be a waterproof shelter. Instead of carrying rope, he opted for 40 feet of webbing, complete with carabiner (a metal loop with a spring-loaded gate).
Other items included a whistle and a water bladder. His first-aid kit was simple and kept inside a watertight bag. A headlamp had a bright LED light. He advised hikers to always carry extra batteries.
Whitney peppered his talk with examples of his own experiences.
"We were coming down off Mescalito Peak, which is in Red Rock, and we'd been back there pretty far," he said. "A woman who was in great shape … twisted her ankle and broke it. Now, she's with us, we had cellphones, and we called (for help). But if she was alone, there was no way she could have gotten out without assistance. If she'd been alone, unless somebody had come along, her chances of survival would have been about zero."
For more information about Branch Whitney, visit hikinglasvegas.com.
Contact Summerlin Area View reporter Jan Hogan at jhogan@viewnews.com or 702-387-2949.