Singer learned young how to rock the house
August 16, 2009 - 9:00 pm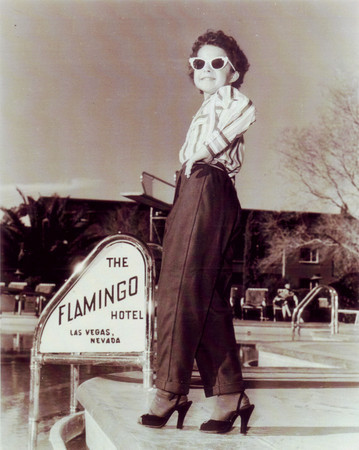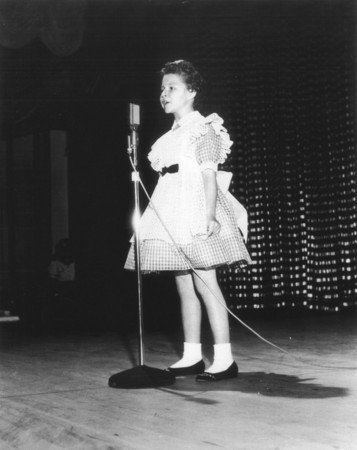 EDITOR'S NOTE: This is part of an occasional series of stories highlighting performers who played an interesting role in the history of entertainment in Las Vegas.
Songstress Brenda Lee, known for such hits as "Rockin' Around the Christmas Tree" and "Sweet Nothin's," celebrated her 12th birthday in a fashion no other child has matched: headlining in a Las Vegas showroom.
"In 1956, I was at the Flamingo with the Ink Spots," Lee explained to me during a recent interview. "As I remember it, I was kind of weaved in and out of the show as a kind of little hostess. And I also sang — so we co-billed.
"Of course, I wasn't even allowed to walk through a casino, I was so young. So I really didn't even know what a casino looked like. They took me in the kitchen, then into the showroom. And then when my show was over, I was brought back out through the kitchen and back up to my room. Children weren't allowed … in the casino area."
Though she was small, she made a big impression.
Ralph Pearl wrote in his then popular Vegas Daze and Nites column that Lee's "singing style is phenomenal and general show business attitude up on the stage is cool and cocky."
He said the young singer "could easily pass for a combination of Teresa Brewer and Kay Starr with a dash of Elvis Presley thrown in for good measure."
As exciting as it sounds, Lee wrote in her autobiography, "Little Miss Dynamite — The Life and Times of Brenda Lee" (Hyperion, 2002), performing in a city designed for adults was a little lonely.
"There wasn't anything to do in Vegas for a kid. The most fun I had was on the stage. I was kind of the co-host, and they had me in this Christmas dream sequence where I'd sing these little songs introducing the various acts. There was a Chinese acrobatic group, a comic and the Ink Spots. … They let me decide what songs I wanted to do, so I picked 'Tutti Frutti' and 'Jambalaya,' because I liked the upbeat, rockin' stuff. The audience seemed to like those, too."
As young as she was, Lee had actually performed for years before her Las Vegas debut.
Born Brenda Mae Tarpley on Dec. 11, 1944, in Atlanta, Brenda was the second of four children. Her father died in a construction accident in 1953. (The first song Lee learned was "My Daddy Is Only A Picture," recorded by Eddy Arnold in 1948.) In 1955, her mother remarried and the family moved to Augusta, Ga.
Showing promise of talent at an early age, Lee was featured on a local radio show, receiving no pay but a chance to sing. "I did start on radio," Lee told me. "I was confident."
Her early radio audiences were receptive to this little bundle of precocious energy.
After the family moved to Augusta, Lee was soon featured as a regular on WAGA-TV's "TV Ranch," where she opened with "Hey Good Lookin'," with an encore of "Too Young."
In 1956, the 11-year-old entertainer — who had already performed on "The Peach Blossom Special" at WJAT-TV (a show created by Sam Barton, who changed the child's last name to Lee) — appeared onstage with country music legend Red Foley, singing Hank Williams' classic "Jambalaya" to a rousing ovation. Foley signed Lee to appear on the national TV show "Ozark Jubilee."
I asked Lee if she was ever scared performing at such a young age in front of such large audiences. "No, not really," she replied. "Nobody ever told me to be nervous. The stage always felt like hometown to me because I had been in front of people ever since I was 3 years old, singing to people. So it was a very comfortable spot for me."
Lee signed with Decca Records in 1956. Her hiccupping vocals on such early recordings as "Bigelow 6-200," "Little Jonah" and "Let's Jump the Broomstick" became rockabilly classics. Her record producer, Owen Bradley, one of the major creators of the "Nashville Sound," however, encouraged Lee to try different styles, and she became a teen idol because of her recordings, and her appearances on television and radio.
As Lee matured as a performer, so did her music, successfully fusing country and rhythm with ballads and blues. After touring the world and enjoying immense success through recordings, many bilingual, she became a huge star, enjoying popularity in this country as well as Great Britain, Japan and Germany.
Lee had more than 55 Billboard magazine top hits during the 1960s, landing on the country, rhythm and blues, and adult contemporary charts.
Lee returned to Las Vegas on the Sahara stage opening on Dec. 5, 1961, for three weeks, with comic Jack Wakefield. Following Judy Garland in the main showroom, Lee was now a polished young woman offering a sophisticated act emphasizing ballads and love songs. At just 4 feet 9 inches in height, Lee was a powerhouse on the stage.
Lee recalled her Sahara performance recently: "I had a gentleman that worked with me and staged and choreographed my shows. There was always talk with the audiences, and songs, and tributes to different artists and things of that sort."
Critics were bowled over by the "new" Brenda Lee. The Variety reviewer wrote: "Brenda Lee had the adults in her opening night audience on her side from the very first song. … She radiates personality and sells a song like a vet, adding a certain winning tonal trickery. She's at her best as a belter."
Jimmy Starr of the Los Angeles Herald Express wrote (Dec. 6, 1961): "Brenda Lee … who sings like a million dollars (that's how much she has in the bank), rocked the blase audience last night at the Hotel Sahara, where in the spirit of Christmas, the slot machines play 'Jingle Bells.' The idea of such a youngster (she isn't allowed in the gaming casino) was somewhat of an experiment on the part of producer Stan Irwin. He didn't have any worries after the first show. … Brenda's a little businesswoman, and her business is selling songs. And she does that in a big, big way."
While appearing at the Sahara, Lee celebrated her 17th birthday, and her favorite teen heartthrob, Bobby Rydell ("Volare," "Wild One" and "Swingin' School"), whom she had toured with, flew in from Philadelphia to help her celebrate.
Between shows during her early appearances in Las Vegas, Lee said she would catch such acts as Don Rickles, Kay Starr, The Treniers, Fats Domino, Sammy Davis Jr., Shecky Greene, Henny Youngman, Moms Mabley, and brothers Jerry and Wayne Newton, who were just starting out on their own by appearing at the Fremont downtown.
Lee was back in Las Vegas in September 1962 at the Flamingo with comedian Dick Shawn, and she has returned numerous times since, headlining at the Frontier, the Silver Bird, Bally's, The Mirage, the Fremont, the Golden Nugget, the Imperial Palace and the Aladdin.
By this time, Lee and her family were living in Nashville. Still recording and making television appearances, and touring the world, she was attending a Jackie Wilson concert at the old Fairgrounds Coliseum in Nashville when she met Ronnie Shacklett, whom she married on April 24, 1963. The couple have two daughters: Julie, born in 1964, and Jolie, born in 1969.
While raising her family, Lee continued her recording and performance career. In the process, she has garnered millions of fans worldwide. In the 1970s, Lee transitioned to country music, and her recordings have continued to sell in the millions.
In June 1998, Lee opened a summer concert series at the Flamingo Hilton, and in 2002, she headlined at The Orleans.
Said critic Norm Johnson about Lee in his Entertainment Today column (Jan. 17-23, 2002): "She is still dynamic as ever, just as cute as a bug and can sing the heck out of any song. She is a survivor too. … The evening we went to The Orleans the house was filled to the brim. … All I can say is the next time she hits town make sure you get your ticket early. She is worth every penny of the ticket price."
"I've worked Vegas many, many times and in every decade," Lee proudly told me. "Las Vegas has always been a great supportive town for me. … When I work there the people at the hotels say my crowd is a little different because I draw a lot of the locals and not just the tourists. … I love Las Vegas. And it's definitely changed since I started playing there."
In 1982, Lee was inducted into the Georgia Music Hall of Fame, and in 1998 she was inducted into the Country Music Hall of Fame, followed by the Rock and Roll Hall of Fame in 2002. Having sold more than 100 million albums during her lengthy career, in 2009 Lee was honored with a Grammy Award for Lifetime Achievement. She continues performing in her beloved profession today.
Lee also participates in numerous charities, and works on various industry boards and councils.
I asked her if she would like to return to Las Vegas. "I would love to come back," she said quietly. "My last appearance there was several years ago at The Orleans. … It's a really nice place. And the room where the shows take place is a wonderful, intimate, great room."