January 1, 2014 - 12:54 am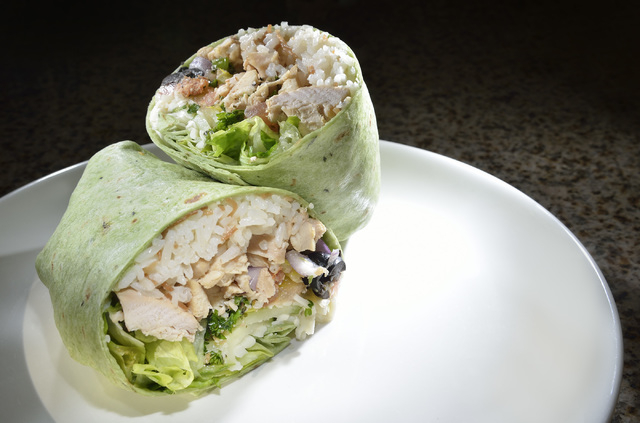 DINING OUT
ZIKIZ, 1500 N. GREEN VALLEY PARKWAY, HENDERSON
Zikiz, which opened in early October, is a counter-service restaurant that serves American wraps with Mediterranean flair, said Ed Rizk, owner. Rizk, who had a pizza franchise in the Midwest for years, said Zikiz represents a new, healthier concept. "We're trying to Americanize the Mediterranean menu," he said, with wraps based on four basic proteins: chicken breast, Angus steak, vegetarian falafel and crab mix. "No lamb, no shawarma, anything like that," Rizk said. "We have homemade recipes of rice, tabbouleh, hummus and falafel." Here's a sample of the menu:
Basics: chicken breast, Angus beef, vegetarian falafel or Zikiz Crab Mix ($1 extra) in wraps (plain, whole wheat, spinach and herb, sun-dried tomato), $7.99; bowls, $7.99; salads, $7.99; or hummus plate with pita bread or chips, $8.99; with olives, red onion, pickles, chickpeas, banana pepper, tomatoes, jalapeno peppers, cucumbers, green peppers, tabbouleh, mozzarella (50 cents extra) or feta (50 cents extra).
Sides: hummus, tabbouleh, side salad, french fries, falafel or Zikiz rice, $2.99 each.
Hours are 10 a.m. to 8 p.m. Mondays through Saturdays, 11 a.m. to 4 p.m. Sundays. Call 702-565-9727 or visit ZikizWraps.com.
NEW BOOKS FOR COOKS
HOT BUTTERED RUM
Vanillla bean butter:
4 tablespoons unsalted butter, at room temperature
Seeds scraped from 1 vanilla bean pod
1½ tablespoons packed dark brown sugar
Pinch salt
Pinch ground cinnamon
Pinch ground mace
Drinks:
6 ounces dark rum
3 cups hot water
For the vanilla bean butter: Vigorously mix ingredients together in a medium bowl. Set aside until ready to use. If making in advance, store in a small bowl wrapped in plastic, refrigerate and then return to room temperature before using.
For the drinks: Stir together rum and water. Place 1 tablespoon vanilla bean butter in each of four warmed cups. Pour rum mixture into cups. Serve.
Makes 4 servings.
— Recipe adapted from "Winter Cocktails: Mulled Ciders, Hot Toddies, Punches, Pitchers and Cocktail Party Snacks" by Maria del Mar Sacasa (Quirk Books, $22.95)
— Heidi Knapp Rinella