13 haunted places in Nevada you need to visit
October 20, 2015 - 6:43 pm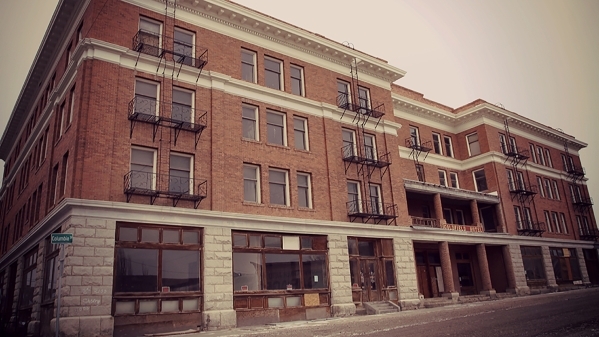 You don't have to travel far to see scary places. Nevada has plenty of them, including a few pretty choice ones right here in the Las Vegas area.
They're easy to find, too. A solid rundown of haunted places in Nevada can be found at HauntedHouses.com (www.hauntedhouses.com/states/nv/nevada.htm), and author Janice Oberding has written several guides to creepy Silver State locales, including "Haunted Nevada: Ghosts and Strange Phenomena of the Silver State" and "The Haunting of Las Vegas."
With Halloween on the way, here are a few places to sate your hunger for the spooky and sinister.
Mizpah Hotel, Tonopah
The hotel, named after the Mizpah Mine, was the social epicenter of Tonopah for years after its opening in 1905. A number of famous people — Wyatt Earp, Jack Dempsey and Howard Hughes among them — have been correctly or incorrectly linked with the hotel over the years, but the most famous of all may be a guest dubbed "The Lady in Red."
One story goes that the she's the ghost of a prostitute who was beaten and killed by an ex-boyfriend. Another holds that she was killed by her husband after he had caught her cheating on him. Either way, hotel guests have reported sensing her ghostly presence.
Goldfield Hotel, Goldfield
At least two TV series that specialize in ghostly investigation have reported encountering paranormal activity at the historic Goldfield Hotel.
The hotel opened in 1908. According to OldHouseWeb.com, the backstory goes that a pregnant woman had been chained to a radiator in Room 109 of the hotel and given food and water until the baby was born. Some versions of the story have the man who had chained the woman to the radiator then throwing the baby down a mine shaft under the hotel.
It is, the stories go, the spirit of the woman, who also was killed, that can be sensed in Room 109.
Old House Web notes that the story is marred by both historical inconsistency and factual error (see www.oldhouseweb.com/blog/ghost-stories-goldfield-hotel). On the other hand, the site notes, there was a confirmed suicide by a hotel porter in 1915, and at least one report was made of a ghost sighting associated with that.
Westgate Las Vegas, 3000 Paradise Road, Las Vegas
Elvis has not left the building, if you believe those who maintain that the King still haunts the hallways of the hotel where he became an American entertainment icon.
Before the Westgate was the Westgate, it was the Las Vegas Hilton. And before that, it was the International, and it's during that International-Hilton era, starting in July 1969 and continuing for the next seven years, that Elvis set, broke and reset records, performing for more than 2.5 million fans.
So who can blame the guy for wanting to hang around the site of his greatest success? Since his untimely earthly departure in 1977, Elvis' spirit reportedly has been seen, heard or sensed at several locations in the hotel, including the showroom.
Redd Foxx's former home, 5460 S. Eastern Ave., near Hacienda Avenue
Redd Foxx, who starred in "Sanford & Son," once lived in the building where Shannon Day Realty now is located. See that little red fox illustration at the bottom of the sign? Consider it a tribute to the home's former resident.
Oberding, author of "Haunted Nevada" and "The Haunting of Las Vegas," notes that some have maintained Foxx still haunts the building, maybe because he's angry that he lost it because of back taxes.
However, in 2011, Day told the Review-Journal that he never felt anything particularly otherworldly about the building and that the red fox logo is merely a sign of respect for Foxx, as well as a sort of inside joke for longtime residents who know its onetime resident.
Silver Queen Hotel, Virginia City
Built in 1876, the Silver Queen is the oldest hotel in Virginia City. But, in another twist on a tragic woman theme, it's said to be haunted by a spirit named "Rosie," supposedly a prostitute who killed herself in the bathroom of Room 11 sometime during the late 1800s.
Rosie's presence reportedly has manifested itself via nighttime noises, rattling doorknobs, footsteps and the sound of voices in rooms in which nobody is present.
Bonnie Springs Ranch, 16935 Bonnie Springs Road, Las Vegas
Every year, Bonnie Springs Ranch turns into "Bonnie Screams," a sort of faux haunted ghost town, for Halloween. But some maintain that there are real-life haunts to be had at what was created in 1843 as a stopover for California-bound wagon trains on the Old Spanish Trail.
During its investigation of Bonnie Springs Ranch, the crew from the Travel Channel show "Ghost Adventures" (www.travelchannel.com/shows/ghost-adventures/video/recap-bonnie-springs-ranch) reported hearing strange footsteps and sounds and experiencing presences in empty rooms.
The spirits of Native Americans, or settlers who passed away on their trek westward, or overimaginative investigators letting their imagination run away with them? You decide.
Nevada Governor's Mansion, Carson City
Maybe every governor's mansion is scary if it's occupied by a person of the political party that's not yours. But some argue that Nevada's governor's mansion is home to a few frights beyond the political.
Those would be the believers who say the mansion is haunted by the ghosts of the first Nevada first family that lived there. That, the story goes, would be Gov. Denver S. Dickerson, his wife, Una, and daughter June, who moved in in July 1909 and apparently liked it so much that they may never have left.
Another version of the story goes that the mansion is haunted by the ghosts of a woman and a young girl who entered the mansion with an antique clock that was given to the governor. Whoever they are, staff allegedly have seen images of a woman and a young girl walking along the mansion's hallways and felt chilly winds in certain areas of the house.
Gold Hill Hotel, near Virginia City
The Gold Hill Hotel, which opened in 1859 and bills itself as the oldest hotel in Nevada, still is home, the stories go, to a ghostly woman who lives in an upstairs room and a male presence — a miner, perhaps — who lives in the room next door.
Supposedly, guests and staff have heard the sounds of children — presumably kids who stopped over with their families and decided to stay way past checkout time — in the hallways. And in what might be the most comforting haunting ever, some reportedly have said the sound of kids was accompanied by the aroma of baking cookies.
Washoe Club, Virginia City
The owners of places that are said to be haunted sometimes downplay their buildings' history. That's not so at the Washoe Club, which on its website (www.thewashoeclub.com) proudly calls itself "one of the most haunted locations in the West."
The story goes that a handful of supernatural beings haunt the club, including a blonde prostitute who was murdered on the third floor during the 1870s and her killer, who later killed himself.
The Washoe Club hosts groups that might want to do their own investigations of the building — which has been featured in TV series devoted to such things — and even offers an overnight investigation option for the particularly adventurous.
Pioneer Saloon, Goodsprings
Built in 1913, the Pioneer Saloon is host to at least one episode of sad real-life history: It's said that Clark Gable waited at the bar in 1942 for news from a search crew that was looking for the missing plane that was carrying Carole Lombard, the love of his life.
The wreckage of the plane was found on Mount Potosi, outside of town, and Lombard didn't survive. Lombard's ghost is said to haunt the saloon, but it's also said to be the home of a number of less-famous ghostly inhabitants, including a miner who was killed after being found cheating at cards.
Through an event called "The Haunted Lockdown," offers guests a chance to spend a night there and put their own ghost-hunting skills to the test to see what they can see (www.hauntedlockdown.com).
Boulder Dam Hotel, 1305 Arizona St., Boulder City
Discovering that horror film great Boris Karloff once stayed at the Boulder Dam Hotel is enough to put the hotel on the list of must-visits for fans of the strange and creepy.
But aficionados of the paranormal maintain that the hotel, which opened in 1933, also is the home of a few less celebrated entities who allegedly have a habit of touching guests with cold hands and making unexplained noises.
Abraham Curry House, Carson City
New York-born Abraham Curry came in 1858 to what would become Nevada. He became a successful businessman whose interests moved beyond business, into government and politics. Often called the founder of Carson City, Curry would hold high-profile positions including first superintendent of the U.S. Mint branch in Carson City.
He died of a stroke on Oct. 19, 1873, and some say his spirit still haunts the home he built for himself and his family.
Carson City Mint building (now home of the Nevada State Museum), Carson City
The building that once housed the Carson City branch of the U.S. Mint is said to be haunted by two spirits: An employee who died when equipment fell on him in the basement; and Curry — the Mint building is only a few blocks from the Abraham Curry House — because he was said to enjoy that job so much.
— Contact reporter John Przybys at jprzybys@reviewjournal.com or 702-383-0280 or follow @JJPrzybys on Twitter.