Project captures virtual views of Nevada's scenic locales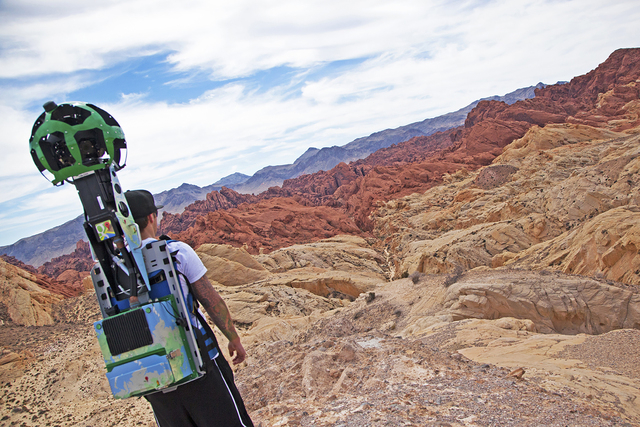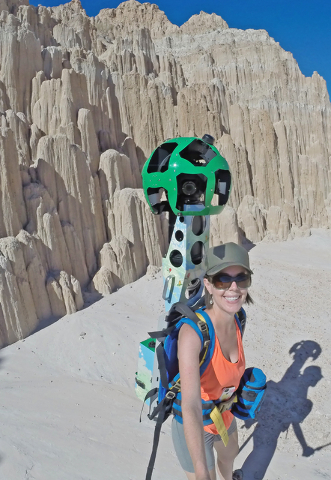 OK, maybe the Great Nevada Google Street View Trekker Expedition of 2015 wasn't quite as arduous as the expeditions John C. Fremont led while exploring Nevada and the American West during the 1840s.
But its results — 360-degree views of 22 of Nevada's most beautiful, but lesser-traveled places — are way cooler than anything Fremont and his crew returned with.
Better yet, rather than braving dusty, allergy-aggravating journals to check it all out, modern-day viewers can see the panoramic, virtual-reality views of ghost towns, rock formations, hot springs and other examples of Nevada's natural and man-made beauty simply by visiting the Nevada Division of Tourism's TravelNevada website (http://travelnevada.com/google-trekker) or clicking on the Street View section of Google Maps.
Planning for the project began early last year when state tourism officials applied to borrow Google Street View Trekker equipment, which Google loans to governmental and nonprofit organizations.
The equipment is the same type of equipment used for the Street View section of Google Maps, which uses 360-degree camera arrays mounted on cars to create virtual-reality simulations of streets and other places. However, car-mounted Street View equipment can't leave the pavement, so the company developed a portable version of the equipment that, worn like a backpack, can be carried on foot to less accessible places.
The idea is to take the Street View program "to places cars cannot travel," says Sydney Martinez, TravelNevada content manager, who led the Google Trekker project.
"So we thought it could be of benefit to Nevada," she says, where some of the most beautiful and unusual destinations are "places cars can't reach."
Martinez says the notion was that the program would serve as "a great opportunity to show the treasures Nevada has" not only to prospective tourists but also to Nevadans to use when planning vacations or outings.
Google approved the request and the equipment arrived last summer. Throughout September, Martinez and a group of volunteer trekkers visited 22 places around the state, photographing locales that were, in some cases, accessible only to hikers.
The equipment consists of a spherical array of 15 digital cameras mounted on a backpack-carried gizmo that was about 7 top-heavy feet tall, Martinez says. Each camera took a photo every two seconds, and the thousands of photos taken during the course of the project later were assembled to make virtual-reality re-creations of each location.
The 22 locations were ones that hadn't been photographed for Street View before. Martinez says her goal in selecting locations was to illustrate the diversity — of natural features, landscapes, geography, history and culture — found in Nevada.
So, in addition to seeing virtual-reality views of Valley of Fire and Cathedral Gorge state parks, users can check out Pyramid Lake and Lovelock Cave, as well as Tonopah Mining Park, Belmont Ghost Town and the International Car Forest of the Last Church.
To assist in the project, Martinez recruited Nevadans she knew from previous travels around the state, all of whom have special knowledge of or a special affinity to the locations they photographed.
"All these people really embody the locations they trekked," she says. "I joked, 'Meet me at mile marker 81 on Tuesday,' and I thought they'd never show up. But they'd be there on their own dime, not being paid, just because they sincerely care about showing the world what a great place Nevada is."
In essence, each visual story is being told by a fellow Nevadan, Martinez says, "and that's pretty powerful."
Read more from John Przybys at reviewjournal.com. Contact him at jprzybys@reviewjournal.com and follow @JJPrzybys on Twitter.
LOCATIONS
Here are the 22 places photographed in September during TravelNevada's Google Trekker Project:
Fort Churchill State Park
Mormon Station State Park
Lake Tahoe State Park
Pyramid Lake
Lovelock Cave
Lamoille Canyon
Angel Lake
Churchill Vineyards
Stillwater National Wildlife Refuge
Sand Mountain State Recreation Area
Berlin-Ichthyosaur State Park
Hickison petroglyphs
Spencer Hot Springs
Belmont ghost town
Nevada Northern Railway
Cathedral Gorge State Park
Kershaw-Ryan State Park
Valley of Fire State Park
Techatticup at Eldorado Canyon
Rhyolite ghost town and Goldwell Open Air Museum
International Car Forest of the Last Church
Tonopah Mining Park