Senior pompom troupe on mission to spread 'joy and sequins'
Updated April 14, 2023 - 10:19 am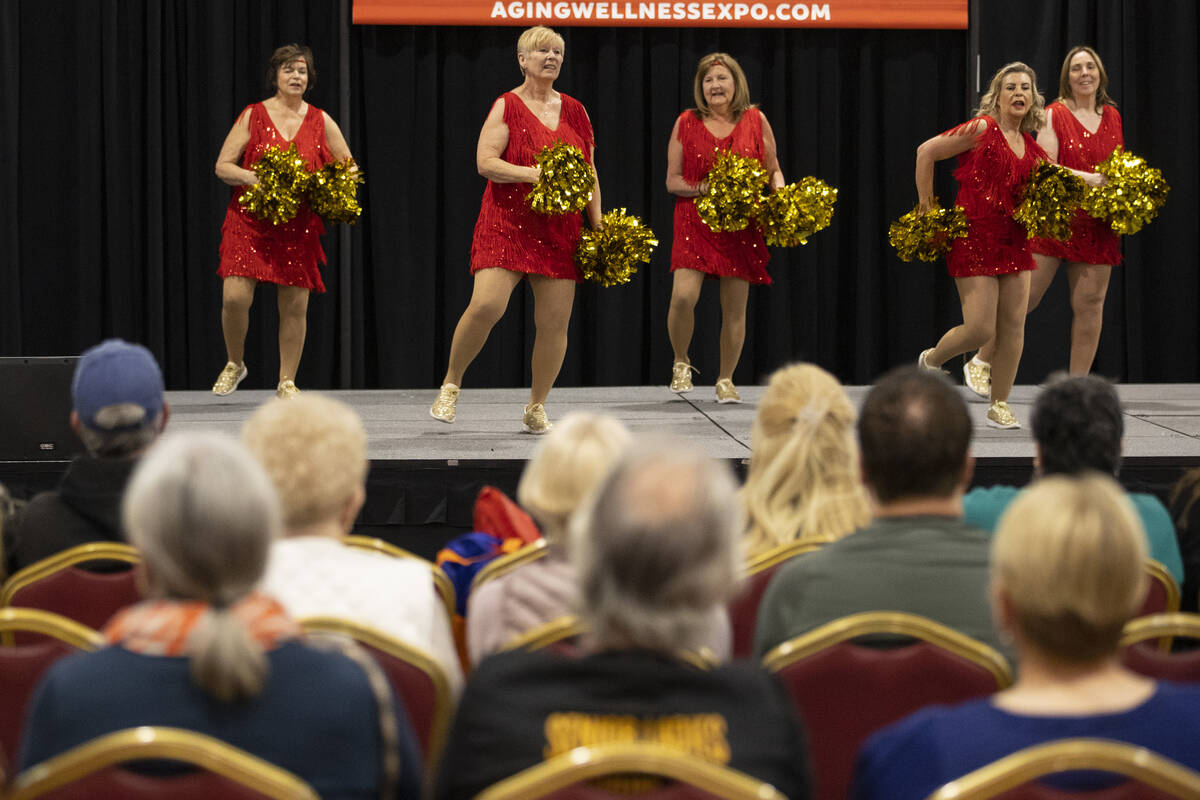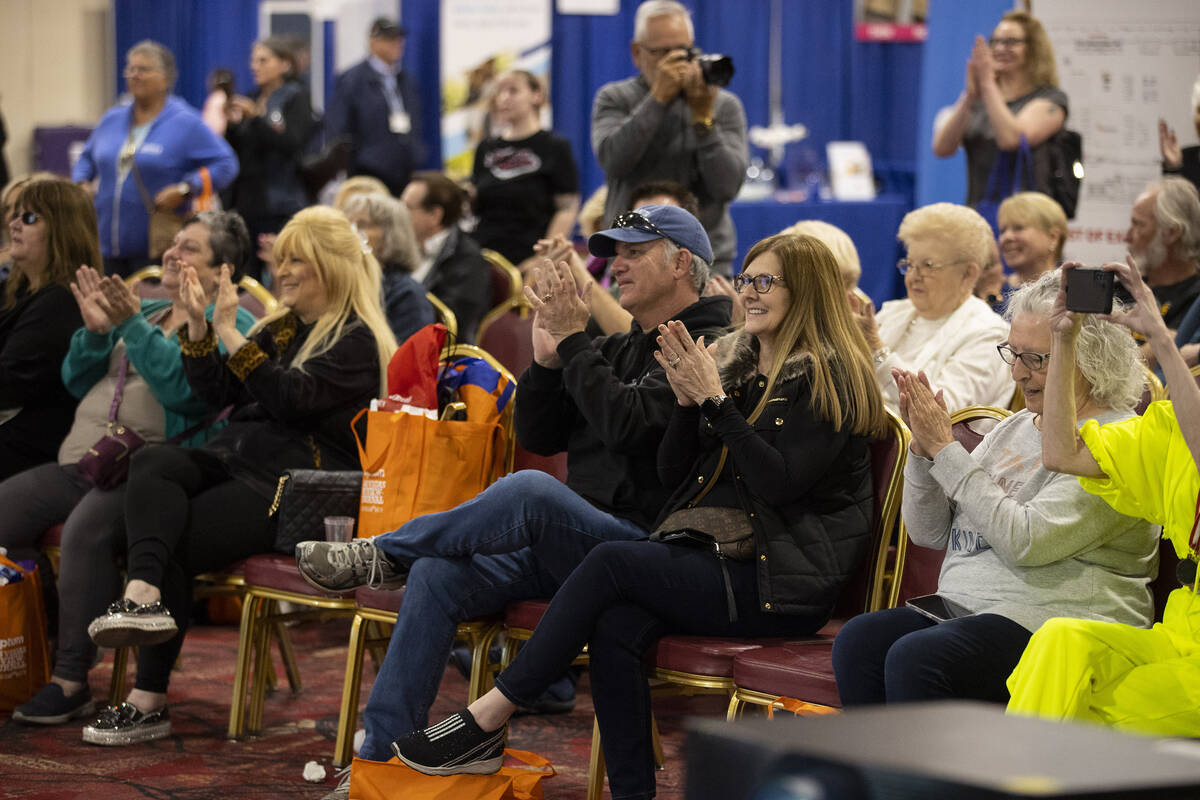 A simple mission motivates the Vegas Golden Gals, according to their founder: to spread "joy and sequins" wherever they go.
Smiles, curious looks and neck-craning interest also seem to follow the senior ladies pompom team, based on its performance at last month's Aging Wellness Expo at the South Point.
The event's other exhibitors — Medicare insurers, health care providers and myriad other companies of interest to the 50-and-older set — probably wish they, too, had the foresight to attend in such bedazzling attire.
But the Golden Gals provided more than fashionable flair. Just as striking was the energy and cheer they brought to the party.
Founder Belinda Potts says she envisioned the 55-and-older troupe as a vehicle for women to have fun and make new friends and to "get seniors out to move more."
The group's flashy pompom routines "encourage people to be up and moving," agrees Cindy Williams, a charter Golden Gal and the group's choreographer. "We know sitting down, for seniors, isn't the best plan."
Potts founded the Golden Gals in February 2022 after seeing a TV news report about members of a senior ladies pompom group in Wisconsin who were killed when a vehicle plowed into a parade crowd. She recalls being moved by the tragedy but also inspired by how the women were spreading joy.
"I thought, 'Well, if they can do that, why can't we have a Las Vegas ladies pompom troupe?' " Potts says.
She posted a note on social media seeking volunteers and was surprised when "I started getting all these calls."
'All levels of folks'
Seven women who answered Potts' plea became charter Vegas Golden Gals, Williams says, and "our first outing was the Helldorado Vegas Days parade."
They have marched in five parades and even performed in Enchant at Resorts World Las Vegas. The troupe now has 17 members, some of whom have prior cheerleading or dance experience.
Michigan native Williams, for example, "grew up dancing my whole life." She also did choreography and even had her own studio.
"We're open to all levels of folks," Williams says. "Some of our gals had no experience, and one of our gals was a professional cheerleader."
The troupe's spirited routines include touches of cheerleading, dance and even aerobics. The latter is probably no accident, because Potts is a former high school pompom girl — class of '73 — in Indiana and served as an aerobics instructor in her 30s and 40s, she says.
Dixie Williams, no relation to Cindy, joined the group last year. The former high school cheerleader jokes that through the Golden Gals, "I'm kind of reliving my youth, I guess."
One difference between those days and now is that she does routines using only one arm.
"I'm a breast cancer survivor," Williams says. "Then in December I had a pacemaker installed."
Because of that, Williams says, she's not permitted to raise her left arm above her shoulders or make repetitive motions, lest the pacemaker's leads be put askew.
But that doesn't stop her from doing routines. "I'm the one-armed gal out there," she says with a laugh.
'Off the couch and moving'
Working around members' physical challenges isn't unusual. Potts recalls another lady who said she'd just had a knee replacement. "I said, 'I don't care. Come on and join me.' "
For Lorraine Reynolds, the expo performance would be her last for a while: She was preparing for back surgery followed by a three-month hiatus.
When she joined the team, Reynolds thought the Golden Gals was "just dance." "I didn't know it was going to be all of this," she adds.
The parades. The performances. The friendships. The exercise. Reynolds was surprised that all of those also come with being a Vegas Golden Gal.
"Before, I was just sitting on the couch and needed something to do," she says. "A lot of times when we get older we don't have anything to fill the time."
Now, she says, "No. 1, I'm off the couch and moving. No. 2, I've met some great gals."
'You gave me purpose'
The Golden Gals have become "a lively sisterhood, if you will," Cindy Williams says.
Members have "thanked me so much" for starting the group, Potts says. "One girl said, 'It saved my life.' Another girl said, 'This is the most important thing. I'm so happy now. You gave me purpose.' That's such a big deal.
"One of our girls, the other day, said 'I'm feeling more alert,' because you are working your mind a lot learning different routines." Other members say they've lost weight, she adds, and "I include myself."
Equally vital is the social aspect, Dixie Williams says. "We have practice twice a week. I still get a thrill getting out there and performing for people. When I moved here, I didn't know anyone. Now I have 15 friends I can call on if I need them."
'It's absolutely contagious'
The women are pleasantly surprised by how warmly their work has been received by audiences.
"We've had people ask to get pictures taken with us at, like, ballgames," Potts says. "We've performed at an Aviators game and we performed for the Lights and the Silver Knights."
This weekend, the Golden Gals headed up to Logandale to perform at the Clark County Fair &Rodeo. Potts says the group also works to raise money for Alzheimer's-related charities and soon will be performing at local assisted living and memory care facilities.
In the meantime, the Golden Gals are always looking for new members. The next auditions are scheduled for April 23, and Potts says she'd like to boost the troupe's numbers to 20 or 25. The nonprofit organization is also seeking sponsors.
Oh, and it turned out that the Vegas Golden Gals were a perfect match for the Aging Wellness Expo, even if the prescription they were pitching was simply joy and sequins.
"It's contagious. It's absolutely contagious. That's something we really strive for," Cindy Williams says. "Got a bad day? Leave it at the door."
Join the Golden Gals
For more information on joining the Vegas Golden Gals or to see where they are performing next, visit vegasgoldengals.org.