Tap into Lake Mead's fun side on a kayaking adventure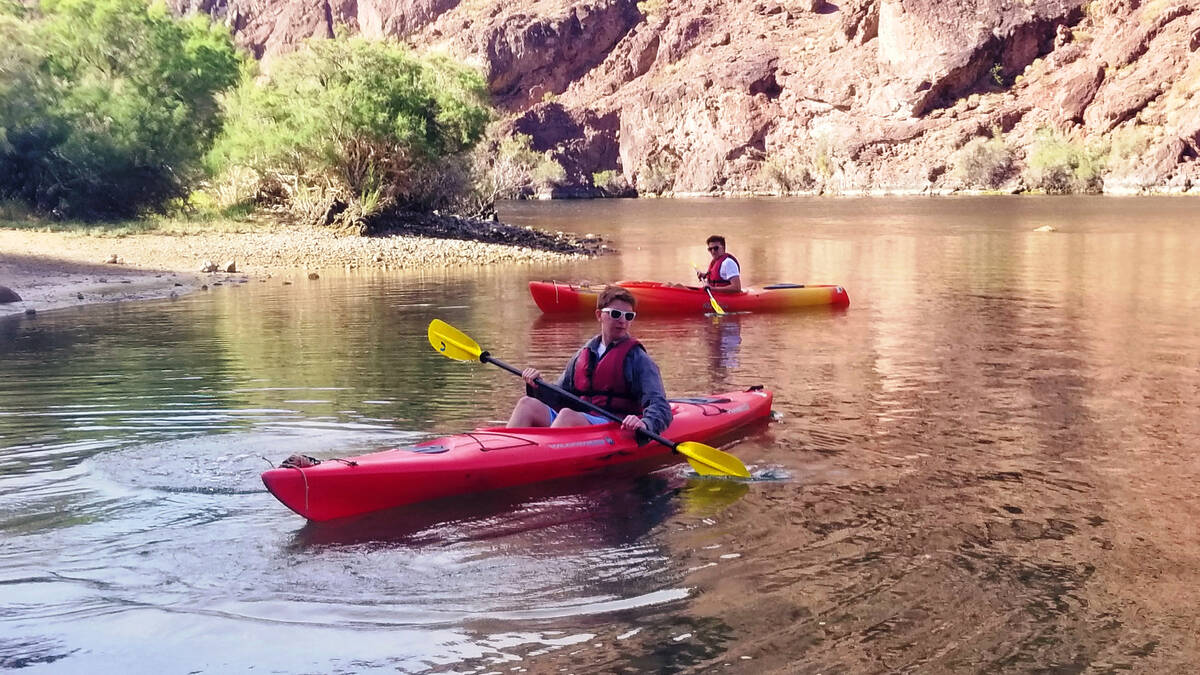 Lake Mead is treasured for its practical gift of drinking water in the desert, but Southern Nevada's water source also has a fun side to share.
One of the best ways to tap into that fun is in a kayak, whether in the shallows along the shoreline near Lake Mead Marina for a couple of hours or on a daylong adventure through scenic Black Canyon below Hoover Dam.
The rhythm of kayaking comes fairly naturally, but logging some time in the water is essential before planning anything challenging. Local beginners may opt to start out in calmer waters found at Lake Las Vegas or near Lake Mead Marina, where companies rent kayaks and pass out life vests.
After gaining a familiarity with the demands on arm, back and core muscle groups and an awareness of the potential discomfort of sitting for hours in a plastic or fiberglass vessel, kayakers will be in a better position to decide whether an eventual trip on the Lower Colorado River would be worthwhile. Several local outfitters offer half-day or full-day kayak rentals and even hotel pickups. A guided trip on the Black Canyon National Water Trail is an option, and so is striking out on your own on waters cutting through stunning geology.
Starting small
Lake Las Vegas Water Sports offers kayak rentals for $40 for an hour or $60 for two hours, and advanced reservations are available, according to the company's website. Kayakers begin their adventures from Lake Las Vegas docks adjacent a lakeside collection of restaurants and shops. From there, kayakers glide where they'd like through a 320-acre reservoir surrounded by homes, golf courses and a couple of hotels.
Kayaking is enjoyable on Lake Las Vegas, whether you're training for a bigger adventure or just looking for a diversion with the benefits of exercise. Practice brings kayaking confidence.
Lake Mead shoreline gliding
Lake Mead Marina in Hemenway Harbor offers a second manageable and cheaper option for beginners or anyone interested in close-to-home kayaking opportunities. Rental rates are $25 for an hour or $65 for four hours, according to the company's website. Kayaks launch from the busy marina's docks, where visitors can also enjoy glimpses of boats berthed in slips, fish swimming dockside and gulls resting on the water's edge. When ready to glide, kayakers can navigate from the docks toward shore or to the nearby Boulder Islands, always aiming to remain within close proximity of the marina, rather than in the choppier waters with motorized boats.
Paddles are meant to propel kayaks, but they can also be used to splash cool water on anyone sizzling under Southern Nevada's sun at Lake Mead National Recreation Area.
Limited Lower Colorado
Stunning views of Black Canyon's geology and chance sightings of a bald eagle or a bighorn sheep await kayakers willing to drive about an hour southeast of Las Vegas to Willow Beach on the Arizona side of the Lower Colorado River. Reservations are required for four-hour or daylong rentals that give kayakers more than enough time to paddle 2 miles upriver to reach Emerald Cave and back to Willow Beach's marina.
Prices to rent for self-guided trips start at about $70, and visitors also need to pay $25 or show a park pass before driving down to the Willow Beach parking and picnic spots that are part of Lake Mead National Recreation Area. Mornings are best for wildlife viewing and cooler temperatures. The National Park Service keeps a list of kayak outfitters on its website: nps.gov/lake/planyourvisit/black-canyon-water-trail.htm.
Guided trips to Emerald Cave are also available and start at about $139. Those three- to four-hour outings begin at Willow Beach, and the trip's highlight is time spent in a cave inside the towering Arizona walls of Black Canyon. When the light's right and your kayak is backed into the grotto, the sparkling waters of Emerald Cave live up to its name.
Whether on a guided trip or a self-directed paddle on the Lower Colorado River, it's hard not to gain a greater appreciation of Lake Mead history while having fun and taking in the geology and wildlife. Before Hoover Dam was built, the untamed Colorado River powered forcefully through Black Canyon. Kayakers today pass by historical remnants of the nearly 90-year-old engineering and construction feat.
Going big
Paddling 12 miles from Hoover Dam to Willow Beach adds logistical complexity, physical hardship and expense, but this kayaking experience has the potential to become a cherished memory, as it has for my family.
Whether on a guided tour (starting at about $230) or self-guided excursion (about $140), kayakers must carry their identification while they are escorted by an outfitter along a U.S. government-secured service road to the kayak-launching site on the flat waters of the Lower Colorado River just below Hoover Dam. A $32 fee for the escort and park entry is included in the listed totals, which presume in most cases that kayakers meet outfitters early in the morning at Hoover Dam Lodge. Shuttle service from some Las Vegas Strip hotels is another option. Arrangements are best made far in advance.
Kayaking 12 miles is challenging work for most because few people are used to sitting for six or more hours in a compact vessel and being its sole source of power. The work is hard, even with the downriver current in a paddler's favor, and the scenery provides an extraordinary distraction from discomfort.
The freedom of floating downriver and stopping along beaches for snacks and to rest numbs some of the back and arm pain of paddling. So do opportunities like watching a bighorn ewe teaching her lamb how to get a drink from the river, a striped bass swimming under your kayak or a zebra-tailed lizard racing away with its striped tail curled like a scorpion's.
Maps from the National Park Service and Black Canyon outfitters show mile markers and highlights that include Arizona Hot Spring, where paddlers can stop to see a 20-foot warm waterfall and climb up a steel ladder to soak in shaded mineral pools. Emerald Cave is a must-stop much farther downriver. Large mile markers alternate on Arizona and Nevada banks and count down from 64 at Hoover Dam. At mile 52½ is Willow Beach, where most paddlers take out and catch the shuttle back to Hoover Dam Lodge or Las Vegas.
Outfitters warn that a self-guided 12-mile kayaking trip is not for beginners. Whether on a professionally led adventure or a self-guided paddle from Hoover Dam to Willow Beach, personal floatation devices are a constant requirement (it's hard to swim in cold water when you're panicked about an unexpected out-of-kayak experience). Outfitters also advise carrying a gallon of drinking water per person as well as plenty of snacks (we packed our lunch in a dry bag). Reapplying sunscreen is also critical.
The Lower Colorado River has an abundance of caves, springs, beaches, coves and whimsical rock formations, and many are listed on maps. Paddlers will also make their own discoveries as they're making memories on the Black Canyon National Water Trail.