Army vet gets mortgage-free home in Las Vegas courtesy of partnership
November 3, 2016 - 5:00 am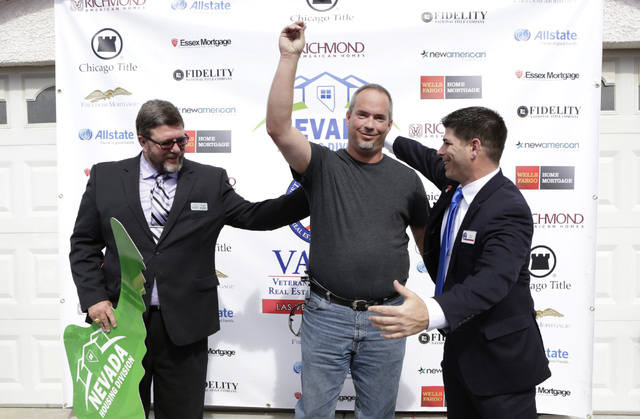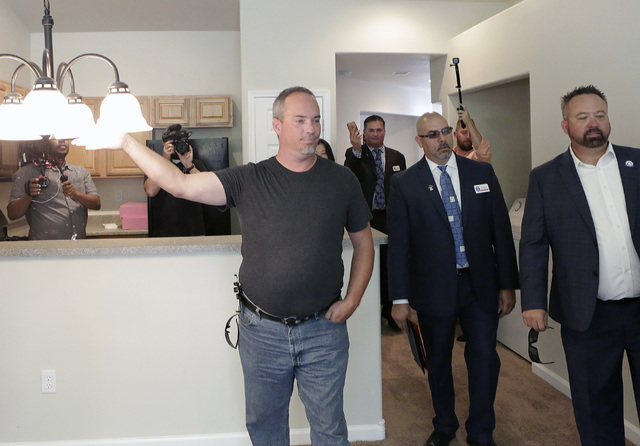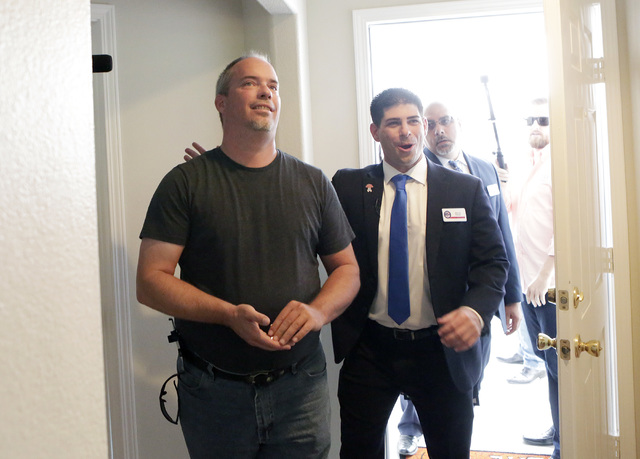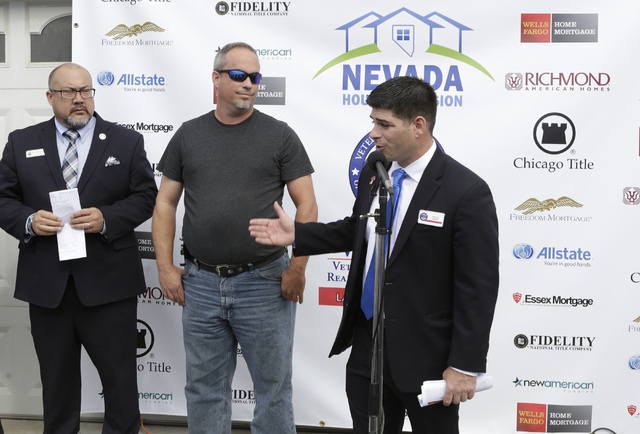 Former U.S. Army Cpl. Christopher Hudson was used to moving from place to place.
Hudson went to five elementary schools, one middle school and four high schools. After graduation, he enlisted in the military.
His life was centered on movement, but he craved stability.
When he received the keys Oct. 14 to a newly renovated home in Centennial Hills, Hudson was all smiles.
The home was donated to him mortgage-free by the Veterans Association of Real Estate Professionals (VAREP) in partnership with the Nevada Housing Division.
"Being a military brat, 'home' was not in my vocabulary — just houses that we would occupy for a short time," wrote Hudson in his biography, which was read by Billy Alt, president of VAREP, during the ceremony. "That has carried into my adult life as I have only stayed with friends and family, never signing a lease out of fear that something would come up and I would have to move again. I want a place to call mine. I am ready for a home to prove that I have made it back home."
People in attendance cheered for Hudson as members of the Nevada Patriot Guard escorted him to his new house.
"It feels good to see so many people here supporting our friend and fellow veteran," said Peter Guidry, co-founder of Forgotten Not Gone, a nonprofit dedicated to helping save veterans and their families from the destruction of suicide. "I guess people don't see us like monsters anymore. Compassion is really a beautiful thing to see, especially for someone who gave so much up for our country."
Hudson enlisted in 1996 and served as an aviation structural repair supervisor in multiple tours in Iraq and Afghanistan.
Aviation accident investigations were part of his duties. In total, Hudson was in charge of five investigations, including one that killed a friend.
The hardest part was during his last tour in Afghanistan. Just as his unit was convoying back to port, they were ambushed and an improvised explosive device threw him from his vehicle and onto the ground, where he was lying unconscious.
He was told that his then-girlfriend, a medic from a sister company, rushed to aid him and took a shot to her side during the firefight.
"She stumbled toward me and then collapsed on top of me because she took another shot to her back, which killed her," Hudson wrote. "She saved my life, but I could not return the favor."
Hudson was honorably discharged in 2005.
"I have gotten help for all the things I remember or dream about occasionally," Hudson wrote. "Overall, I am in fantastic spirits, and I do great 95 percent of the time, but every so often, I have a tear to shed or just need some me time to cope.
"I think that is why, for so long, I had to move around. I had to keep going so that the thoughts didn't catch up with me. The more I moved around or stayed busy, the less time I had to remember."
Hudson — who didn't have a job six months ago — now helps veterans find their way as an outreach program specialist for the Las Vegas Vet Center, 1919 S. Jones Blvd.
"It's amazing to see people give back to veterans who have helped our country," said North Las Vegas Ward 4 Councilman Richard Cherchio. "These people have sacrificed so much for their country and they deserve all of the help they can get."
Established in 2011, VAREP is a nonprofit dedicated to increasing sustainable homeownership, financial literacy education, Veterans Affairs loan awareness and economic opportunity for the active-military and veteran communities.
"The main point we push is if the veteran is able to be a sustainable homeowner with the ability to pay his or her monthly bills," Alt said. "We don't actually give them the deed to the property until they complete a financial literacy training once they move in. It is over the course of two years where they take this training on a quarterly basis. As soon as they successfully complete this, we hand over the deed."
This is the second house the nonprofit has given away this year. Another mortgage-free house is planned for a veteran in December.
"This is a very surreal experience," Hudson said. "I don't think it will really kick in until about a year from now. I feel very secure now and I'm very grateful. I look forward to sleeping in my new home."
Visit varep.net.
To reach North View reporter Sandy Lopez, email slopez@viewnews.com or call 702-383-4686. Find her on Twitter: @JournalismSandy.