In east valley, Girl Scouts learn about coding
October 16, 2017 - 10:46 am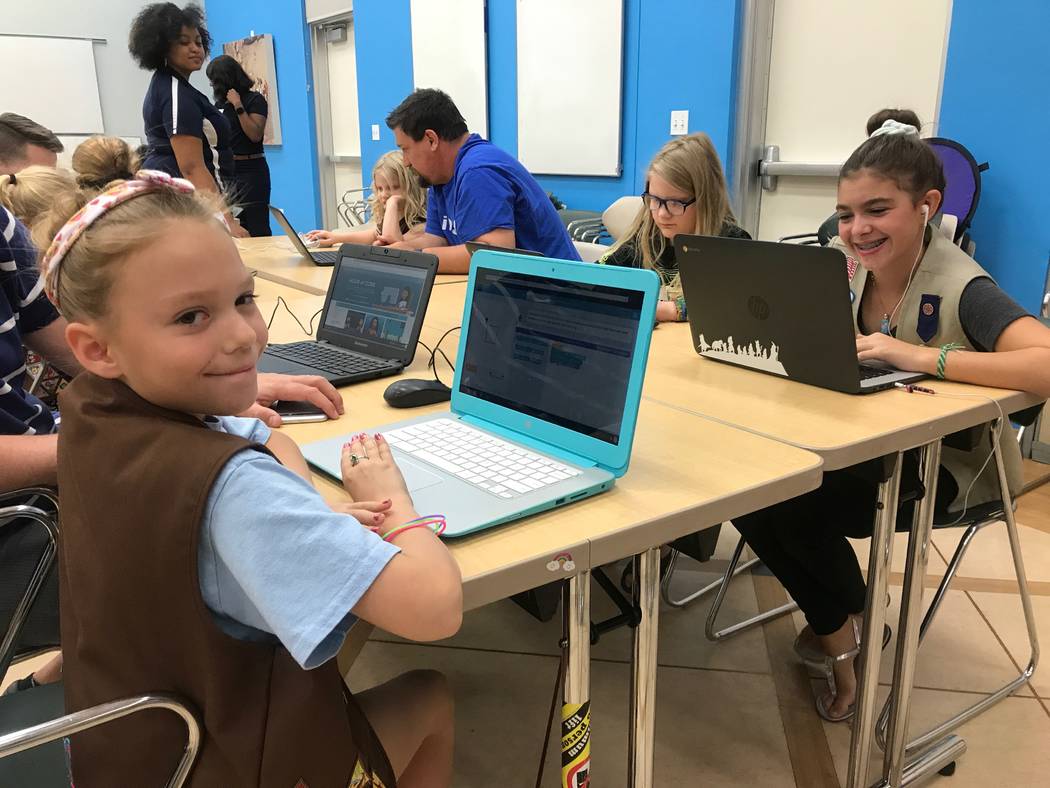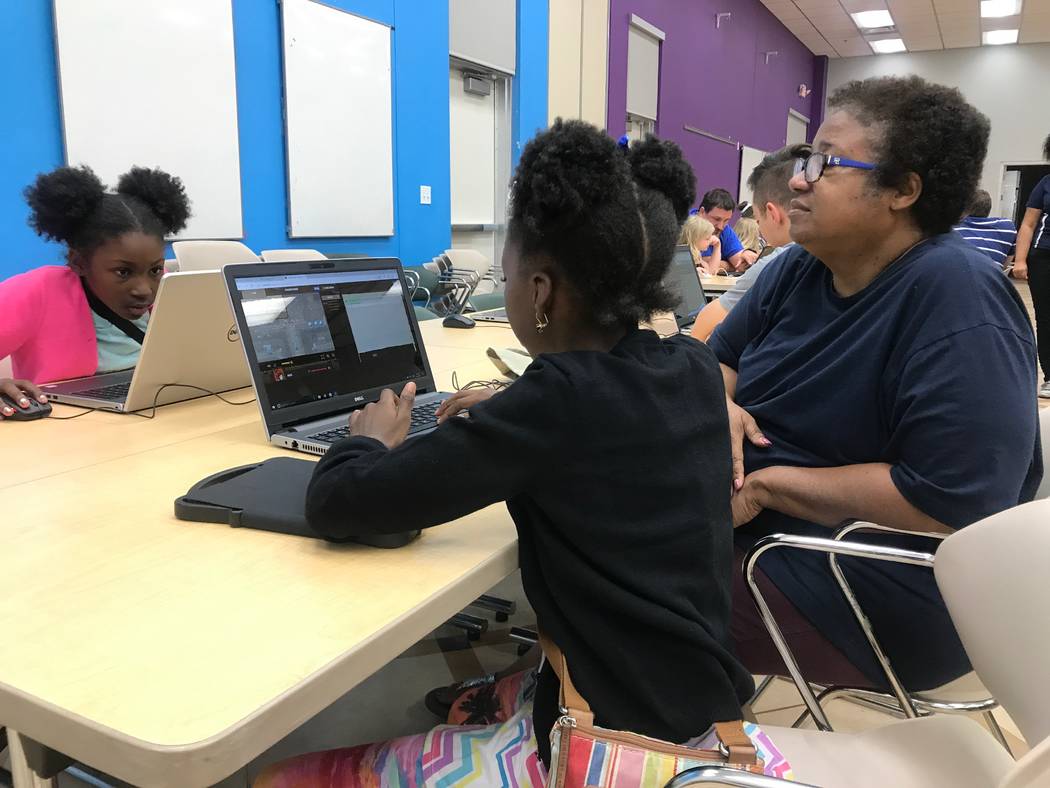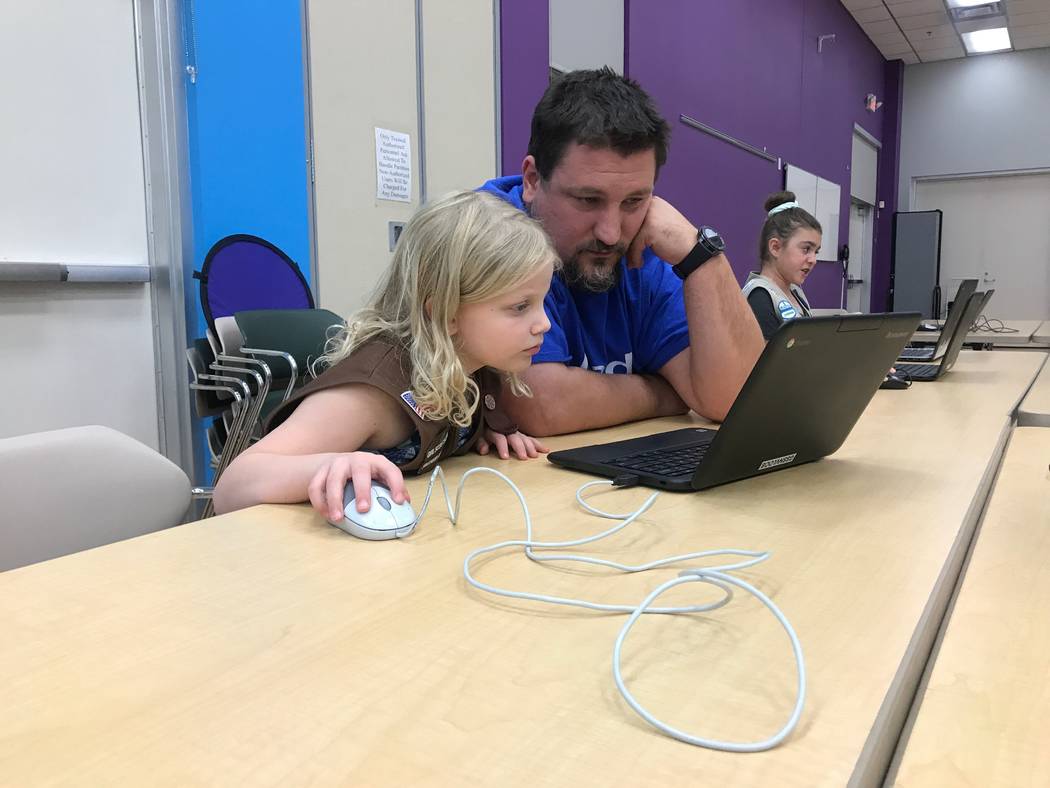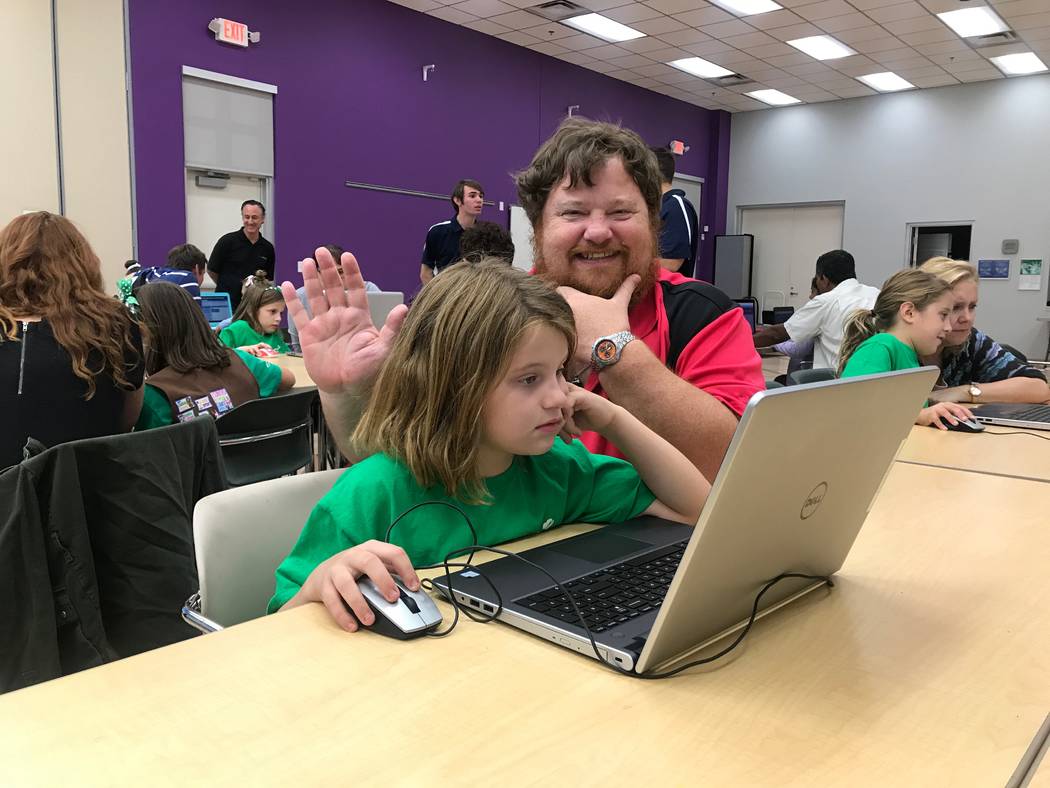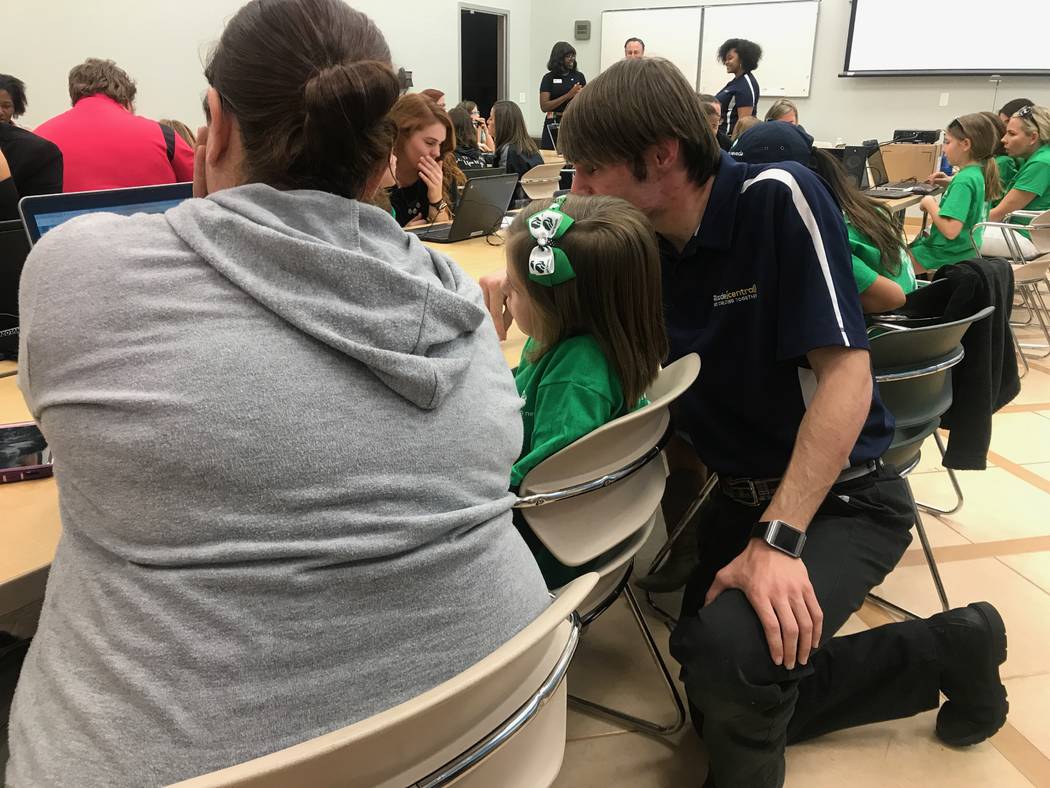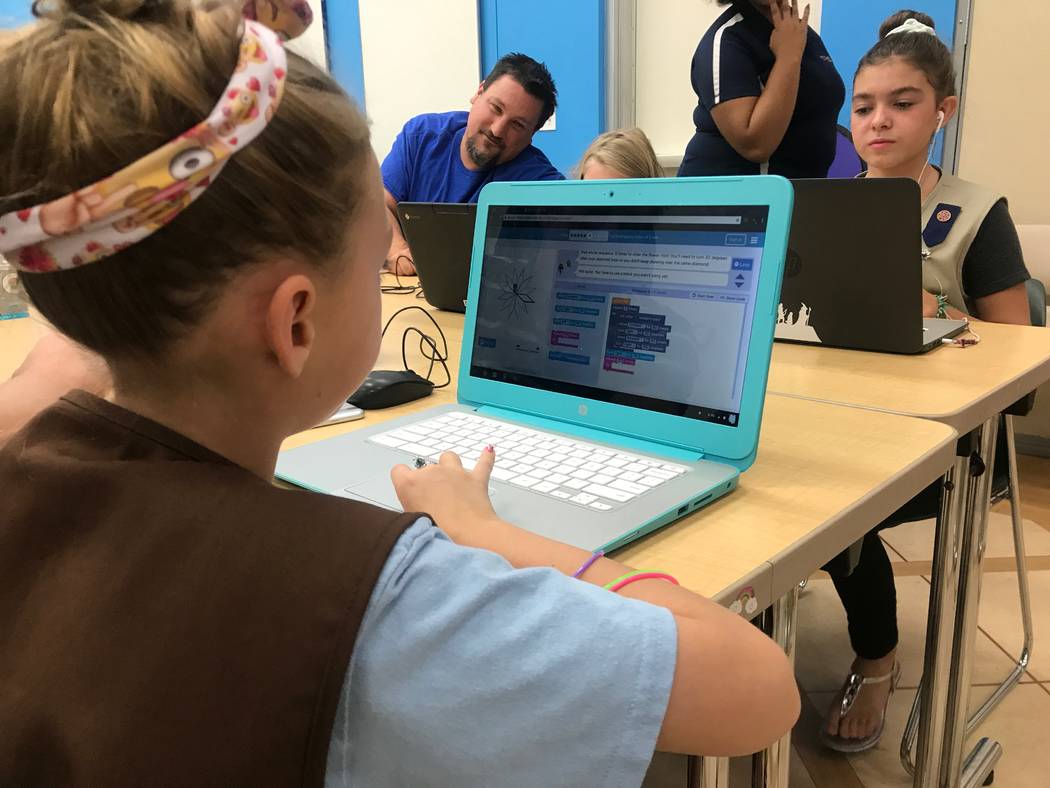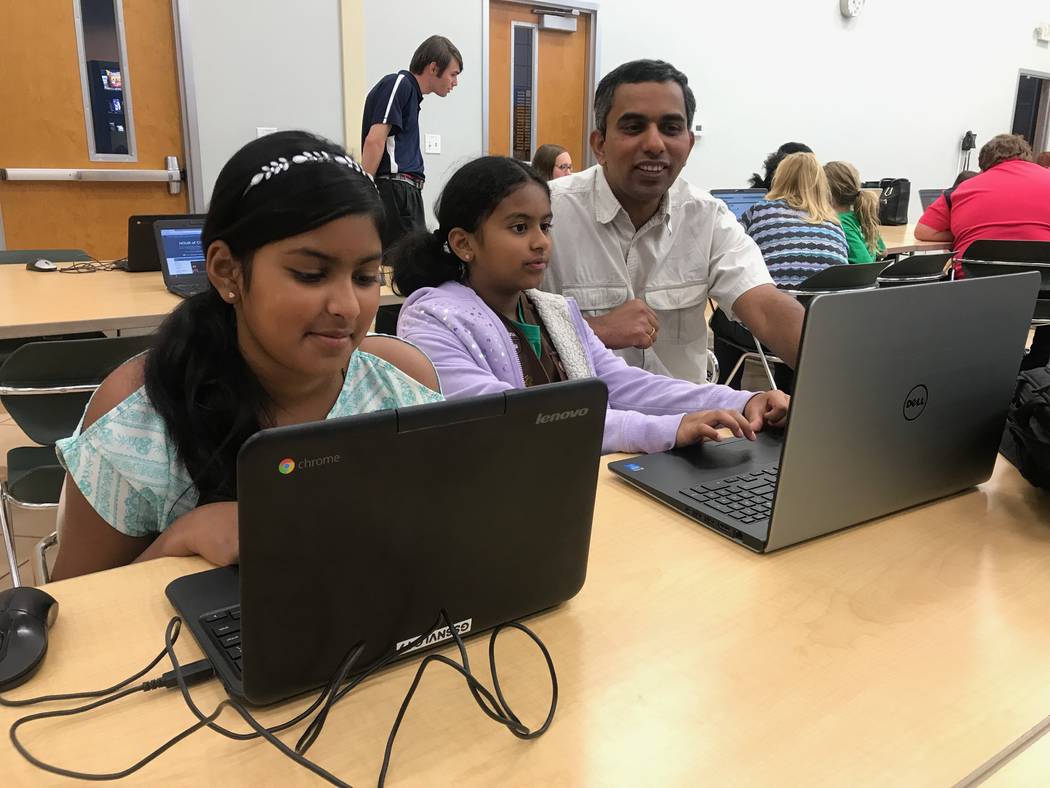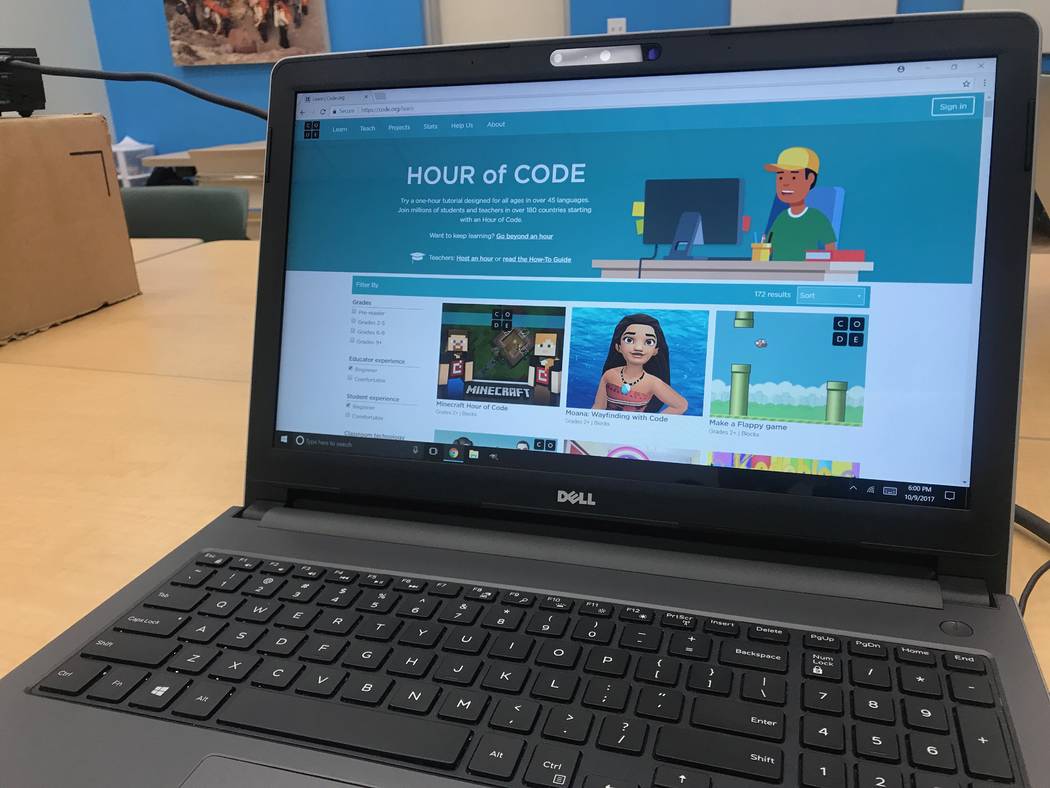 About 50 girls dressed in green T-shirts and brown vests adorned with colorful patches filed into the Girl Scouts of Southern Nevada headquarters on a recent Monday evening. Their task was to learn about coding, a male-dominated profession.
"Coding is something I do with my job, so I figured I'd show (my two daughters) a little bit of what I do at work," said Phillip Moyer, who works in the social media department at KSNV Channel 3 .
"I thought he just posted news on the computer," 8-year-old Madeleine said.
The Girl Scouts and one of their family members were invited to the center for a family coding workshop led by Code Central, a technology center in Henderson. The purpose was to expose girls ages 8 to about 15 to computer science, Girl Scouts of Southern Nevada STEAM director Britney Davis said.
"Girl Scouts was how I got introduced to coding," she said. "I think it's important for them to start at a younger age, like third to fifth grade, to start forming their mentalities about how they feel about certain subjects."
Davis was a Girl Scout for 12 years and graduated with a degree in chemical engineering in 2015 from Villanova University, where she played a role in reactivating the school's National Society of Black Engineers. While in school, she interned with Dow Chemical Co. and, upon graduation, she worked at Precision Castparts Corp. for two years.
She said she was often one of the few women and the youngest working at the plants. She hopes to be a role model to the girls.
"It's not going to be easy, but if you know that there are other women out there who are successful at it or kind of making their way and are passionate about it, the more the girls will feel inspired that they can also do it," Davis said.
With the help of an adult supervisor (parents, grandparents, a sibling, etc.), the girls worked on a computer program called Code.org, a free online resource, and did animated activities to understand what coding is and what commands mean, co-founder and director of Code Central Eric Mendelsohn said. If the students were more advanced, they learned about more complex concepts such as HTML and JavaScript, he said.
Mendelsohn said they have hosted several family code nights at schools in Henderson and plan to expand to other areas. The idea for the Girl Scouts event came from a parent who attended one of the events at a school and proposed collaborating with the organization, he said.
"We're looking to reach as many kids as possible, especially girls," he said. "There's a low percentage of girls getting degrees in STEAM subjects and with the high demand in technology, we want to expose them to this, and that it's not just for boys."
"Oh my goodness," 14-year-old Mia said, smiling with bright-colored braces. She was doing one of the activities at the workshop. "This is amazing." She opted to work on the program by herself, while her father, Moyer, and younger sister Madeleine worked together.
Tessa, 8, a Brownie Girl Scout, attended with her mother and troop leader Kellee Wafel.
"I wanted to (learn how to) do computer stuff," Tessa said. My daddy works with computers (in the IT department at his job)."
"It's really important because anyone that eventually wants to analyze data should know how to code," said Wafel, of the northwest valley.
Although it was an introduction for some of the students, several had experience with coding. Mia, a senior Girl Scout, said she did coding at her Doral Academy charter school.
"Coding is fun to do because you can take games already created and put your own twist on them," she said.
Davis said that as the new STEAM director, she has been given the opportunity to connect her passions of engineering and Girl Scouts. She said she plans to do more events similar to family coding night, such as Alexa Cafe, to further expose the girls to opportunities in the industry.
"My vision and goal is to get these girls exposed to STEAM and to try to put them in the community," she said. "So much that's around them is heavily STEAM-related, so the more they see it in their everyday lives, the more they can relate to it."
Contact Kailyn Brown at kbrown@viewnews.com or 702-387-5233. Follow @kailynhype on Twitter.
Code Central
Where: 10545 S. Eastern Ave., Suite 110
Contact: 702-518-6805 or mycodecentral.com
Code Central also provides workshops at schools. Co-founder and director Eric Mendelsohn said he hopes to get the company involved with more community organizations.