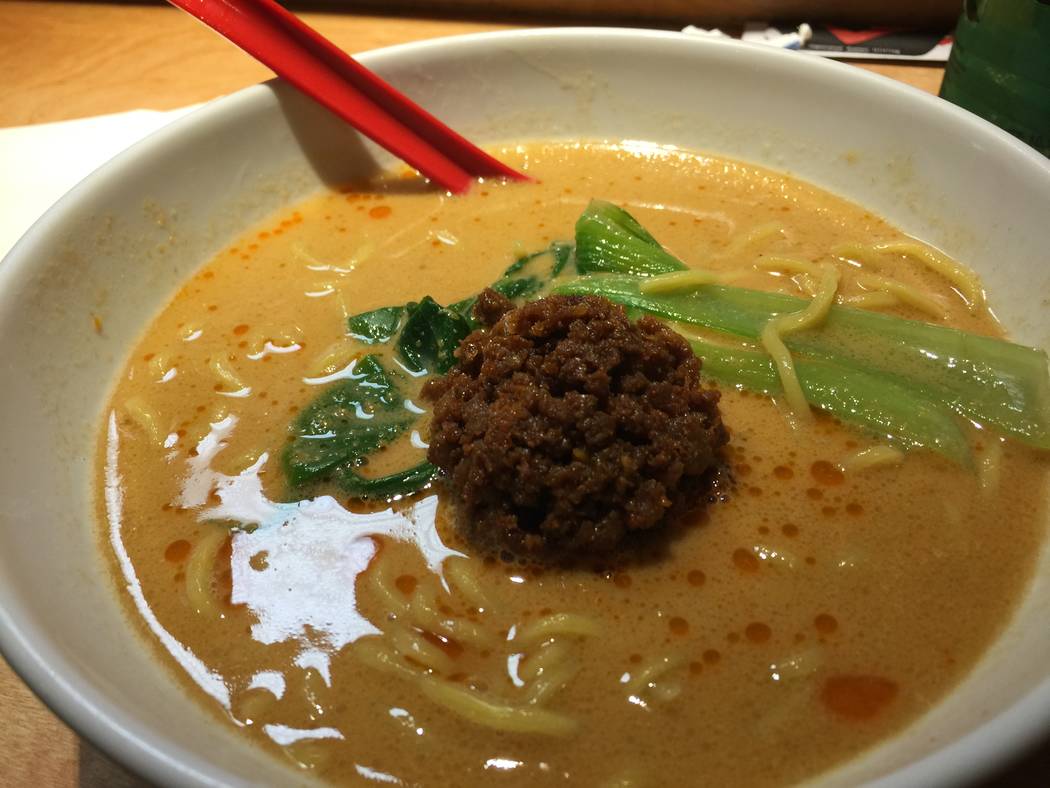 Among the clanking of pots and pans at Fukumimi Ramen in the east valley, Katsuya Jomonari can be seen preparing the ramen, flavoring the dishes and customizing orders.
The restaurant has a red glow, with Japanese symbols blocking out the Las Vegas sun. At 1 p.m. on a recent Tuesday, the restaurant was filled with customers.
Jomonari, who lived in Japan for 40 years before moving to the States in 2012, said he opened the restaurant on Eastern Avenue about five years ago.
"My friends said there were no good ramen stores here," he said.
Jomonari said he hopes to bring the culture of Japan to the Las Vegas Valley outside of Chinatown, but he noted there are some culinary differences. In Japan, the soup is much hotter. At his store, there are more options. He started making ramen because he wasn't interested in rolling sushi and prefers to prepare meat, he said.
"I thought, maybe I could open up a ramen store," Jomonari said. "Everyone in Japan said my ramen is good."
Fukumimi offers ramen, which includes salt, soy or miso sauce-flavored Tonkotsu ramen (pork-based soup noodles, topped with pork belly chashu, seasoned egg, green onion and sprouts, ranging from $7.50-$9.50). Chicken ramen is also available topped with seasoned egg, green onion and sprouts and pork belly chashu for $7.50.
Appetizers include gyoza, baked pork and chicken dumpling, for $4.90, and Karaage, Japanese-style fried chicken, for $3.90. Rice bowls such as the chashu bowl (rice topped with shredded pork, egg, green onion, seaweed and red ginger) are $6.50.
Contact Briana Erickson at berickson@reviewjournal.com or 702-387-5244. Follow @brianarerick on Twitter.
Fukumimi Ramen
Where: 4860 S. Eastern Ave.
Hours: 11:30 a.m.-11 p.m. daily
Information: 702-631-2933
Social media: facebook.com/pg/FUKUMIMIRAMEN/
4860 S. Eastern Ave.