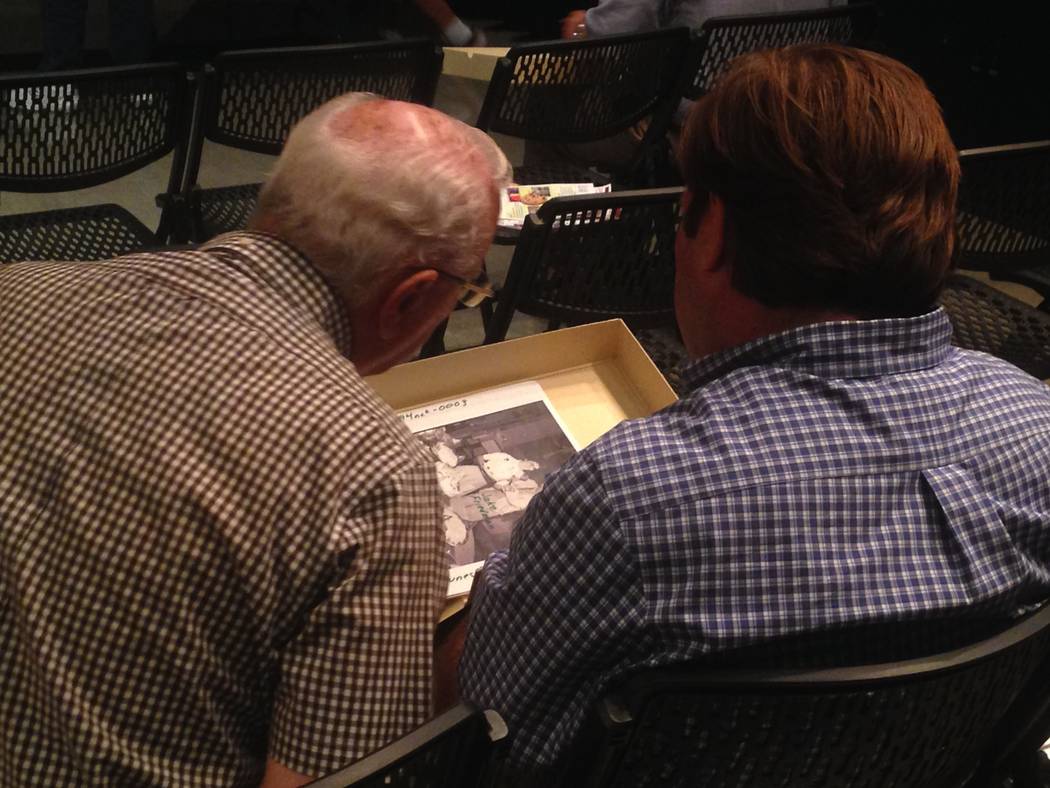 Tito Tiberti sat in the Clark County Library, shifting through binders of photographs.
"This guy's familiar … this guy's familiar … this guy's familiar … this guy with the hat is hard to tell," he said, flipping through the black-and-white photographs spanning decades of Las Vegas history.
Tiberti was attending a July 6 event at the library put on by the Las Vegas News Bureau and Nevada State Museum, Las Vegas. Both have collections of 20th century photographs taken in Las Vegas in which people and places need to be identified. The two entities seek the public's help, said Kelli Luchs, an archivist with the Las Vegas News Bureau who spoke during the event.
"My best resource is you guys," Luchs told the crowd of about 50 people. "You don't get these stories unless you reach out into the community."
Photos from both organizations will be on display in the Las Vegas Lineup exhibit July 25-Oct. 1 at the Clark County Library. Visitors will be able to fill out ballots identifying people they recognize.
The News Bureau collection is from photojournalists who mostly recorded large events and celebrities, Luchs said. The identifiable objects include pictures of the crowd at a Beatles concert, video of Frank Sinatra and a speech given by President Richard Nixon.
The State Museum has more photos donated from residents, including weddings, birthday celebrations and children, said photography curator Ilana Short.
"Most of the photos in my collection that aren't identified are everyday slices of Las Vegas life," Short said.
Short and Luchs asked people to provide as much information as possible about photographs, including the year it was taken, who's shown and the location.
The News Bureau has 5 million to 6 million photographs, and the museum has about 1 million. Short and Luchs said thousands need identifying.
Even small bits of information help, Short said.
"My job as a curator is to tell the story of my collection," she said. "It only helps us to expand our knowledge about the state of Nevada history."
As Tiberti peered at the black-and-white images, he said he wouldn't be surprised if he recognized people. Tiberti was born in Las Vegas in 1945.
"I've been around this all my life," he said.
Tiberti said he has his own collection of old photos he would like to identify and preserve. Flipping through the organization's photos, he recognized celebrities and friends of his father, who owned a construction company in Las Vegas.
Although Las Vegas is a town where buildings seem to be constantly rebuilt and people don't stay long, the city has an important history, Luchs said.
"That's why we talk to people," she said. "It's important to collect that history and share its role with everyone."
Contact Katelyn Newberg at knewberg@reviewjournal.com or 702-383-0240. Follow @k_newberg on Twitter.
If you go
What: Las Vegas Lineup exhibit
When: July 25-Oct. 1
Where: Clark County Library art gallery, 1401 E. Flamingo Road
1401 E. Flamingo Road