Science event at Atomic Testing Museum incorporates creativity of 'Star Wars'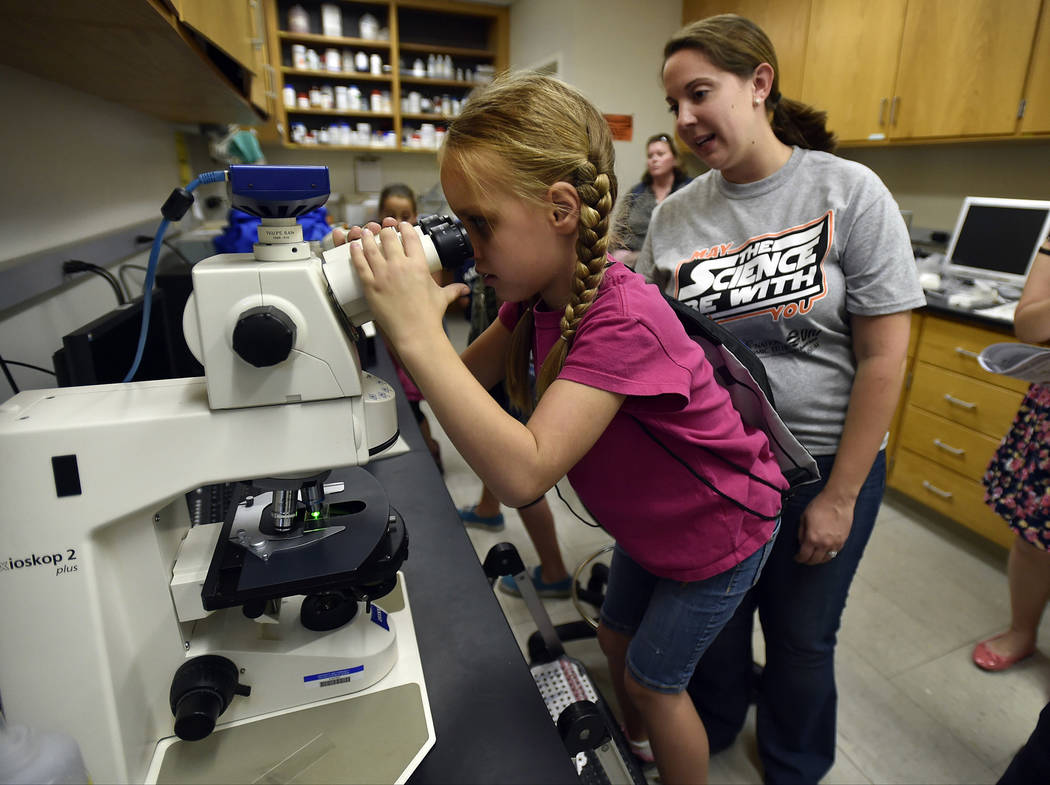 A long time ago in a galaxy far, far away …
Like the first "Star Wars" film, last year's May Science be With You event at the Desert Research Institute and National Atomic Testing Museum has a sequel.
"I thought it was going to be small, that we might get 800 people," said Craig Rosen, spokesman and professional development administrator for the institute, said of last year's inaugural event. "We ended up with more than 2,000 people. This year, since I always push myself to be bigger and better, we've expanded."
May Science be With You was inspired by the organizer's twin loves of "Star Wars" and science and is set to feature activities related to the film, as well as the hard science that is researched and displayed there. It also is set to have an exhibition of "Star Wars"-themed art by artists including a painting demonstration, a display of collectible items from the franchise and hands-on exhibits and activities organized by Clark County School District science teachers.
"There will be a lot of take-away demonstrations where people will be able to make their own lightsabers, Ewok puppets and (an) origami Death Star," Rosen said. "There will be a presentation by a couple of local kids who designed an experiment to go up to the (International) Space Station. Their project was chosen, and it's going to go up."
Colin Cantwell, who worked on the designs and construction of the film's Death Star, X-Wing and TIE fighters and Millennium Falcon, is scheduled as a guest speaker.
"We're going to have 'Star Wars' characters from the 501st Legion, and the (Nar Shaddaa Temple) Saber Guild will be performing here and strolling around," Rosen said, referring to two sanctioned nonprofit cosplay and performance groups known for charitable appearances and education. "As part of the event we're going to have our DRI labs open for the public, and people will be able to take tours and meet our scientists."
The tours will look at the institute's disciplines, including air, water, land and life. Each tour is limited to 20 to 30 people because of the size of the labs.
"People will be able to visit our soils lab, nano lab, archaeology lab, our community and environmental monitoring lab and our biology lab," Rosen said. "People will be able to meet a biologist working on the quagga mussel problem that is an issue at Hoover Dam and meet our NASA scientist. We're highlighting her drone work."
Desert Research Institute scientist Erick Bandala said he's excited to present his research on nanotechnology.
"We have been finding new and perhaps more efficient ways to clean pollutants from water using nano materials," he said. "We need to use caution that the materials themselves don't become an issue in the water, but we've had quite a bit of success with nano materials that can be easily reclaimed from the water with magnets."
For Rosen, the connection between the science fiction of "Star Wars" and the science facts explored regularly at the Desert Research Institute is obvious and direct.
"I think it's fascinating now that they're talking about sending people to Mars," Rosen said. "Some of our scientists at DRI are actually studying how to live in extreme environments as it correlates to life on Mars. It's the young people in first and second grade today who are going to be the pilots on those missions to Mars."
Contact F. Andrew Taylor at ataylor@viewnews.com or 702-380-4532. Follow @FAndrewTPress on Twitter.
May Science be With You
When: 4 to 8 p.m. May 4
Where: Desert Research Institute and Atomic Testing Museum complex, 755 E. Flamingo Road
More information: tinyurl.com/LVmayfth
Las Vegas Science & Technology Festival
May Science be With You is part of the festival, which is set through May 6. Highlights include:
The kickoff CSN Science & Technology Expo from 9 a.m. to 1 p.m. April 28 at the the College of Southern Nevada's North Las Vegas Campus, 3200 E. Cheyenne Ave.
On Junior Paleontology Day, a Tule Springs hike with Las Vegas Natural History Museum resident paleontologist Josh Bonde leaving at 9 a.m. April 29 from the parking lot of the Shadow Ridge High School, 5050 Brent Lane
Science is Everywhere Day with dozens of free behind-the-scenes programs and VIP tours at locations throughout the valley April 30
"Are We Alone? In Search of Intelligent Life in the Cosmos" with Dr. Jill Tarter, co-founder of the SETI Project, at 6:30 p.m. May 2 at the West Charleston Library, 6301 W Charleston Blvd.
"Global Warming: Hoax, Doomsday, or What?," a climate-change debate with Michael Shermer and James Taylor, moderated by meteorologist and personality Nathan Tannenbaum, at 6:30 p.m. May 3 at the Windmill Library, 7060 Windmill Lane
Giant Science & Technology Expo from 10 a.m. to 5 p.m. May 6 at the Cashman Center, 850 Las Vegas Blvd. North
More information: scifest.vegas.