SeaQuest Aquarium opens at Boulevard Mall
January 12, 2017 - 1:56 pm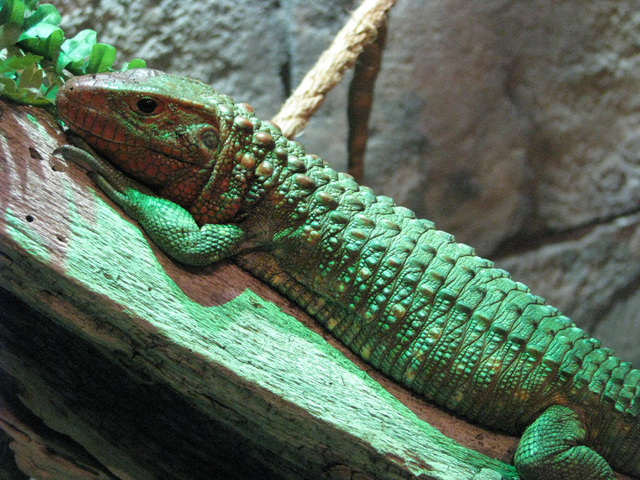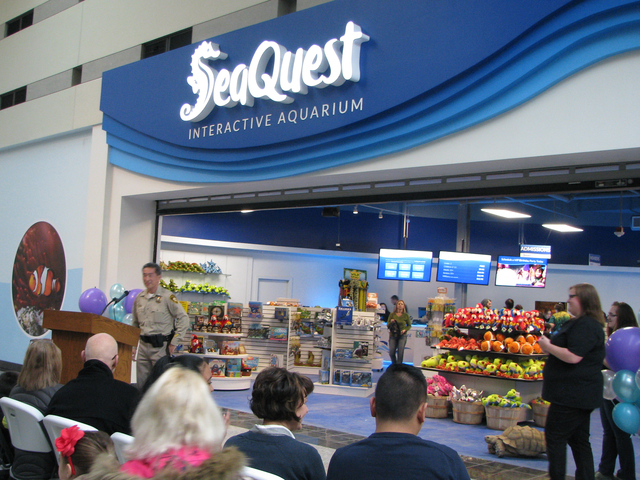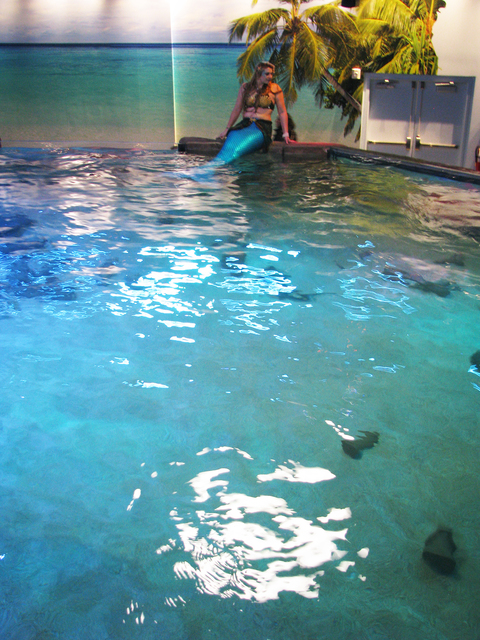 For a desert, the valley has a lot of odd aquarium features. But you can't pet the fish behind the registration desk at The Mirage, feed the trout at Bass Pro Shops or swim with the sharks at Shark Reef.
Most of the exhibits at SeaQuest Interactive Aquarium are hands-on — or, in the case of the venue's largest tank, fins-on, for those interested in going the extra mile to snorkel with stingrays.
"There's not a sign in here that says, 'Do not touch,'" said Erin Boyle, one of the property's investors. "It's all interactive."
The new 31,000-square-foot SeaQuest Interactive Aquarium in the Boulevard Mall, 3528 S. Maryland Parkway, allows visitors to see aquatic animals from several regions, including the Amazon rain forest, the California coast and the Caribbean.
Utah residents Erin and Brad Boyle are among about seven investors who brought the aquarium to Nevada. Another SeaQuest Interactive Aquarium opened in November in Layton, Utah, and a third location is set to open soon in Fort Worth, Texas.
The Boyles' oldest son, Tyler, has special needs and uses a wheelchair. They didn't just make sure the attractions were wheelchair-accessible; they provided a wheelchair lift to the top of the stingray tank and wide doors leading to attractions full of reptiles and birds. Visitors can feed the birds, and the birds sometimes perch on the patrons.
"It's kind of magical to have the birds land right on your hand," Erin Boyle said. "It makes me feel like Snow White. It's like they're going to start singing to me or something."
The aquarium is the latest change to Boulevard Mall, which had fallen on hard times prior to its Nov. 21, 2015, sale to Sansone Co. for $54.5 million. Among the other changes were the addition of tenants including the country's only Goodwill Store housed in a mall, remodeling the interior and adding more lighting to the parking structures.
"We've doubled the lighting in the mall," said investor/owner Roland Sansone. "It's probably the brightest property in the Las Vegas Valley."
Lt. Patrick Charon has worked in the area for many years and has followed the community's ups and downs.
"The neighborhood has vastly improved since the changes to the mall," he said. "Things are much better, and the crime is way down from where it has been in the past."
To reach East Valley View reporter F. Andrew Taylor, email ataylor@viewnews.com or call 702-380-4532.
SeaQuest Interactive Aquarium
Where: Boulevard Mall
When: Open from 10 a.m. to 9 p.m. Monday through Saturday and 11 a.m. to 7 p.m. Sunday.
Cost: $9.95 to $12.95. Annual passes are available.
Online: seaquestaquariums.com/vegas
What's next: Future additions are set to include a luxury theater and electric go-karts.