UNLV engineering students show off Senior Design projects
December 12, 2017 - 1:22 pm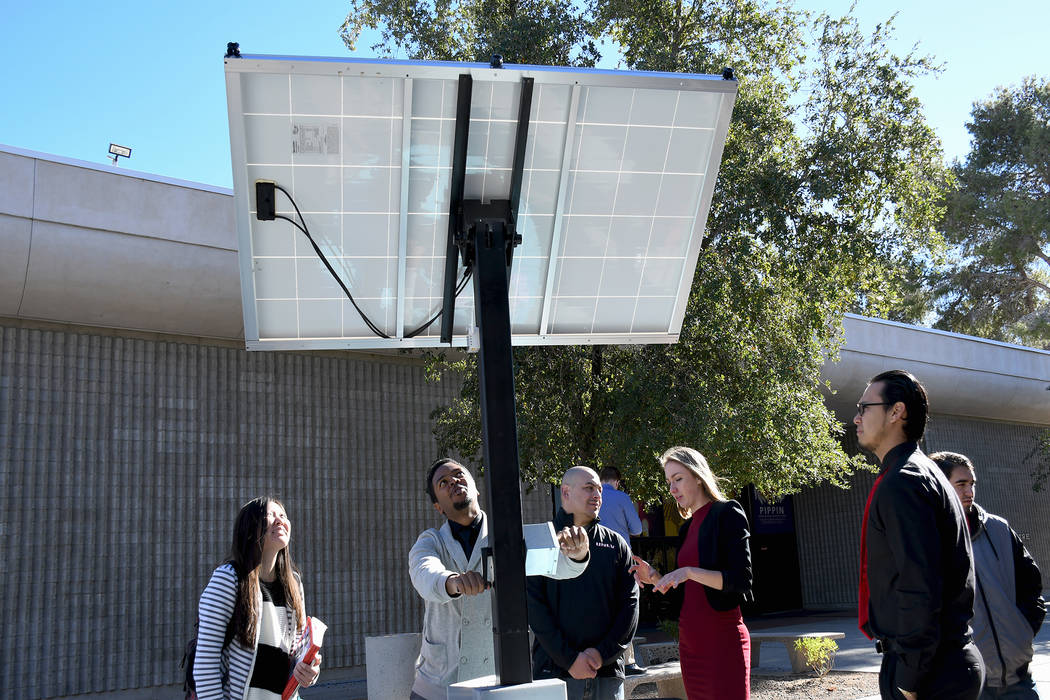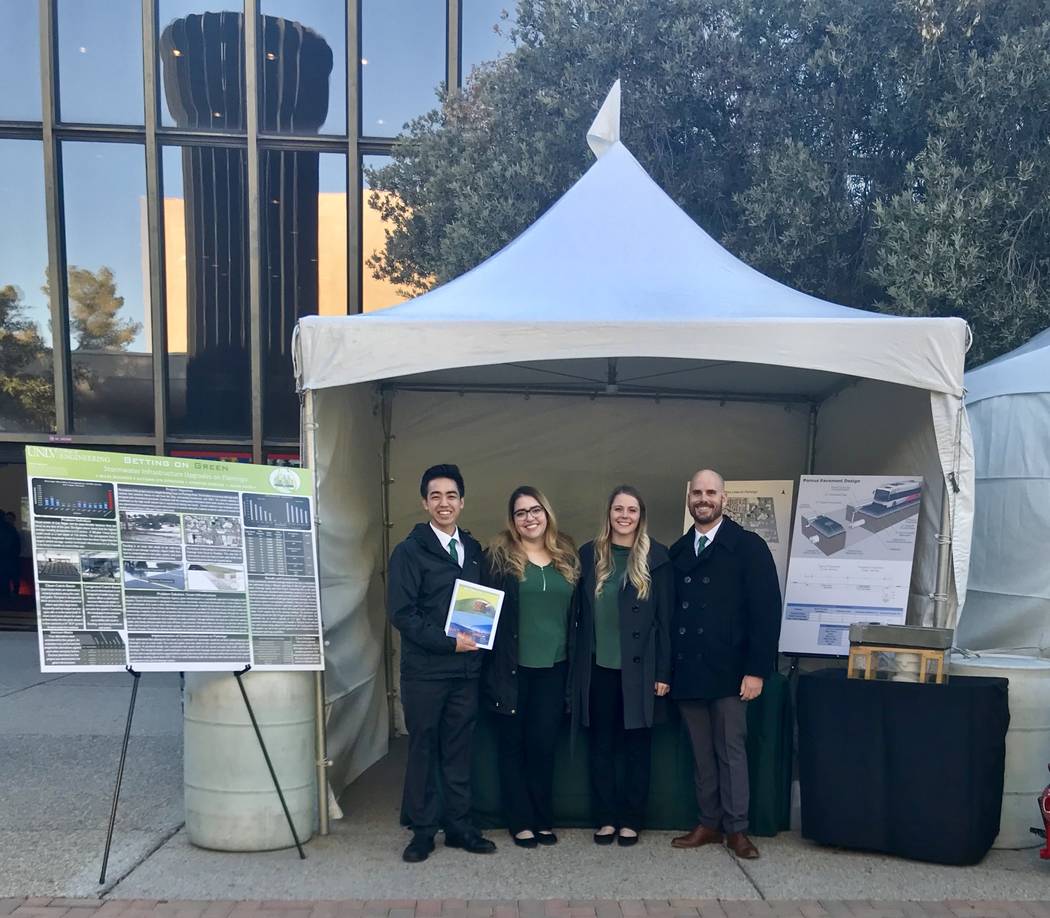 Flooding in August near The Linq Hotel made headlines and inspired four UNLV seniors to create a new infrastructure design for the area.
They presented their work Dec. 7 at the annual Fred and Harriet Cox Senior Design Competition at the Howard R. Hughes College of Engineering.
The soon-to-be graduates — Miles Buckner, Autumn Donovan, Jennifer Jarquin and Jason Shon — proposed using porous pavement in areas prone to heavy flooding. It would allow water to drip through concrete and into the sewer and would lessen the load on storm drains.
The competition is the culmination of every engineering student's career at UNLV. Students are tasked with developing a project that offers solution to a real-world issue. Thirty-one teams participated this semester, with projects such as an adjustable kitchen system for seniors or the disabled; a pedestrian-lighting system; and an enhanced shipping pallet that can reudce truck-loading times.
"What we are really trying to do is to get the engineering students to think about marketability, thinking about real-world problems," said Cheryl Bella, director of communications for the Howard R. Hughes College of Engineering. "It's incredible to see what students come up with."
Dylan Nanni, Kobe-Dean Neuhaus and Norberto Torres-Reyes, presented Sol-Hydrator, a portable, solar-powered water-distillation unit.
The 20-pound device the size of a backpack would be marketed toward survivalists and campers, Nanni said.
"I wanted to do something with water that would help out Third World countries or places where freshwater isn't readily available," he said. "… We would want government entities to come in and buy these (devices) in surplus and distribute them to people who would really need it, who don't have access to fresh water."
Students get up to $1,000 per team to build a prototype, which encourages a level playing field, Bella said. Industry judges select winners in five departments: civil and environmental engineering; computer science; electrical and computer engineering; entertainment engineering and design; and mechanical engineering. Five additional awards include commercial potential, sustainability, interdisciplinary, popular choice and grand prize. The judges rate each project on technical merit; potential for commercialization or implementation; quality and completeness of prototype and report; innovation; oral presentation; and poster presentation.
Cash prizes of $500-$1,500 are given to the first- and second-place winners in each category. The engineering college gives out $15,000 in awards, Bella said. Most of the departments and awards have corporate sponsors. Winners are set to be announced on Dec. 14.
"Our goal truly is to try and have students start … companies and actually contribue to the local economy," Bella said. At least one group of students has created a company, Dronesmith Technologies. Other projects have secured patents but are not in the market yet.
Sadie Stutzman, mechanical-engineering senior, said her team hopes to further develop SOLARjuice, a patio-style umbrella with a solar panel that can charge electronic devices.
"It's already market-ready," she said. "Just need to make a couple of adjustments that we are considering. I think that it's a direction that some of us would be willing to go in."
Contact Daria Sokolova at dsokolova@viewnews.com or 702-383-0497. Follow @DariaSokolova77 on Twitter.
Online
For more information about the competition, visit tinyurl.com/y89lxtco.