CCSD backs down from cutting 170 dean jobs
Updated July 24, 2019 - 8:01 pm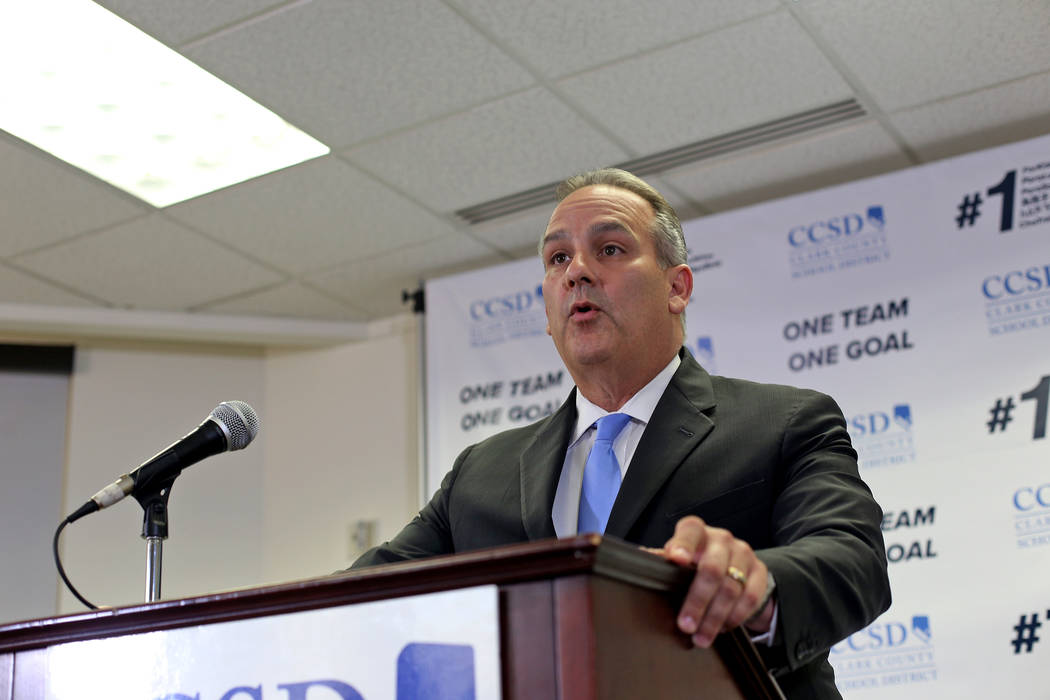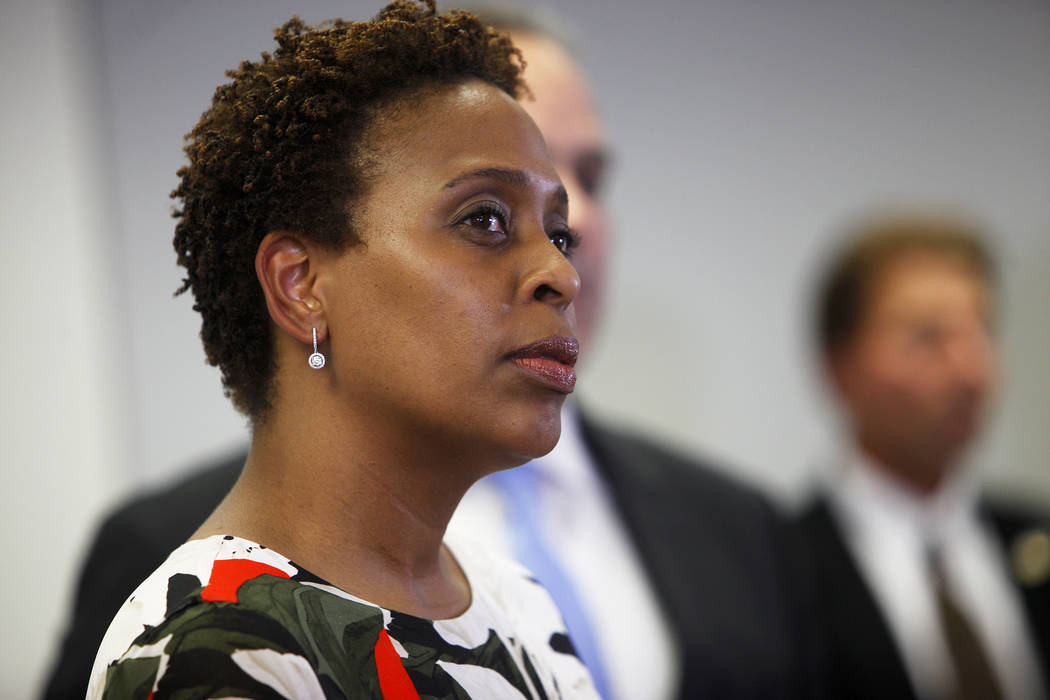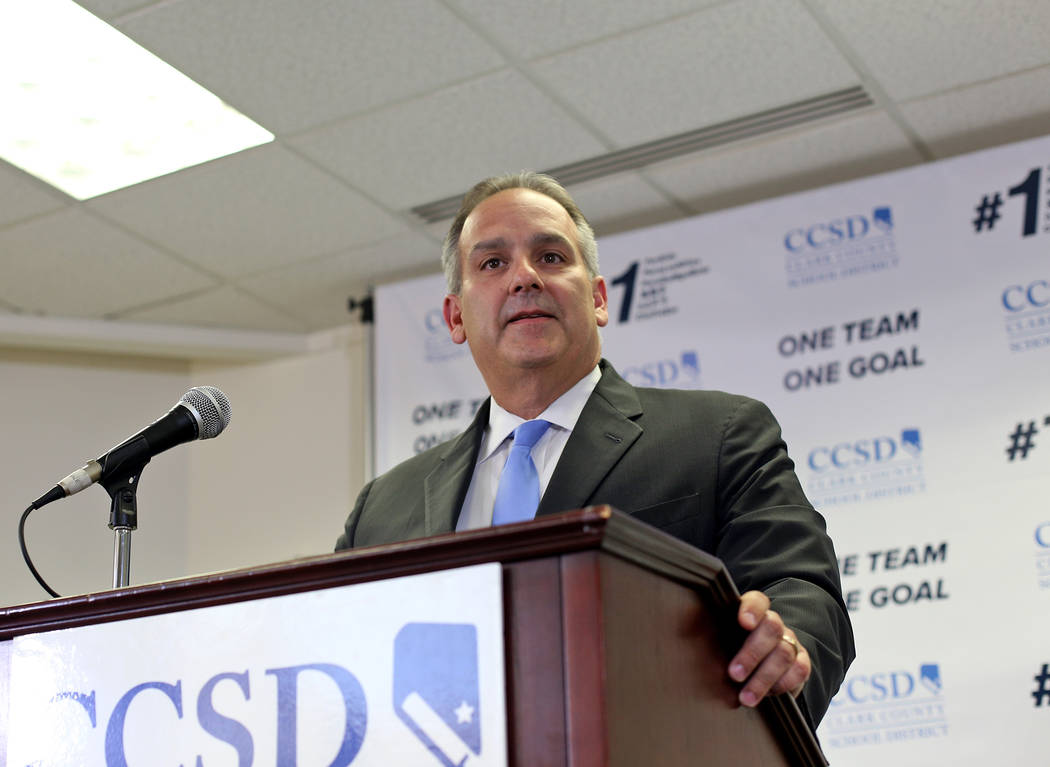 Clark County middle and high schools will cut $98 per student from their budgets to close a projected $17 million deficit for the upcoming school year, reversing a previous decision by Superintendent Jesus Jara to eliminate roughly 170 dean positions.
The reversal, announced at a news conference Wednesday by Jara and other Clark County School District officials, means principals at the affected schools will work with their organizational teams to determine where to cut their budgets.
The announcement comes after Jara faced strong public backlash over the elimination of deans, who are school-based administrators who handle a range of duties — most notably student discipline.
"After a wealth of stakeholder input, I'm pleased to report that we will not be eliminating the dean position," Jara said. "The resounding message from all stakeholders including teachers, support professionals, our principals and our community — was that the decision was best left to our principals along with our school organizational teams."
Some schools have already been finding creative ways to cut money elsewhere in their budget in order to keep those adults on their administrative team.
The district projects it will receive $5,863 per pupil in state funding for the coming school year, which is supplemented by local revenue. Last year, the district spent a total of $8,959 per pupil.
Faith in school leaders
Jara said he trusts principals and school teams to balance their budgets.
"We will not be making any cuts to classroom teachers," he said. "We will not be making cuts to support professionals or increase class sizes — given that we have some of the largest class sizes in America."
Schools can still choose to eliminate dean positions if they wish.
Meanwhile, the Clark County Education Association has not backed down from its threat to strike if there are any cuts to classrooms.
Union President Vikki Courtney was conciliatory after Jara's announcement, however, saying the district has been collaborative in soliciting community input.
"I'm confident that the superintendent will be doing his job in making sure that (schools) do what they're supposed to do," she said of any potential cuts to classrooms.
The cuts will affect schools differently, depending on their enrollment for this coming year.
Some will lose more funding under this new decision than they would have by eliminating their dean positions, while others will come out better.
Winners and losers
Chaparral High School, for instance, cut $219,268 from its budget when it lost its deans. Losing roughly $98 per student means losing another $19,801, according to district documents.
Meanwhile, Findlay Middle School — which originally cut $208,500 — will only need to cut $128,014, saving the school over $80,000.
Reinstating the roughly 140 people who were in a dean position rather than putting them in a teaching post will increase teacher vacancies above the roughly 640 vacancies from the last report, according to chief human resources officer Nadine Jones.
The announcement came shortly after a District Court judge in Las Vegas on Wednesday lifted a temporary restraining order barring the school district from eliminating the dean jobs.
The order stems from a lawsuit filed by the administrators union, which alleged the board violated state open meeting law when the board approved elimination of the deans in a closed-door meeting in June.
Jara has since held a series of meetings with teams of teachers, staffers, principals and members of his leadership team to solicit other options to close the deficit.
Judge Nancy Allf stressed that the district has the right to make whatever decision it wishes to close the deficit as long as it's done in a legal manner.
#JudgeNancyAllf granted a motion to dissolve a temporary restraining order in the school dean case against CCSD. The circumstances in the case no longer warrant such relief. The dissolution will be effective after entry of the order pic.twitter.com/mXmTWfsUfo

— M Price (@LasVegasCourts) July 24, 2019
But the lawsuit claiming an open meeting law violation is still moving forward.
Stephen Augspurger, executive director of the Clark County Association of Administrators and Professional-Technical Employees, said he was ecstatic about the decision to keep deans.
But he noted a need for Jara to mend his relationship with administrators.
"It would be nice just to think we're all going to pick up where we were before," he said. "But he's going to have to demonstrate that we actually have a partnership where people are consulted, discussions occur, things are transparent and open."
The district, meanwhile, is still committing to transforming its disciplinary system in an effort to reduce inequities, particularly with African-American students, who are disciplined at a higher rate than their peers.
"We must rethink our discipline practices," Jara said Wednesday. "I want to say this again: We have to rethink how we discipline our children in Clark County schools."
As part of that effort, the district rolled out plans for two new positions in lieu of the deans. It will keep one of those — a licensed student success project facilitator — in select schools, Jara said.
Contact Amelia Pak-Harvey at apak-harvey@reviewjournal.com or 702-383-4630. Follow @AmeliaPakHarvey on Twitter.
Proposed Per Pupil Budget Adjustments by Las Vegas Review-Journal on Scribd