CCSD touts transparency with new dashboard, still won't release police records
Updated March 22, 2023 - 7:16 pm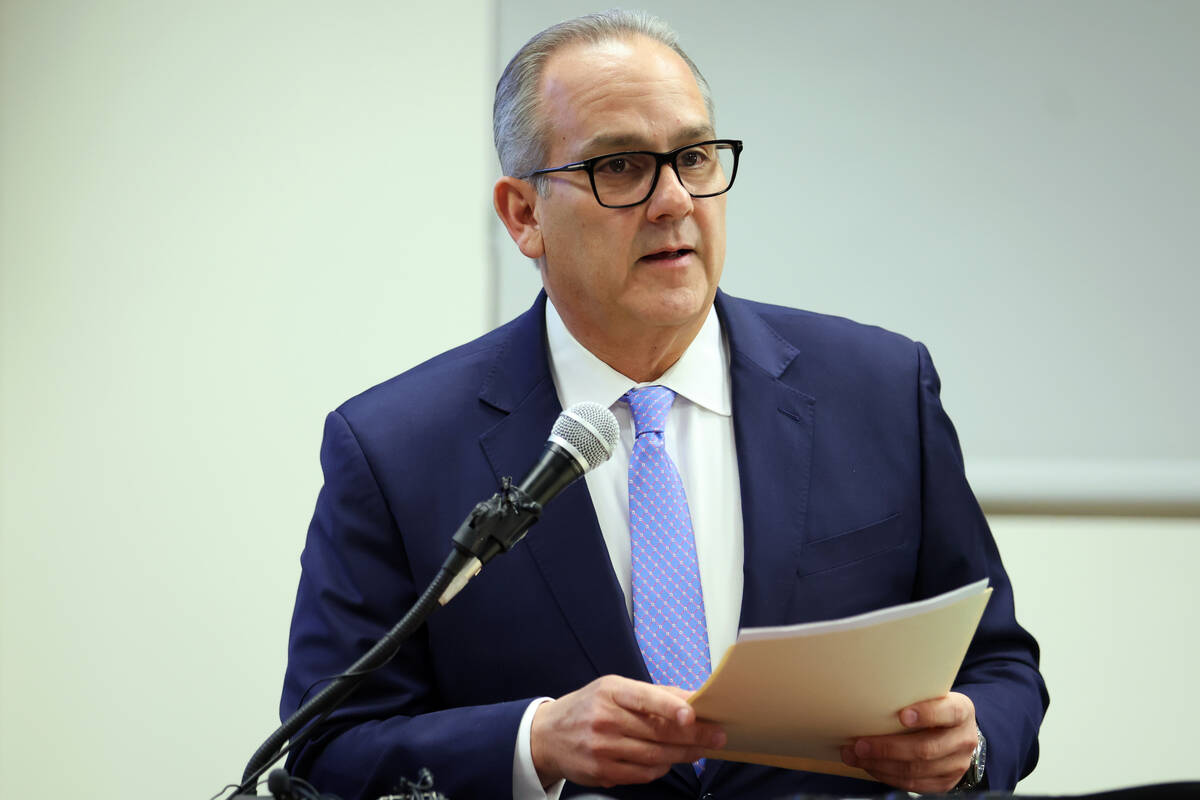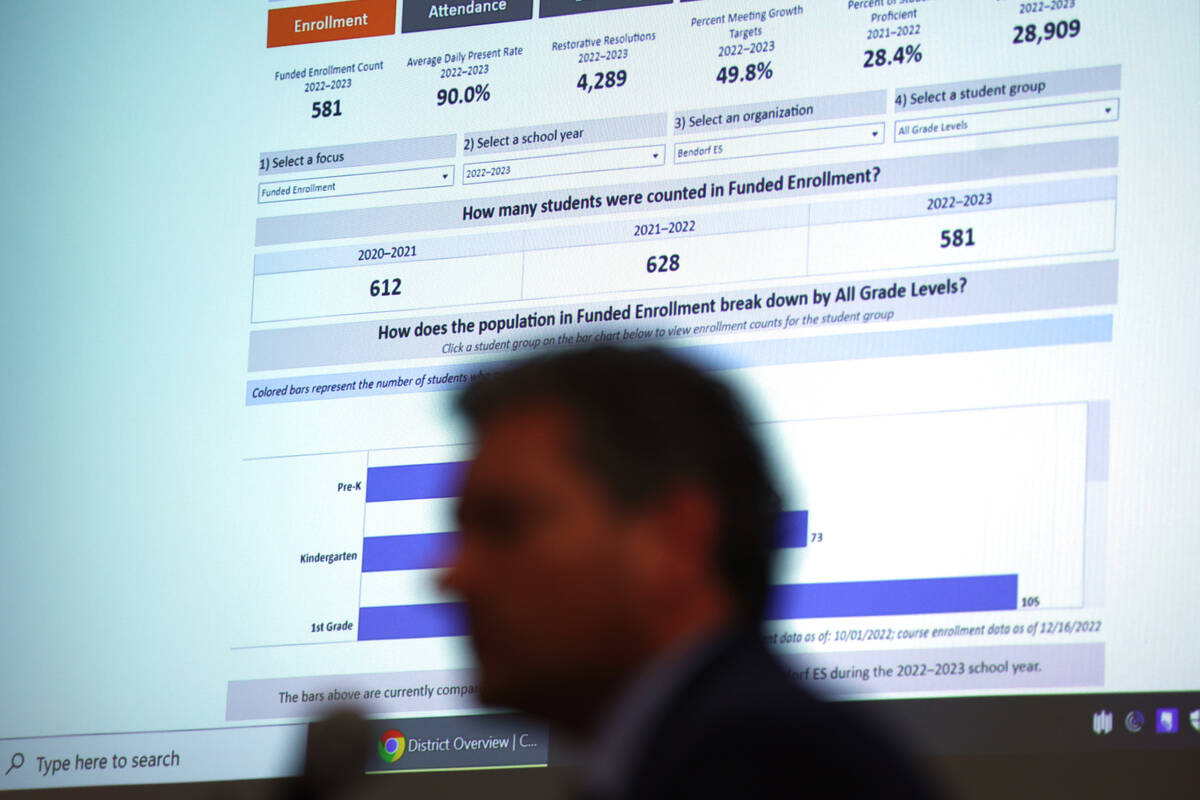 It's a new online school performance data dashboard that Clark County School District officials say is about transparency.
Unveiled by Superintendent Jesus Jara and Assistant Superintendent Greg Manzi at the district's offices Tuesday, the new tool will be different from the state Department of Education's Nevada Report Card because the school district's new portal will be updated more frequently throughout the year as opposed to the annual updates from the state.
"The goal is to have this information readily available," Manzi said.
The dashboard, which can be found at data.ccsd.net, will be updated regularly and include information about attendance rates, standardized test scores, enrollment and student behavior, district officials said.
The portal is also available in English, Spanish and Tagalog, officials said.
"This is an investment of time, energy and dollars," Jara said. "This is something the community has asked for."
The nation's fifth-largest school district, which has about 300,000 students, has faced increased legislative scrutiny this session amid challenges such as school safety and an ongoing teacher shortage.
Asked if the dashboard is a response to demands for accountability from state lawmakers in the wake of Gov. Joe Lombardo's pledge in January to provide an additional $2 billion for K-12 public education, Manzi said "it's not a direct response to the use of funding for the district."
The dashboard will be funded through federal COVID relief funding for schools.
In February, Gov. Joe Lombardo signed an executive order requiring that school districts and the Nevada State Public Charter School Authority submit to third-party audits from last year to the state for review.
Assembly Speaker Steve Yeager, D-Las Vegas, and Senate Majority Leader Nicole Cannizzaro, D-Las Vegas, also announced they're requesting the state's 17 school district superintendents and charter authority to appear during a joint finance meeting to explain how they would use an additional the proposed funding.
But while Jara and Manzi spoke of transparency, Jara also declined to address the district's refusal to release records related to a Feb. 9 incident outside Durango High School in which an officer grabbed and threw down a Black student who appeared to be recording video of another student being arrested.
Video of the incident went viral and sparked outcry, with civil rights groups like the NAACP and others protesting. The ACLU of Nevada, which is representing two of the students involved in the incident, threatened on Monday to take the matter to court if the records, including body camera footage, aren't released within 30 days.
"Considering how quickly police release footage when it is in their favor, this is unacceptable and violates Nevada's Public Records Act," the ACLU said in a statement.
The Review-Journal requested a copy of the incident report, as well as any prior complaints against the involved officer, but the school district has declined to release those records, citing its ongoing investigation of the incident.
The Review-Journal highlighted the situation in its "What Are They Hiding?" initiative, which seeks to hold government agencies accountable when the public and media are denied records in violation of Nevada's public records laws, which are on the books to ensure government is accountable and transparent.
Asked if, in the name of transparency, he will commit to releasing those records, Jara did not want to discuss the matter.
"So what I'll commit to releasing is actually I'll commit to releasing the data dashboard that we have in front of us because that's what this is about," Jara said. "It's not about the request that you have."
Asked again why the district continues to stonewall, and if he has any response to the ACLU of Nevada's threatened legal action, Jara said it would be a matter to discuss at another time.
"We're here to celebrate the data dashboard and the data transparency that we have in front of us," Jara said.
Contact Brett Clarkson at bclarkson@reviewjournal.com. Follow @BrettClarkson_ on Twitter.Contact Julie Wootton-Greener at jgreener@reviewjournal.com or 702-387-2921. Follow @julieswootton on Twitter.