Clark County schools deciding where to get most bang from new weighted funding
August 14, 2017 - 4:47 pm
Updated August 14, 2017 - 7:26 pm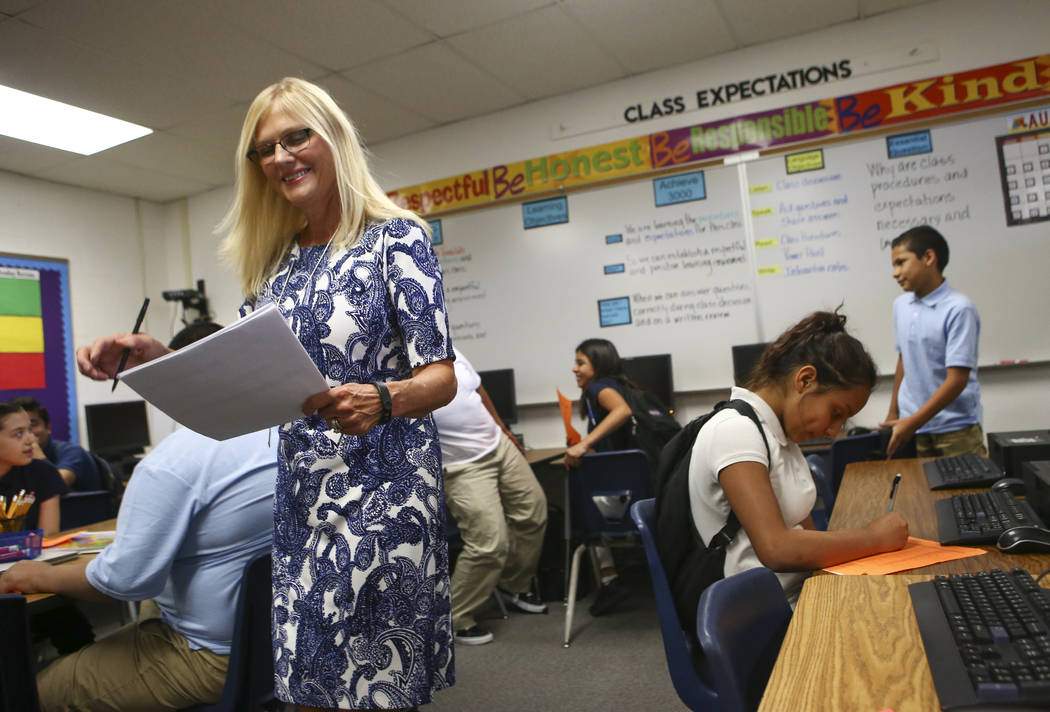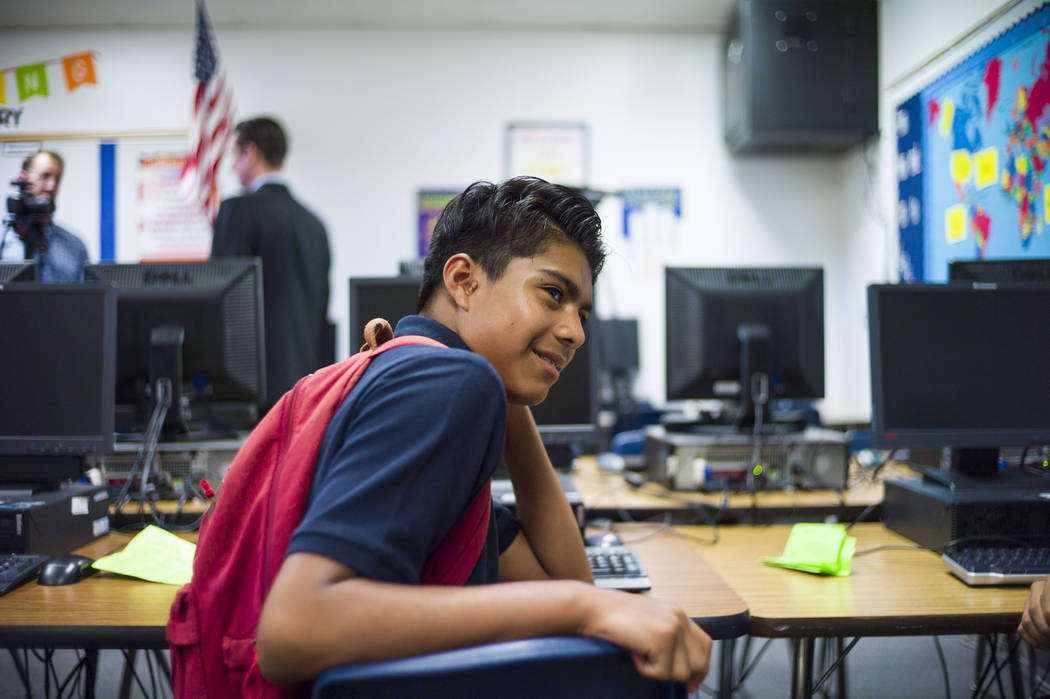 Manuel Majano, 13, wants to join the Army — after he goes to college.
Daniel Lopez, also 13, wants to join the Coast Guard out of high school and use his military benefits to help pay for college. Oh, and he's also going to be a professional soccer player. So is 12-year-old Abel Silva, who is going to be an artist as well.
But first, the task at hand: mastering the English language.
"Sometimes I have a difficult time talking English," said Daniel, who said word definitions can trip him up. "It takes me time to learn it."
The three boys — all of whom started eighth-grade at Garside Junior High School in Las Vegas on Monday — are among the 378 students at the school who are benefiting from a new vein of funding this year: the so-called weighted funding formula.
The new program approved by the Nevada Legislature last session allocated $1,200 per student for children who score in the bottom 25 percent on state tests, are either learning English or living in poverty and do not attend a school that already receives Zoom or Victory funding from the state. Those programs also target English language learners and children in poverty, but Zoom and Victory funds are used schoolwide whereas weighted funding targets specific students.
Under the Clark County School District reorganization, planning on how to spend the money will be decided at the school level.
Garside, which has about 1,200 kids, is getting a boost to the tune of more than $450,000. And while Principal Scarlett Perryman and her school organizational team are still finalizing how to spend the money to best help the students, teacher Kimberly Ivanick already has a few ideas.
"I'm immediately thinking we're going to be able to expand our after-school tutoring" by hiring more tutors, she said.
She also wants to get technology into the students' hands, since that's one way to quicken the process of learning English. Ivanick teaches nine classes for English learners, whose abilities to speak the language vary considerably. They work individually on computers set up in the classroom and in small group settings with Ivanick.
Garside is one of many schools across the state benefiting from the new $36 million allocations this year. Clark County schools received more than $34 million of the total funding. Although the allocation was solidified at the end of the legislative session in the spring, schools are just now seeing how much they will receive and figuring out how best to spend it.
The spending will be tracked in a separate part of each school's budget, and an analysis will be performed to test whether the money made a difference in student achievement.
Contact Meghin Delaney at 702-383-0281 or mdelaney@reviewjournal.com. Follow @MeghinDelaney on Twitter.
Money uses
Senate Bill 178 spelled out different ways districts and schools can use the $1,200 per student to help children in poverty or who are learning English. Here are some of them:
— Summer academy.
— Before- or after-school program.
— Extended school day.
— Literacy center.
— New staff to provide academic intervention.
— Professional development for teachers.
Source: Senate Bill 178