Homeland security leader talks school security in Las Vegas
August 23, 2018 - 4:24 pm
Updated August 23, 2018 - 8:22 pm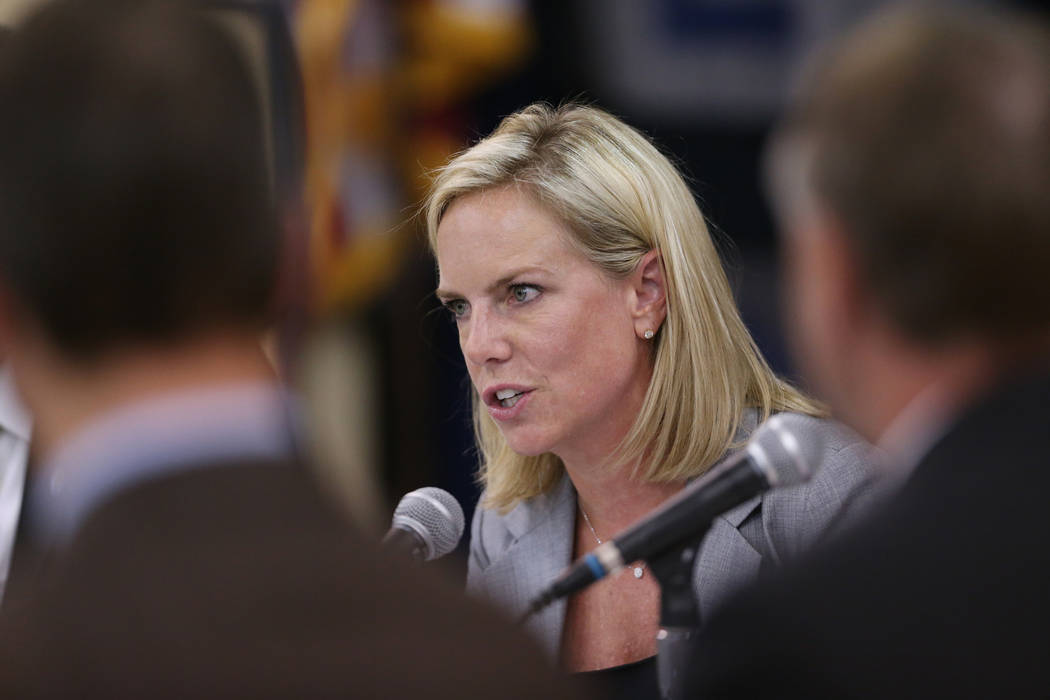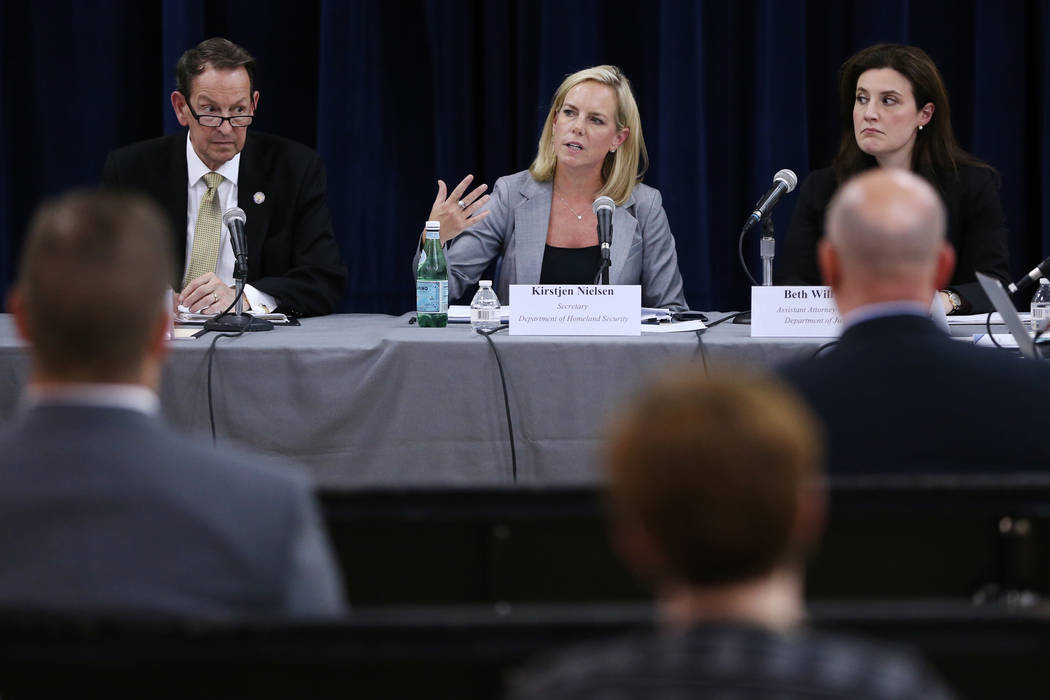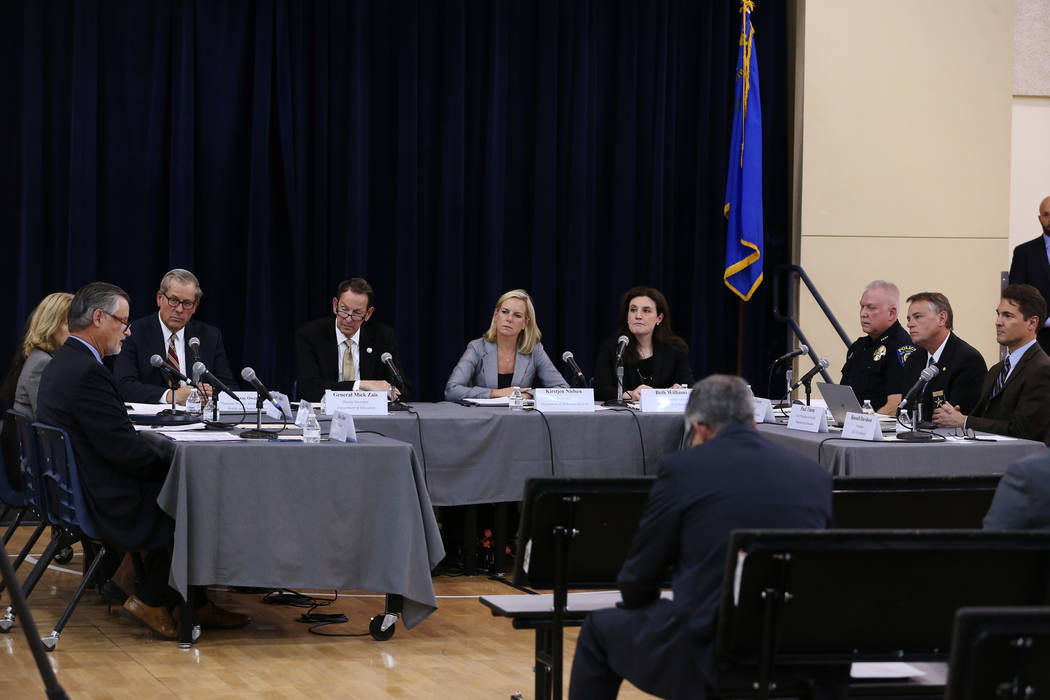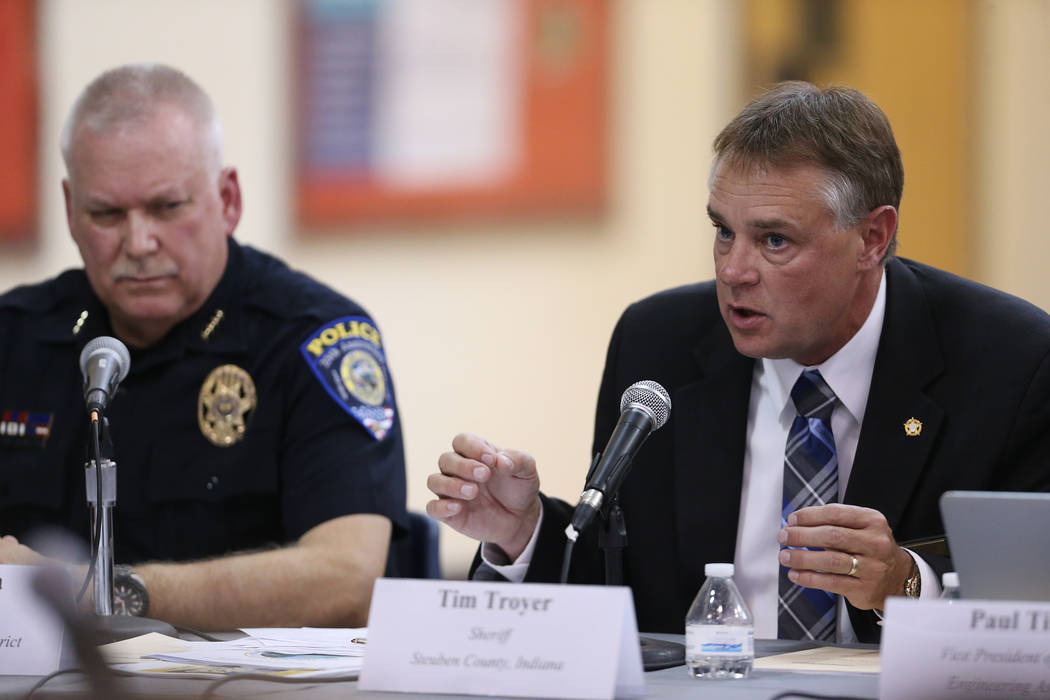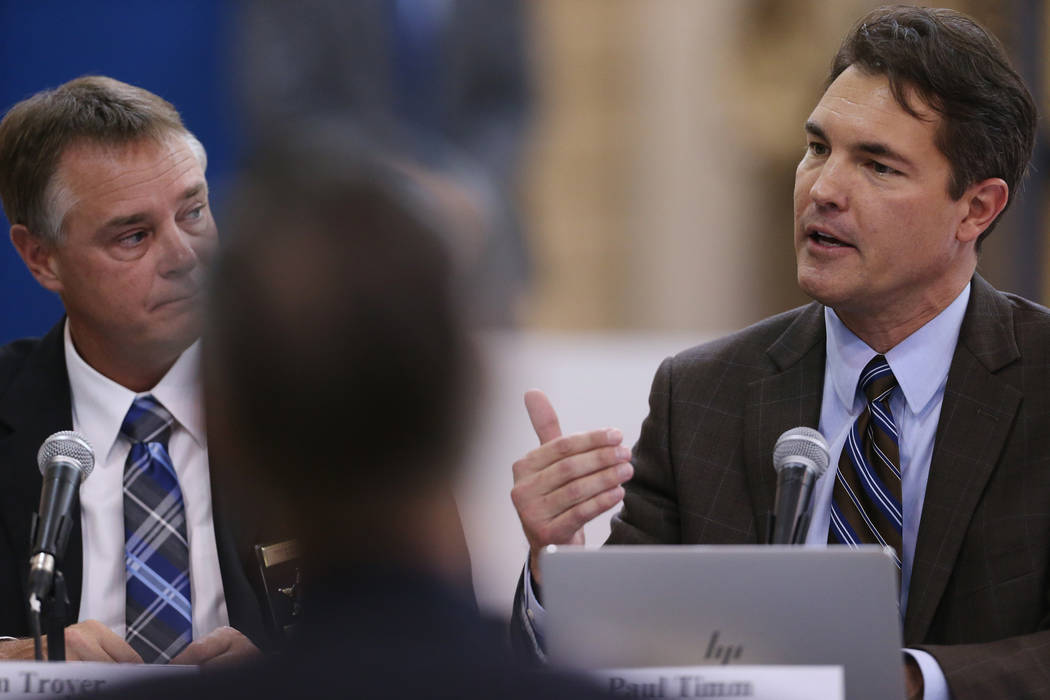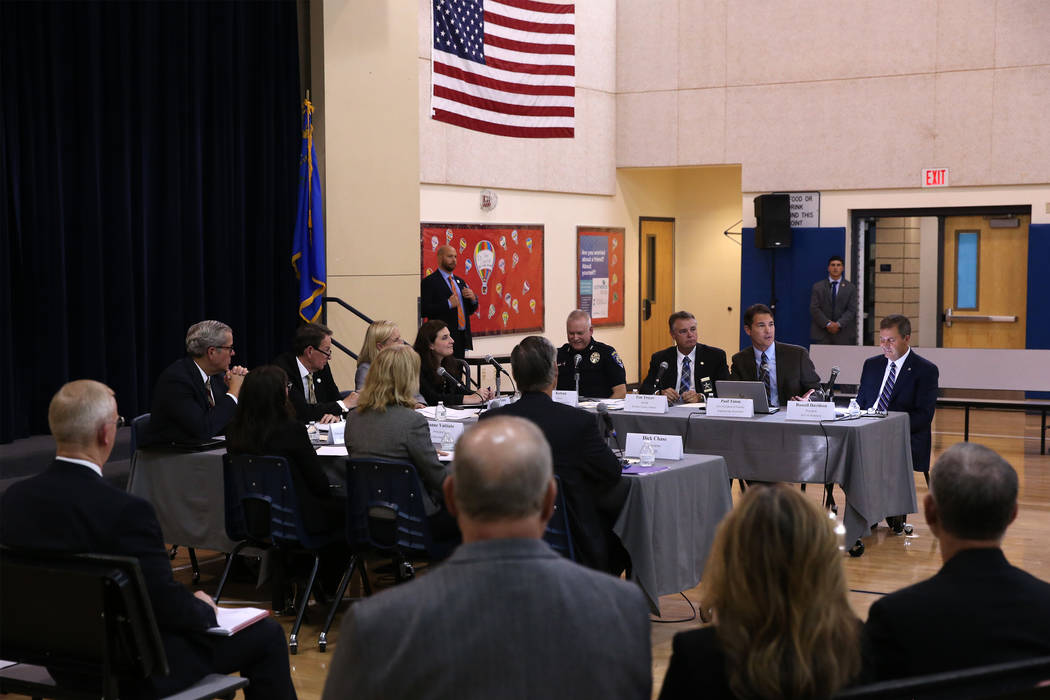 Effective communication, proper training and secure buildings were the central themes of a visit to Las Vegas on Thursday by U.S. Homeland Security Secretary Kirstjen Nielsen devoted to school safety.
The visit was part of a national tour by representatives of the Federal Commission on School Safety — of which Nielsen is a member — and included a tour of the Miley Achievement Center, a Las Vegas school for students with special needs.
The tour was highlighted by a $10,000 grant to the school from ASIS International, which was matched by an anonymous donation. The school will use the money to install more security cameras and upgrade wand metal detectors, among other things, said Principal Joanne Vattiato.
"We deeply believe the physical environment of a school is critical in keeping the school safe," she said.
Safety debate
Afterward, Nielsen and the other commission representatives participated in two roundtable discussions focused on local law enforcement perspectives on school security and on designing more secure schools.
The visit came hours after The New York Times reported that the Department of Education is considering a proposal to provide grant money to schools to arm educators if they decide to do so.
Nielsen said she wasn't familiar with the proposal and did not take a position on the issue of arming educators in an effort to stop armed intruders.
"I think communities are looking at that individually. As you know, some communities do, some communities don't," she said. "I think each community has to kind of determine what applies best for them."
She also did not offer any firm opinion on calls for new gun control measures, a topic that was not mentioned in the two panel discussions.
"It's not part of our equation at the Department of Homeland Security," she said. "We're really focused on building security and best practices and helping schools secure their perimeters."
Paul Timm, vice president of Facility Engineering Associates and a panelist on the security design panel, stressed the need for communications and access control.
But he also cited the need to involve youth in the safety conversation in order to change the culture in schools.
"There is no Mayberry," he said, referring to the fictional town from "The Andy Griffith Show." "We want to move the culture to a 'See something, say something.' Not afraid, not looking for the boogeyman, but more aware."
The federal commission, which has also held a series of nationwide "listening visits," aims to collect input on ways to improve school safety.
The commission was formed by President Donald Trump in March after a string of school shootings across the nation, which sparked a youth-powered movement to change gun control laws.
Early problems
Safety has already been an issue in the first two weeks of the Clark County school year.
A Centennial High School student was arrested Wednesday after bringing a loaded gun to school. Two Basic High School students were allegedly robbed by a classmate and a 19-year-old man while walking to school last week.
A Green Valley High School student was arrested after he was found with a loaded gun on the first day of school, and a Foothill High School student was arrested the day before for making a terroristic threat.
The visit by Nielsen, the point person in Trump's crackdown on illegal immigration, stirred negative reaction from some groups in Las Vegas.
"Let's not forget that it was under her leadership that the Department of Homeland Security tore children from their parents at the border," Lindsey Harmon, executive director of Nevada Advocates for Planned Parenthood Affiliates, said in a statement. "It's hard to believe that she truly has the best interests of America's families at heart."
Tod Story, executive director of the ACLU of Nevada, said Nielsen will find that Nevadans do not support policies that seek to divide and discriminate.
"If school safety is truly a priority for the Trump administration, then they should recognize that family safety is the first line of defense and keep children with their parents," he said in a statement.
Contact Amelia Pak-Harvey at apak-harvey@reviewjournal.com or 702-383-4630. Follow @AmeliaPakHarvey on Twitter.