Nevada charters hold ratings edge over CCSD schools
September 16, 2018 - 12:17 am
Updated September 16, 2018 - 12:36 am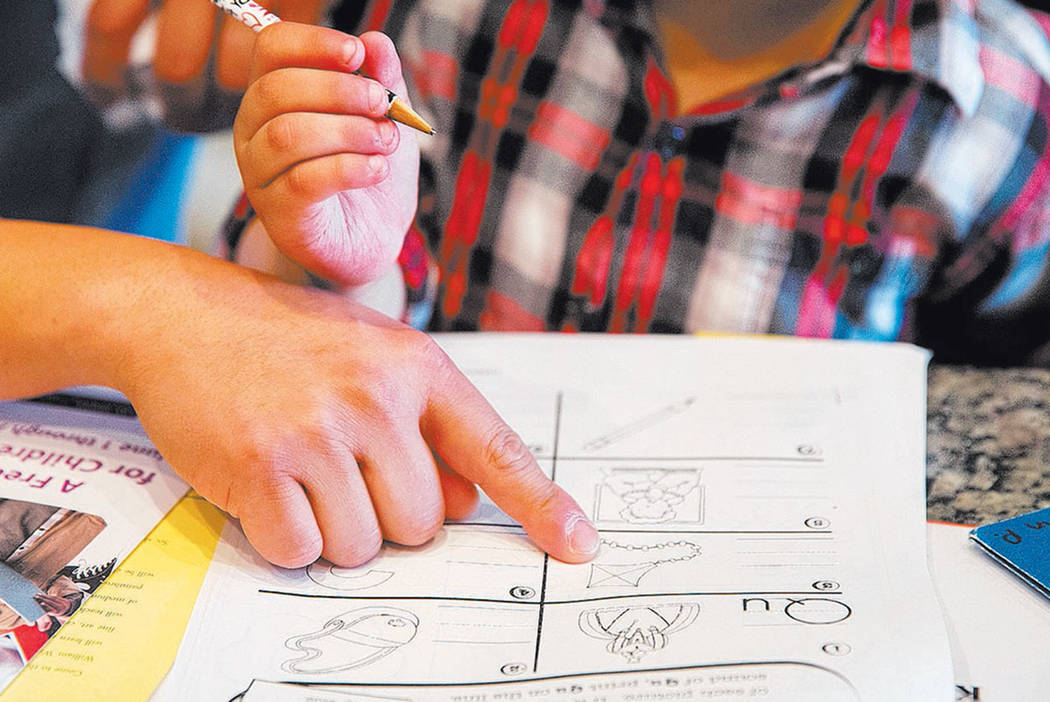 Nevada's charter schools outperformed their traditional counterparts in new ratings from the state — except for those charters providing online-only learning.
An analysis of the five-tier star rating data for 2017-18 released by the state Friday shows that more than half of the state's charter schools under the State Public Charter School Authority were rated three stars or higher, meaning they met state standards.
At the elementary level, 50 percent of charters were at either four or five stars, compared with 35 percent in the preceding year.
About 56 percent of the middle school charters were rated at the four- or five-star levels, compared with 45 percent the preceding year.
There were 21 more elementary schools and 14 more middle school ratings this year because of a change in how schools were categorized, and a direct numerical comparison wasn't possible.
For the first year of high school charter ratings, 31 percent were either four- or five-star campuses.
'Substantial growth'
"What we're seeing here is a story overall of substantial growth, not only in terms of the number of students who are served but the number students who are sitting in high-quality seats," Patrick Gavin, the director of the state charter authority, said of the new data.
Overall, 69 percent of charters at all levels were rated three stars or higher. That is higher than in the Clark County School District, which had 48 percent of schools earn three stars or higher, or statewide, which saw 37 percent of schools rated three stars or above.
That performance edge over Clark County schools extended through the elementary, middle and high school levels.
In the Clark County School District, 27 percent of elementary schools were rated four or five stars, compared with 50 percent of Nevada charter elementaries. At the middle school level, 8.5 percent of CCSD schools were rated four or five stars, compared with 56 percent of charters. And at the high school level, 30 percent of Clark County institutions were rated four or five stars, compared with 32 percent of charter high schools.
Most charter schools in Nevada are authorized by the state charter authority. The data does not cover charters authorized by individual school districts or the handful of charters that have been authorized by the Achievement School District.
High schools were rated by the state for the first time in five years, but some of the newer high schools in the charter portfolio did not receive a rating because they are too new and have yet to graduate a class of students.
Another change this year was that individual charter campuses received a rating. In previous years, all of the elementary schools in the Pinecrest Academy network, for example, were given a single overall rating.
Now, each individual campus in a charter school network receives a separate rating, which Gavin said will prove beneficial for families.
"This is really providing, for the first time, really actionable information for moms and dads and extended families to make much more granular decisions," he said. "It's not just on reputation or perception, but on the real performance of that particular campus."
Highs and lows
In the past few years, the charter authority has taken more aggressive action against schools that are underperforming, although the authority has yet to shut any down.
The data from the state helps show which strategies are and are not working, Gavin said.
Schools that entered into a contract to bring on a new leader, called a "receiver," have exceeded the academic expectations set in the agreement, Gavin said. Those schools include Discovery Charter and Quest Academy in Las Vegas, which have multiple campuses in the valley.
But it's a different story for some of the online academies that have been flagged for lagging performance, including Nevada Connections Academy and Nevada Virtual Academy.
All three levels at Nevada Connections Academy — elementary, middle and high school — earned one-star ratings from the state. Nevada Virtual Academy's elementary school earned a one-star rating, the middle school earned a two-star rating, and the high school earned three stars.
Instead of allowing the state to appoint a receiver to take over or closing down, leaders at those schools created improvement plans that the state charter authority board signed off on. A first look at the data shows the charters aren't meeting the expectations laid out in the agreements, said Jason Guinasso, chairman of the charter authority board.
"I know some of those targets are going to be an issue once the data is finalized and will be the topic of discussion over the next couple months," he said.
Contact Meghin Delaney at 702-383-0281 or mdelaney@reviewjournal.com. Follow @MeghinDelaney on Twitter.
See complete list of star ratings for Clark County public schools at reviewjournal.com/news/education/