Nevada Supreme Court hears R-J's suit over Kevin Child records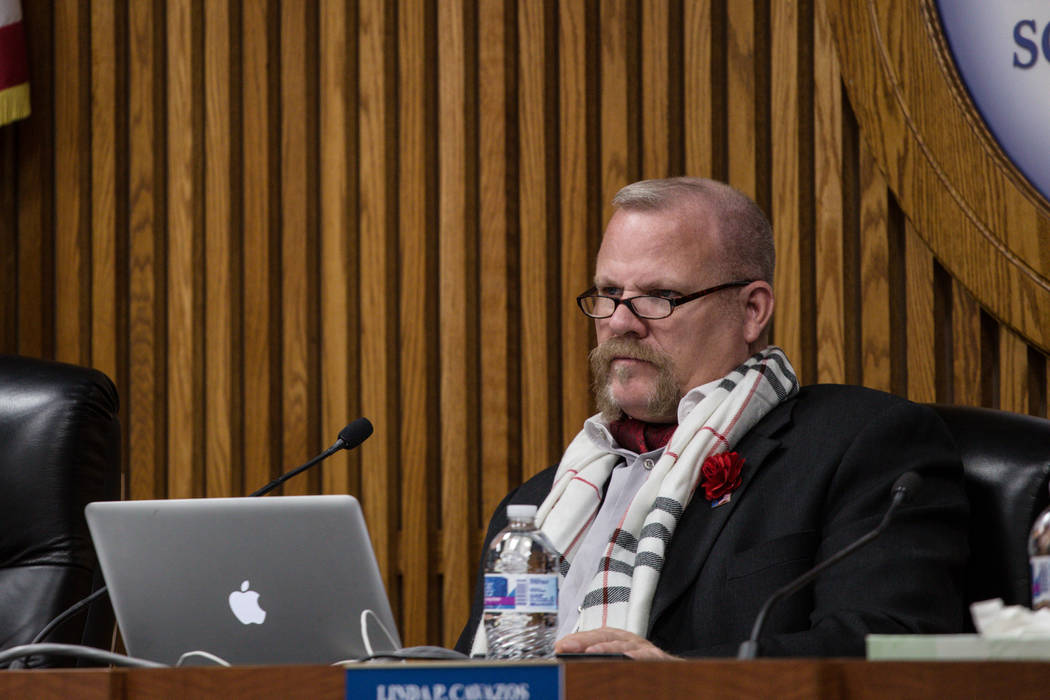 The Review-Journal's fight for Clark County School District records of investigations into the behavior of Trustee Kevin Child continued in the state Supreme Court on Wednesday, as justices heard arguments before deciding whether to uphold a district court decision ordering the release of the documents.
The arguments came more than a year after District Judge Timothy Williams ordered the district to release all remaining documents about Child's behavior that were withheld by the district — including the conclusion of an investigation conducted by the district's Office of Diversity and Affirmative Action that concluded the trustee had created a hostile work environment.
Only the names of students, support staff and direct victims of sexual harassment would be redacted from the documents, under Williams' order.
The district appealed the case, arguing that the investigative file should remain confidential for a number of reasons — including the district's federal obligation to investigate and protect employees from discrimination or harassment.
"I'm concerned (about) the far-reaching impact of a ruling that says any investigations of discrimination are now going to no longer be confidential and we're going to have to turn those over," Adam Honey, an attorney for the district, said during Wednesday's arguments. "People are going to quit reporting (incidents)."
Of the 39 names mentioned in such documents, only nine would be redacted under Williams' order, Honey noted.
The district also argued that its own regulation, which states that investigative information of an alleged unlawful discrimination should remain confidential, is a law with legal effect.
Honey also argued that the district court decision didn't give students and employees the same protection as other state employees during such an investigation.
But Review-Journal attorney Maggie McLetchie argued that the district has a heavy burden to show that a record is confidential under state law, noting that the district describes its own regulations as guidelines and directives.
If the district had its way, she argued, none of the information regarding Child's behavior would be available to voters who must decide whether to keep Child in office in November.
"CCSD keeps saying they can't do much to protect employees … from Trustee Child because he's above them, because he's a trustee," McLetchie said. "But it's the voters who can."
The Review-Journal has received over 100 pages of documents showing that concerns with Child's behavior spanned years. Complaints from staff claimed that Child made students and district staff uncomfortable, embarrassed and concerned.
Child faces newcomer Irene Cepeda in the race for District D in November.
It's unclear when the court will reach a decision.
Contact Amelia Pak-Harvey at apak-harvey@reviewjournal.com or 702-383-4630. Follow @AmeliaPakHarvey on Twitter.