'Rising violence': CCSD teachers injured by students push for law changes
Updated April 13, 2023 - 4:46 pm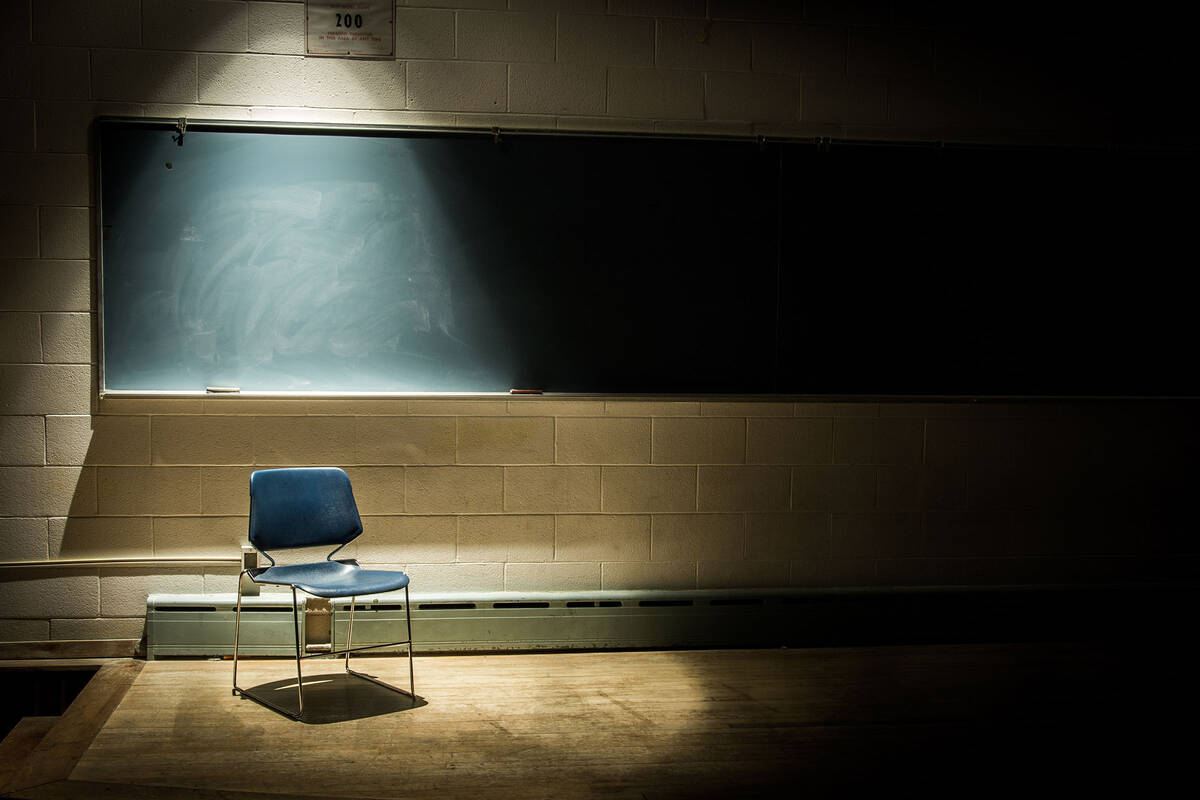 Kindergarten teacher Jessica Jones wore a sling for weeks after a student pushed her against a wall and forcefully pulled her arm.
After she sought medical treatment and recovered from a moderate left shoulder sprain, the student did it again, and she was back in a sling.
A few months later, a different student threw a chair at Jones and a special education aide. He also punched and hit her and other children in class.
At one point, that student's behaviors — which had escalated over time last school year — were so out of control that Jones said she was crying when she got home at night.
Her daughter, who's now 12, would cry and tell her not to go to work.
"The stuff I experienced last year was unlike anything I'd ever seen before," Jones said.
Last month, Jones and other members of the Clark County Education Association teachers union testified during an Assembly Committee on Education hearing about a restorative justice bill.
A couple of bills — including one from Gov. Joe Lombardo's office — are looking to repeal an existing requirement that public schools develop a restorative justice plan before removing a student from a classroom or school under certain circumstances.
Teachers told state legislators the law has hindered their ability to immediately deal with disruptive and violent students, and they're losing instructional time. Some said they've been injured by students and there was no recourse.
But it's unclear how many Clark County School District teachers have been injured by students over the past several years.
In late March, the Las Vegas Review-Journal filed a public records request seeking the number of employees injured by a student over the last five years, as well as the number of related workers compensation cases and total amount of money paid out.
The district denied the request a few days later.
"The District does not compile workers' compensation claims in the manner you have requested," it said in its response. "Who caused the injury does not affect coverage, and the claims are not separated by whether a student or someone/something else caused the injury. The law only requires that we produce documents that already exist."
This school year, Jones said she hasn't been injured on the job and is dealing with "normal kindergarten problems."
But when she sees a child's behavior escalating, she's also thinking about whether it could lead to herself or a student getting injured.
"No one should have in the back of their mind that they're going to get hurt at work," she said.
'Rising violence'
During a March 16 legislative hearing, union President Marie Neisess gave several examples of injuries teachers have suffered.
Those included an educator whose spine was fused after being assaulted by a student, a pregnant educator who was punched in the stomach by a fourth grader, and an educator who was kicked in the groin, had a wrist broken and was punched in the eye.
Children are also being injured by classmates, Neisess said.
The district saw an increase in violent incidents on campuses and behavioral issues among students last year after they returned to in-person classes following the COVID-19 pandemic.
The teachers union said in a statement on April 10 that it's "extremely concerned about the rising violence — and the increasing severity of the acts being committed — in our schools."
"Countless members of our organization have been injured by their students on the job, and this legislative session, we're saying enough is enough," the union said. "No educator should have to fear for their safety at their place of work, and we should have zero tolerance for these violent acts."
The union said it was working directly with the governor and the state's Democratic leaders to pass legislation to curb the violence.
In response to the Review-Journal inquiry about what's being done to address instances of teachers being injured by students, the district said in an April 5 statement that it offers students access to resources "to address social-emotional needs that contribute to behavior concerns."
The district uses programs including Hazel Health, Care Solace and Panorama Education "to identify issues of concern and connect students and families with supportive resources in the community," according to the statement.
The district said it continues to focus on student and staff safety through strategies such as single points of entry on campuses during school hours, emergency and instant alert systems, security monitors, campus perimeter fencing, surveillance cameras and school police.
It also said it enforces the district's student code of conduct "through the use of progressive discipline with a zero-tolerance policy for violence."
'Excruciating pain'
During a March 23 hearing, Greta Blunt Johnson told legislators she was assaulted by a student one-and-a-half years ago at Canyon Springs High School in North Las Vegas.
Blunt Johnson said she now has limited use of her right arm and suffers from back and right shoulder pain. She also had shoulder surgery.
"I'm in excruciating pain every day," she told the Review-Journal.
Blunt Johnson — who has also spoken to the Clark County School Board — said she believes if a progressive discipline plan had been in place, it would have made the student accountable for his actions.
Blunt Johnson said she's not afraid of students.
"Most of the kids at the school are really, really nice and they're just as concerned about their safety," she said.
Kristan Nigro, a kindergarten teacher in Las Vegas, told legislators last month that she has seen extreme student behaviors in her classroom during the last few years "that would make an adult cower in fear."
She said a 5-year-old recently told her they wanted to stab her and watch her bleed out.
Nigro also said a student threw scissors at her face after a student teacher evacuated the other students from the room for their safety.
Angie Joye, a second grade teacher in Las Vegas, said her class was losing about one-and-a-half hours of reading and math instructional time daily because of one student, who is now in a different classroom.
"Teachers are leaving for good because they can't teach and because they don't feel safe," she said.
Karl Byrd, a 26-year educator in the Clark County School District, said a fellow educator at his school recently attempted to break up a fight but was pushed away violently by a parent as some students cheered and filmed the incident. The video was later posted on Instagram.
Tiffany Chimaroke, a fifth grade teacher in Las Vegas, said she has 36 students in her classroom and seven of them have excessive, habitually disruptive behaviors.
One starts fights with peers every day, yells and uses her Chromebook laptop computer as a weapon, she said.
The student has deep emotional trauma and struggles to process emotions, Chimaroke said.
The protocol at her school is to remove children for one or two blocks of time, essentially placing them in a timeout until they cool off, she said.
With no educator input, students are allowed to come back to class, Chimaroke said, and the cycle repeats itself.
Contact Julie Wootton-Greener at jgreener@reviewjournal.com or 702-387-2921. Follow @julieswootton on Twitter.