Training failures major cause of CCSD sexual misconduct crisis
Updated May 25, 2017 - 6:08 am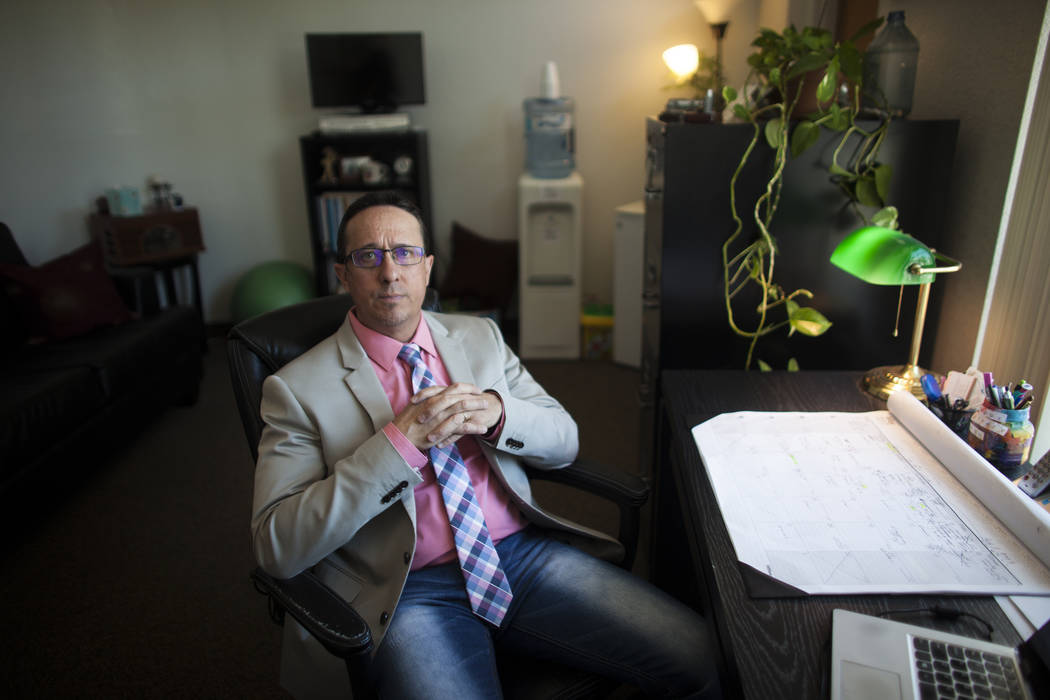 The Clark County School District has no social media or text-messaging policies for employee-student communications and heavily relies on a vague, outdated video to educate employees about sexual misconduct, a Review-Journal investigation has found.
Training failures are a major reason why the nation's fifth-largest school district is mired in a years-long sexual misconduct crisis that has seen 11 employees arrested since July, experts told the Review-Journal. And the district has not acted on a recommendation to expand its sexual misconduct training and create an Office of Educator Sexual Abuse Prevention.
Experts say juvenile victims of sexual abuse often are "groomed" through social media or text messaging by predators. Digital communication is used to gain a child's trust.
In Clark County, six of the 11 staff arrested since July fostered their inappropriate relationships with students through texting or social media, including Facebook and Snapchat, according to police records.
"Our school employees are not being trained properly," said Terri Miller, president of the Las Vegas nonprofit Stop Educator Sexual Abuse Misconduct and Exploitation. "I believe it should be a curriculum that they should have to complete before they get that degree to become a teacher. And that kind of curriculum is nonexistent."
Yet other large districts, including the New York City Department of Education and the Los Angeles Unified School District, have such policies that date back as far as 2012.
Neither New York nor Los Angeles prohibit employees from communicating with students through social media communication, but the policies strongly urge educators to keep personal and professional accounts separate.
New York's 14-page document includes a script employees can use if students engage with them on social media sites.
'Vague,' outdated video
Every year the district's roughly 40,000 employees are required to watch a video that begins with a message from Superintendent Pat Skorkowsky.
It's not the stern statement on sexual misconduct that might be expected.
"We love when our employees make media headlines," Skorkowsky says. "Please make sure you're on the right side of those headlines."
Skorkowsky appears with district lawyers and law enforcement officials in the roughly nine-minute video, used by the system since 2015 to train employees how to act appropriately around children. The video continues to prove prescient — 31 staff members have been arrested on suspicion of sexual misconduct in the past three years.
"It doesn't give examples, it names a couple of things, but it doesn't give the see, scent, feel of it. The criteria they're giving about reporting an inappropriate relationship, it could start what people call a witch hunt because it's so vague," Mary Jo McGrath, a California-based lawyer who founded a company to help school districts train employees, said after reviewing the video at the request of the Review-Journal.
In addition to the video on inappropriate relationships with students, school district employees also must watch videos on sexual harassment, child abuse and neglect, and bullying.
But staff can watch it on their own time. They may be quizzed on some videos through an online system that verifies the completion of training, but there's no guarantee they watched them in their entirety.
Substitutes also watch the same videos, according to the district, and receive a substitute teacher's handbook that details prohibited sexual harassment against students or other staff.
The video reviews "red flags" and urges employees to immediately report any inappropriate behavior, but it doesn't clearly define what that looks like, McGrath said.
"I think the overarching concern is the use of the word 'inappropriate.' They keep using the word inappropriate without it being actually defined," McGrath said. "Doing this kind of shotgun approach, if you will, is just going to stir up more worry."
The video also cites outdated statutes.
It tells staff that school personnel older than 21 are prohibited from engaging in sexual conduct with students age 17 or younger who attend the same school. Yet current statute prohibits employees from having sexual relationships with any students they come in contact with through their jobs, regardless of which school a student attends and regardless of a student's age.
Two school district employees who were arrested this school year claimed they didn't know they were breaking the law.
When Silverado High School assistant junior varsity girls volleyball coach Brian Theophil was arrested in October on suspicion of having sex with a 12th-grader, he told police, "It's not technically illegal," according to the police report. "But I shouldn't do it." He also said he hadn't had any training.
Ryan Davis, a Legacy High School substitute teacher and football coach, was arrested in January on suspicion of having sex with a 12th-grader. "Davis said he thought, 'She's not going back to school, she's an 18 year old, can't get into trouble for that,'" the arrest report said.
"My own feeling is that the school district could probably do more, so there should be more education and more training," said Clark County District Attorney Steve Wolfson.
Wolfson's office began working with the district to update the video after a news conference in April, he told the Review-Journal. Skorkowsky confirmed the collaboration but said he wanted to wait until the legislative session ends June 6 in case new laws are passed.
"The training video is a good start," Wolfson said. "I know there are other people that are interested in providing education to the teachers and students."
A proposal ignored
For the past seven years, John Pacult has been trying to get the district to expand its sexual misconduct training.
Pacult, a Las Vegas licensed clinical social worker who has worked for state and county agencies, has spent years conducting risk assessments in sexual misconduct cases and is an expert witness on those matters in court.
"I knew this was happening, and it just continues to happen," he said. "I saw an opportunity to really help the district fix this problem."
Pacult's plan calls for a separate Office of Educator Sexual Abuse Prevention to handle claims of sexual misconduct.
That would take the burden off administrators, who aren't trained to handle sexual misconduct cases, and put inquiries in the hands of licensed professionals, he said.
"At the end of the day, there's a file created — a proper file created," he said. "There's a proper tracking method. Then ultimately we determine whether there was or wasn't anything going on."
The Clark County School District did not explain why it hasn't accepted Pacult's suggestions. A spokeswoman said vendors and consultants regularly reach out to offer services, and a request for proposals process and a vetting of expertise must be done.
Pacult had a meeting with Trustee Kevin Child on Monday to discuss his proposal.
27-member working group
In the wake of public outcry over arrests in April, the district created a 27-member internal working group to craft a policy on sexual misconduct, including a social media plan.
The group consists of school police, teachers, administrators, one student, one representative from the Las Vegas Metropolitan Police Department and a representative from the Clark County district attorney's office.
The working group does not include parents or representation from victims.
Chad Jensen, whose daughters have alleged inappropriate behavior by two Brown Academy teachers — leading to the arrest of teacher Jeffrey Schultz — wants parents on the panel.
"We should have some type of say-so and be involved in it."
"I'm glad they're doing something," he said. "They should have done it a long time ago."
The group plans to present a draft proposal to a public community roundtable in June, then accept public input, after which it's expected to reach the School Board in July.
"We know the majority of our employees are doing things the right way. But we still have a responsibility to protect students and also protect our employees," said Tammy Malich, assistant superintendent of educational opportunities. "Hopefully that is the message that we will communicate loud and clear, and that is the message that will be heard."
Senate Minority Leader Michael Roberson, R-Henderson, wants the policy to be clear and rigid.
"CCSD must immediately take all necessary steps to put an end to this outrageous sexual misconduct by district employees," Roberson said in an email response to questions from the Review-Journal on Wednesday night. "To the extent social media and texting are being used as tools by sexual predators — and we know they are — CCSD should adopt a zero-tolerance policy on communication between staff and students via social media and texting."
Regardless of how that policy takes shape, Skorkowsy believes a culture exists in which students do not want to "rat on" each other in coming forward with alleged incidents of sexual misconduct.
"If we don't know that these rumors and rumblings are going on, we can't step in," Skorkowsky said. "And so we have to figure out a way to encourage students to come forward with this information to protect their friends as opposed to have it considered ratting them out."
Recognizing patterns
Good training isn't just about how individuals should behave with students, but also about creating a culture where others can spot and report potential grooming behaviors, according to experts.
"So, what do you do with all that information?" said Billie-Jo Grant, a board member at Stop Educator Sexual Abuse Misconduct and Exploitation. "That's where you do the reporting to the compliance officer, and it's a central recording keeping."
Under federal Title IX law, the training should identify who the school or district-level Title IX coordinator is and how to make a report, Grant said. That's missing from the video for employees.
The Title IX officer can monitor individual employees. If there are complaints about an educator behaving inappropriately or having a strange relationship with students, it may prompt further investigation.
But for complaints to happen, other teachers need to know what to look for and what to report, McGrath said. Often the line between what's appropriate and what's inappropriate is hard to tell.
"Typically what's on the surface is these behaviors that are boundary violations, they're too much," she said. "Too much attention, too much favoritism, too many gifts."
But time and attention can also be a mark of a passionate teacher, McGrath conceded.
"You have to put the same protections in place all the time. That gets to seem like it's a little sad, but it's not. It can work if people are conscious," she said.
Another glaring hole for experts? Excluding students and parents from training efforts.
A shifting Nevada law
It wasn't until 1997 that the state banned sexual relationships between school employees and 16- and 17-year-old students.
Before then, the law was unclear on whether employees could engage in sex with students who were older than 16, the state's age of consent.
Nevada law now forbids relationships with current or former students who have not yet graduated from high school, regardless of their age.
Yet the law still holds a potential loophole, applying only to current or former students or those the employee has had contact with "in the course of performing his or her duties."
If a teacher in Boulder City strikes up a relationship with a 17-year-old student in Summerlin who has never been in that teacher's class — or never interacted with the educator on a professional basis in any way — are there grounds for prosecution?
State Superintendent of Instruction Steve Canavero said it would never be appropriate for school employees to have sexual relationships with students, calling it "professional malpractice."
"That just seems too intuitive to have to actually explicate," he said. "But I think districts would agree with that."
Contact Meghin Delaney at mdelaney@reviewjournal.com or 702-383-0281. Follow @MeghinDelaney on Twitter. Contact Amelia Pak-Harvey at apak-harvey@reviewjournal.com or 702-383-4630. Follow @AmeliaPakHarvey on Twitter.