UNLV researchers use volcanic ash to solve prehistoric mysteries
April 21, 2018 - 11:56 pm
Updated April 22, 2018 - 6:10 pm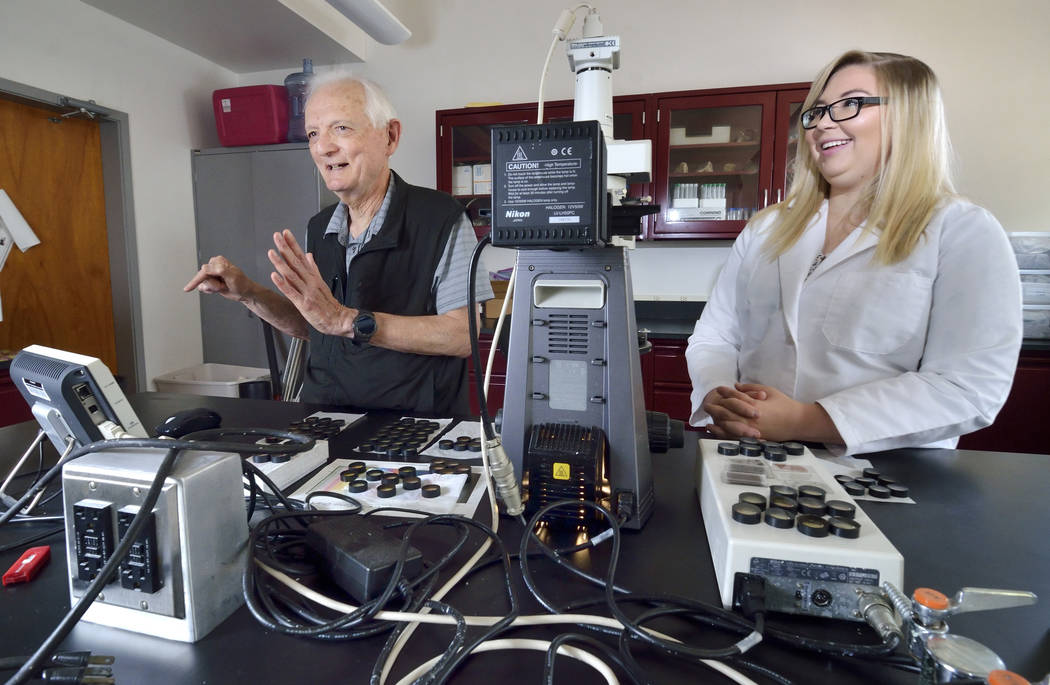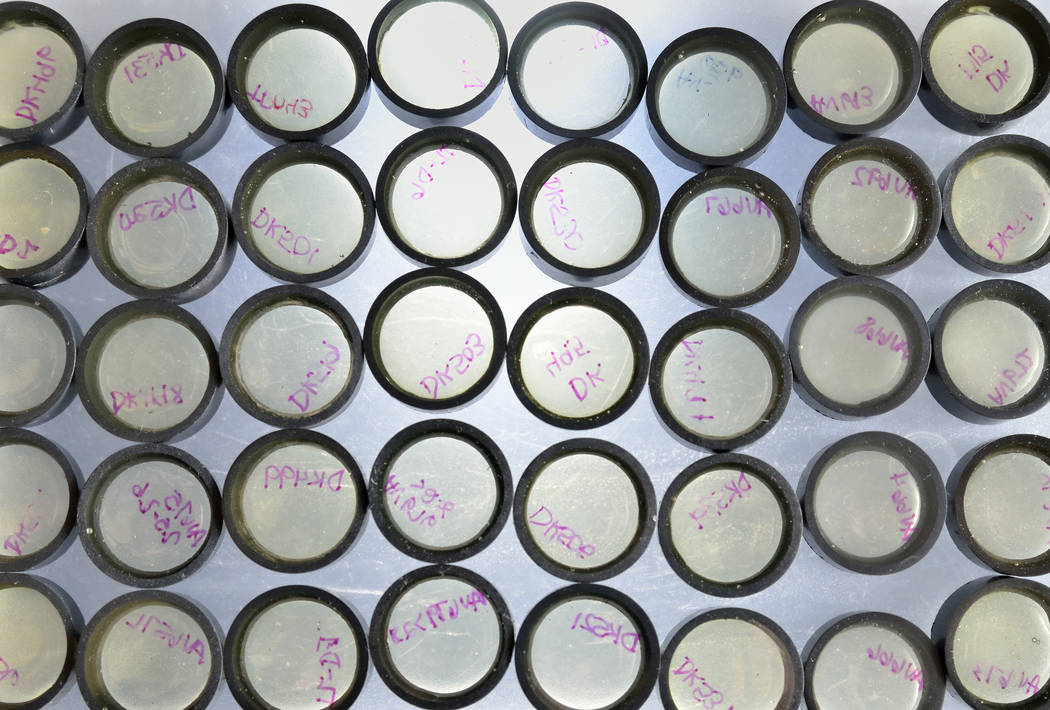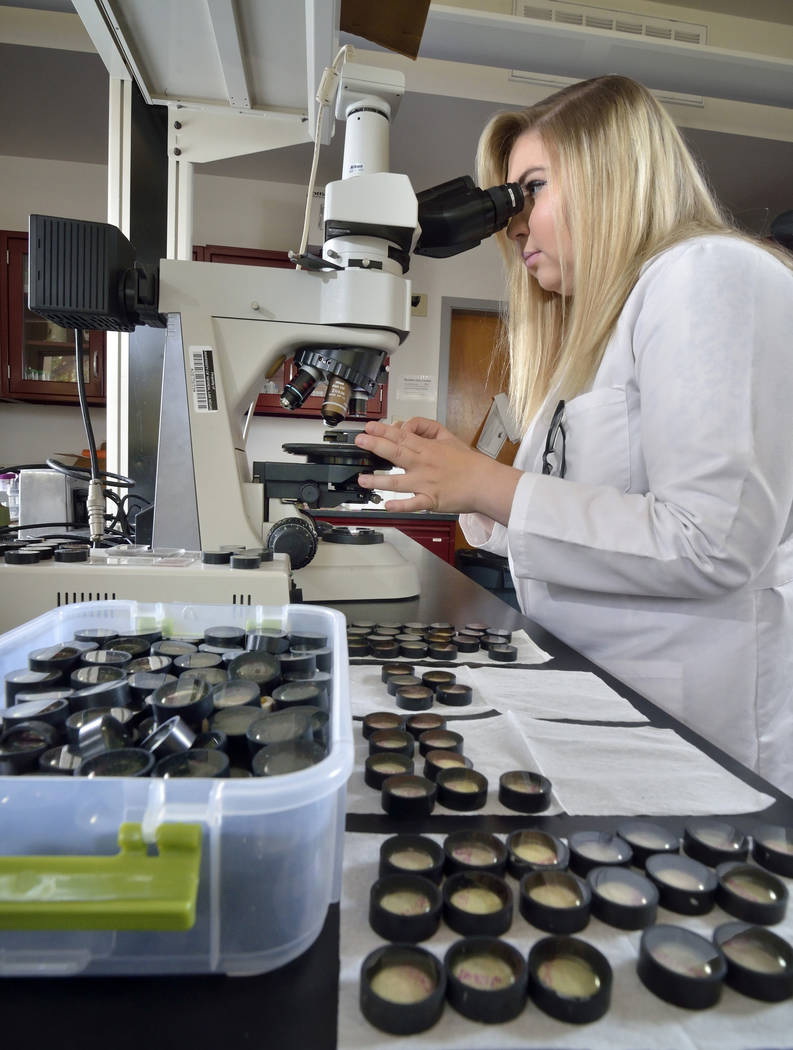 Imagine solving prehistoric mysteries by sifting through the ashes of ancient volcanoes.
That's what UNLV researchers are doing in a highly specialized lab designed to find and analyze fragments of volcanic material smaller than a grain of salt.
By tracing the microscopic glass shards back to the eruptions that created them, UNLV's cryptotephra laboratory can provide precise dates for archaeological and geological events.
Longtime geology professor Eugene Smith established the lab in 2013 based on pioneering work done at Oxford and Cambridge universities in Great Britain.
But his lab — the only one of its kind in the United States — is different. It uses a modified process to find volcanic shards preserved in sediment in almost-impossibly low concentrations.
"I don't think anyone looked before because they didn't think they would find anything," Smith said.
From Toba with love
The lab was born while Smith was on vacation in South Africa in 2011.
He said his wife, retired UNLV astronomy professor turned amateur archaeologist Diane Smith, booked the trip through National Geographic because it included a visit to an active scientific dig at an early-man site.
The lead researcher on the dig, Arizona State University archaeologist Curtis Marean, approached Smith one night at dinner and struck up a conversation about the geology of the site. Marean was eager to find a way to accurately date the various layers he was working in so he could say with some certainty when the tools he was finding were made.
Smith ended up returning to South Africa the following summer to collect 30 soil samples from different parts of the excavation.
Painstaking examination of the material revealed microscopic glass shards with the same chemical signature as the Toba super-volcano, which exploded in present-day Sumatra, Indonesia, about 75,000 years ago in what was one of the Earth's largest known eruptions.
To end up in South Africa, the shards had to travel roughly 5,800 miles, but there was no mistaking where they came from.
"The chemistry of each volcanic eruption is different," Smith explained. "It's like a fingerprint."
Marean was ecstatic. "This basically was a dream he had," Smith said.
Tule time stamp
The discovery marked just the second time that material from Toba had been found in Africa.
Now that researchers know what they're looking for and how to look for it, it's only a matter of time until shards from Toba are found in Europe or even North America, Smith said.
"To me the exciting thing is finding the ash and what it tells us the strength of these volcanic eruptions," he said.
Smith and company are now hard at work on a mystery much closer to home.
Paleontologist and longtime UNLV geology professor Steve Rowland is hoping the cryptotephra lab will be able to determine the age of sediments from Tule Springs Fossil Beds National Monument at the northern edge of the Las Vegas Valley.
"Some of the layers are older than radiocarbon dating will allow us to date," Rowland said, so they're looking for volcanic shards from a known eruption — say the one that struck the Mono Craters of eastern California about 40,000 years ago — to provide them with the time stamp they need.
"A needle in a haystack is kind of cliche, but that's what they're looking for here," Rowland said.
The lab team is also in the process of building the volcano equivalent of a fingerprint database by collecting samples of major eruptions around the world.
"One of the weaknesses of all of this is for a lot of volcanic eruptions not much is known," Smith said.
At least not yet.
Contact Henry Brean at hbrean@reviewjournal.com or 702-383-0350. Follow @RefriedBrean on Twitter.
How the process works
It takes a great deal of time and patience to find and identify microscopic pieces of debris from volcanoes that erupted hundreds of miles away and tens of thousands of years ago.
First, each 30-40 gram sediment sample must be processed to separate out the shards of volcanic glass and anything else of a similar density.
Those tiny particles are then sealed inside a disk of transparent epoxy about the size of a quarter and carefully polished to expose the inside of the grains for examination under a microscope.
UNLV professor emeritus Eugene Smith said there might be 100 grains on a single epoxy disk and only one of those grains — or perhaps none of them — will turn out to be volcanic material.
To confirm if a shard is indeed a shard, the ones singled out by Smith and his research team are sent to another lab at UNLV, where an electron probe is used to determine their basic chemical composition.
For a full analysis right down to the trace elements, the samples are sent off to Michigan State University for tests using a special mass spectrometry device.
Volcanic shards can be incredibly hard to find.
In samples Smith collected in South Africa several years ago, only one out of every 10,000 grains of material turned out to be glass spewed from a volcano.