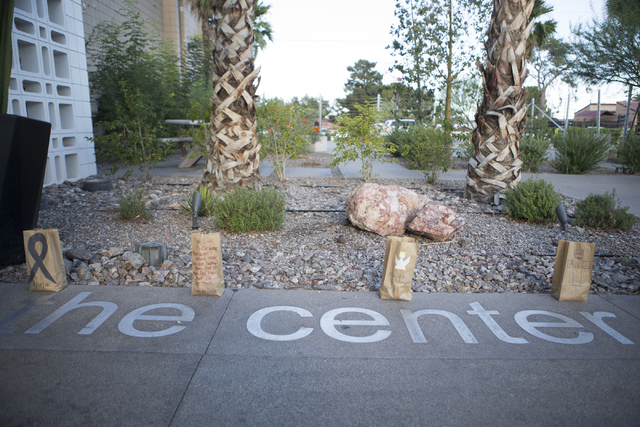 The Gay and Lesbian Community Center of Southern Nevada plans to open a Henderson location in the first quarter of 2017, less than four years after opening its first near downtown Las Vegas.
The Henderson location would house the Center Advocacy Network, which would serve as a hub to connect the LGBT community with services and resources.
"This will help us achieve a wider reach in the community," said Michael Dimengo, the CEO of the center. He added, "We don't intend to reinvent the wheel. We have been fortunate to partner with social service agencies throughout Las Vegas. We intend to co-locate those services and agencies and connect (our clients) with those agencies."
The current location, at 401 S. Maryland Parkway, has been open since April 2013. It offers access to social services and free testing for sexually transmitted diseases in partnership with the Southern Nevada Health District.
The new facility, at 1995 Whitney Mesa Drive, is expected to focus on social services and offer a food bank, a clothing exchange and job training for the LGBT community.
People coming to the new space would be connected to staffers from various agencies.
"At this time, we wouldn't be expanding our staff," Dimengo said.
He hopes to recruit enough volunteers to help out at the new facility.
Las Vegas residents Jon Gathercole and Claude Raffin donated the 4,500-square-foot-space for the Henderson location, Dimengo said.
A few years ago, the couple visited the center in Las Vegas for the first time.
They were impressed, Gathercole said, but they noticed that in one of the rooms, a senior group had to finish a meeting so an LGBT youth group could meet right after.
"They were bursting at the seams," he said.
The couple debated what to do with a property in Hawaii that wasn't paying dividends. Working with a real estate agent, they looked into doing a tax exchange to purchase a warehouse in Henderson.
Gathercole and Raffin showed Dimengo and board members the property.
This year, they also hosted a fundraiser and raised $47,000 for renovation of the space. They kicked in $25,000.
This will be a huge step in helping the center serve the LGBT community, the couple said.
According to the center's polling data, the facility gets an influx of residents from Henderson, Dimengo said.
"Several people have made comments that sometimes the center can be hard to get to," he said.
Dimengo turned to social media asking for people with a range of skills, including contractors, electricians and artists, who would be willing to donate time and services for the new location.
Gathercole said with the building and funds secured, it might inspire more people to react.
"We hope that this gets other people to step forward and see there is a need and offer financial support," Gathercole said.
To reach Henderson View reporter Michael Lyle, email mlyle@viewnews.com or call 702-387-5201. Find him on Twitter: @mjlyle.
HOW TO HELP
To volunteer, contact coordinator Nicol McNee at nmcnee@thecenterlv.org or 702-802-5414.