Getting Better: Beatles Shabbat aimed at uniting, especially after violence
August 22, 2017 - 11:35 am
Updated August 22, 2017 - 1:47 pm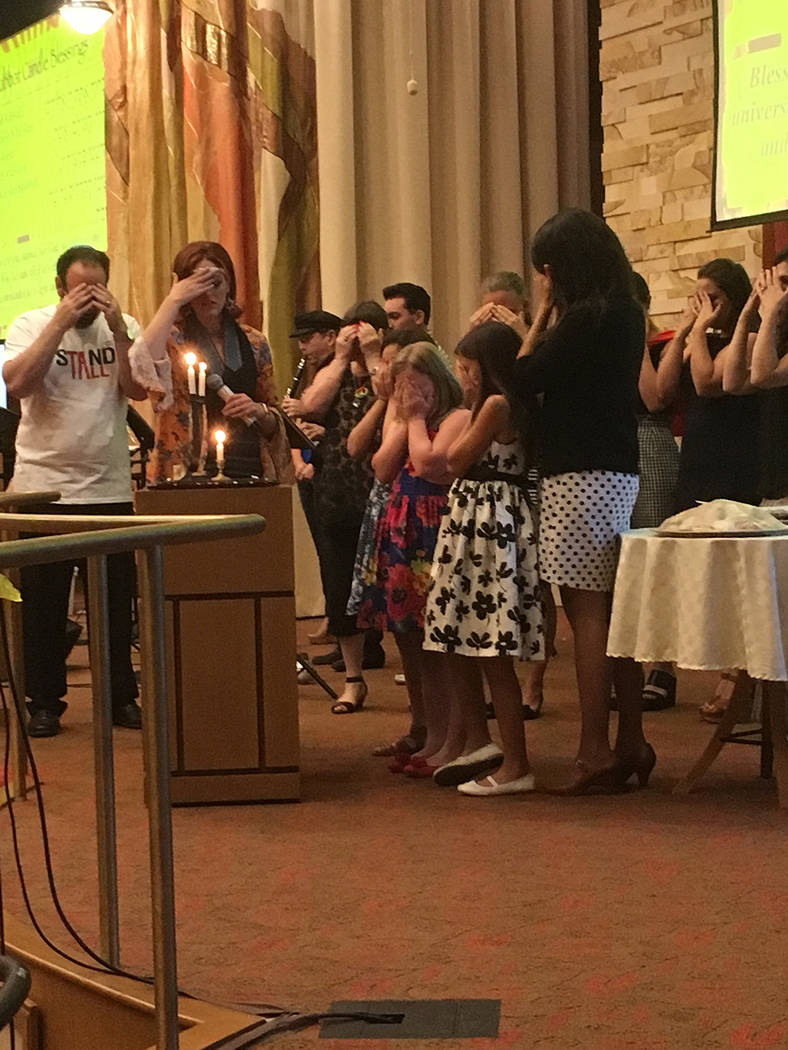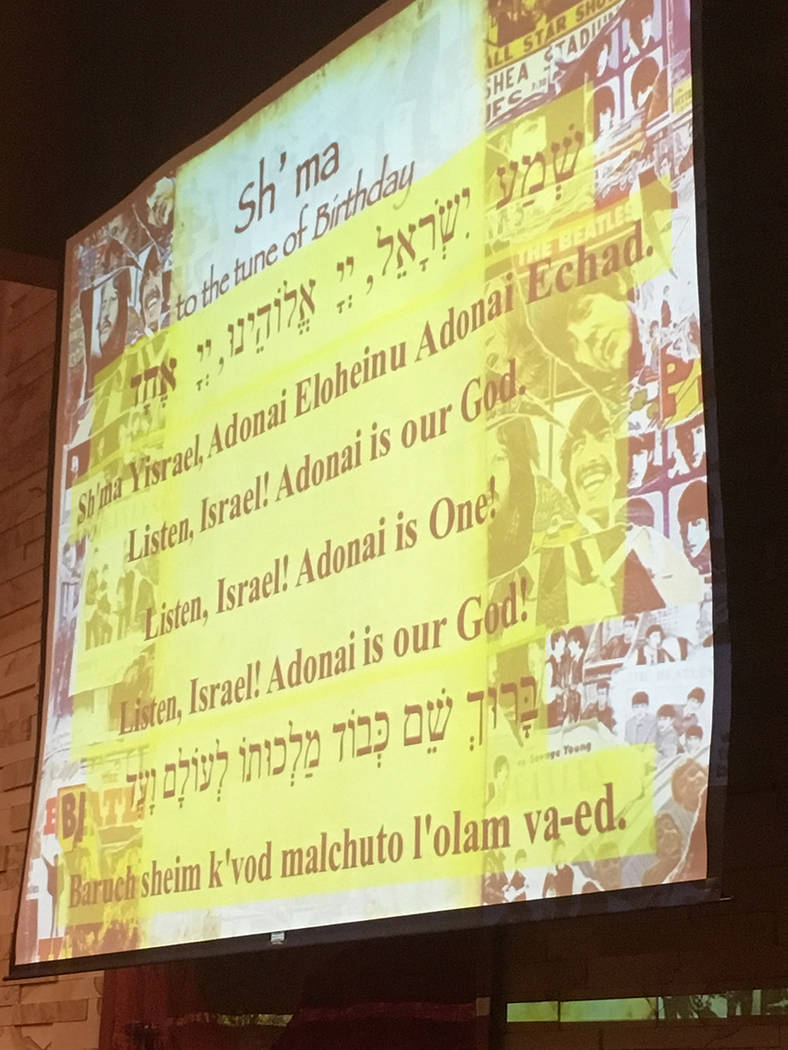 The Beatles' transcendent music spoke words of wisdom to hundreds of smiling celebrants on a recent Friday at Henderson's Congregation Ner Tamid.
"Let it Be" was but one of 18 tunes showcased Aug. 18 at Beatles Shabbat, a performance of Fab Four classics by The Shabbatones. And while the band stayed true to the music, many of the words were provided by Cantor Jessica Hutchings, who retooled lyrics to match the evening's spiritual message. For example, lyrics in John Lennon's "Imagine" were altered to "Imagine there's no cancer; it's easy if you try," and "Why Don't We Do it in the Road?" became a prayer pleading with God to grant peace.
About 500 people packed a large room at the Reform Judaism synagogue to hear the nine-piece band thunder through adaptations of stompers such as "Sgt. Pepper's Lonely Hearts Club Band" and "I Want to Hold Your Hand" and tiptoe through quieter numbers, to avoid overshadowing the accompanying prayers. Hutchings handled most lead vocals and prayers; celebrants often joined her in the latter.
Hutchings, 32, said that when she was a student cantor in 2012 in Redondo Beach, California, one of her congregants was obsessed with the Beatles and thought their music would be a good vehicle for a more spiritual message.
"I started downloading Beatles music and learning more of it, and I fell in love with the White Album," Hutchings said, adding that she had a long commute at the time and would try to come up with prayers to accompany songs.
She thought the melody of "Hey Jude" was perfect for prayer and soon was similarly sold on "Come Together" and "Let it Be."
"The taglines are so great: All You Need is Love, Come Together … it's what the world needs right now, peace and love," she said.
Hutchings brought Beatles Shabbat to Congregation Ner Tamid in January 2014 as a guest musician; its success played a role in her becoming cantor here five months later. The most recent Beatles Shabbat was the congregation's fifth.
Times of trouble
This year's Beatles Shabbat drew a bigger crowd than usual, said Hutchings and Neil Popish, Congregation Ner Tamid's events and marketing director. Both attributed that to attendees' unease after the recent violence involving neo-Nazis in Charlottesville, Virginia.
Rabbi Sanford Akselrad addressed the deadly and divisive unrest in stark terms during a break in the music. He pointed out that some demonstrators in Virginia chanted, "Jews will not replace us!" and urged congregants to attend a multifaith vigil held two days later in North Las Vegas that ended up drawing about 700 people.
"Jews know all too well what happens when a good people are silent. … It is time that we raised our voices for what is right," he said.
Good day, sunshine
Attendees were invited to wear 1960s and '70s-themed clothing to get into the spirit of the evening, and many obliged.
Josh Wertheimer sported a tie-dyed Grateful Dead T-shirt, and his wife, Cassidy, wore a flower in her hair.
"I really would like them to do a Grateful Dead Shabbat, but I haven't gotten any action on that," Josh Wertheimer said, smiling. His wife added that she'd enjoy hearing "When I'm Sixty-Four" as part of the Beatles Shabbat playlist; that song, from the 50-year-old "Sgt. Pepper's Lonely Hearts Club Band," didn't make the cut.
Popish wore large, round sunglasses, a multicolored shirt, a peace-sign medallion and a grin as he greeted congregants.
For him, the highlight was "Imagine" — a Lennon solo song.
"That's actually something we do in every service," Popish said. "Every time I hear it, it's still powerful for me. I still get chills."
Hutchings said the prayer she wrote to accompany "Imagine" came to her unusually quickly.
"People are always in tears when they're singing it," she said. "It lends itself to opening up the heart and really praying. I don't take credit for that; I give it to the Beatles."
Contact Brian Sandford at bsandford@viewnews.com or call 702-380-4531. Follow @nweditor on Twitter.
The Shabbatones
Ira Spector: Guitar
Brad Torchin: Guitar
David Miller: Bass
Mike Adler: Drums
Eddie Birch: Piano
Tracie Birch: Trombone, keys
David Rubinstein: Trumpet
Jay Poster: Clarinet, saxophone
Glori Rosenberger: Backup vocals, tambourines
Beatles Shabbat setlist
Sgt. Pepper's Lonely Hearts Club Band
With a Little Help from My Friends (Shalom Aleichem)
Eight Days a Week (L'cha dodi)
Hey Jude (Bar'chu, call to worship)
Back in the U.S.S.R. (Ahavat Olam, prayer for God's everlasting love)
The Word (Sh'ma)
Birthday (Sh'ma)
Ob-la-di, Ob-la-da (Mi Chamocha)
Lucy in the Sky with Diamonds (Hashkiveinu, prayer for shelter and protection)
Come Together (V' shamru)
Yellow Submarine (Adonai S' fatai)
Eleanor Rigby
Why Don't We Do it in the Road? (Shalom Rav)
Imagine (Mi Shebeirach, prayer for healing)
In My Life
I Want to Hold Your Hand (Aleinu)
Mourner's Kaddish (spoken by rabbi, with "In My Life" in the background)
Let it Be (Ein Keiloheinu)
What is Shabbat?
According to Chabad.org, it's a day of rest and celebration that begins at sunset Friday and ends after nightfall the following evening.