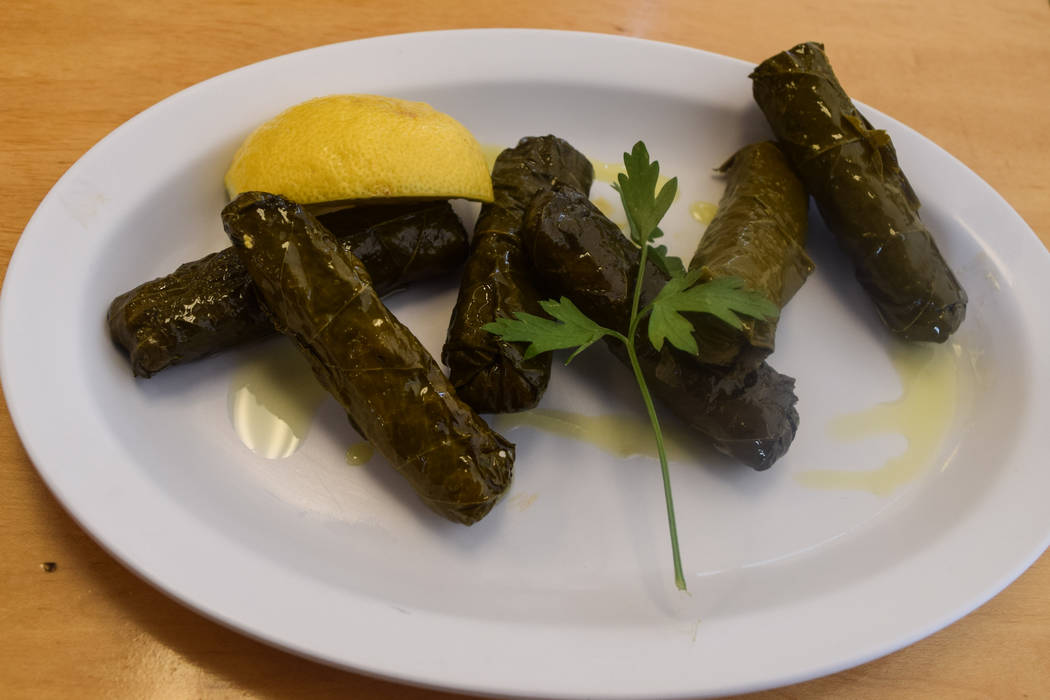 Plates of beef gyro, falafel pita and dolmades are whisked out of the kitchen and onto customers' tables with a flourish reminiscent of the traditional Greek horos dance, as regulars wait in line at The Great Greek Mediterranean Grill.
Indoor and outdoor seating is offered at the restaurant, which is decorated with Greek flags, hanging flower pots and a flat-screen TV. Lunch typically is the the busiest time of day.
Greek-Armenian founders Jerry Gorumian and his mother, Alice, opened the Henderson location, 1275 W. Warm Springs Road, in 2010.
Manager Jack Khermandagan began working at the grill six months after it opened. The Gorumians sold the restaurant in January 2016 because "the market was right," he said.
Owner Nick Della Penna, the former vice president of food and beverage at the Excalibur, opened a 5020 Blue Diamond Road location June 8.
Khermandagan believes the restaurant's success is due to its atmosphere.
"The way we present the food, the culture, it's as if you're not in America, not in Las Vegas," Khermandagan said.
Popular menu items include the great Greek gyro ($7.95), great Greek special rice bowl combinations ($10.95) and feta fries. Other items include tzatziki, which is Greek yogurt with cucumbers, garlic and fresh dill; Greek salad wraps; chicken or steak souvlaki; and hummus and pita bread. Baklava and baklava-flavored ice cream are available as dessert.
"It's authentic mom-and-pop food that you won't find at any restaurant chain," Khermandagan said.
Contact Alex Meyer at ameyer@viewnews.com or 702-383-0496. Follow @alxmey on Twitter.
The Great Greek Mediterranean Grill
Henderson
Address: 1275 W. Warm Springs Road, Suite 160
Hours: 11 a.m.-8 p.m. Mondays-Thursdays; 11 a.m.-9 p.m. Fridays-Saturdays
Southwest
Address: 5020 Blue Diamond Road
Hours: 11 a.m.-9 p.m. Sundays-Thursdays; 11 a.m.-10 p.m. Fridays-Saturdays
More information: 702-547-2377 or thegreatgreekgrill.com
Social media: facebook.com/thegreatgreekgrill