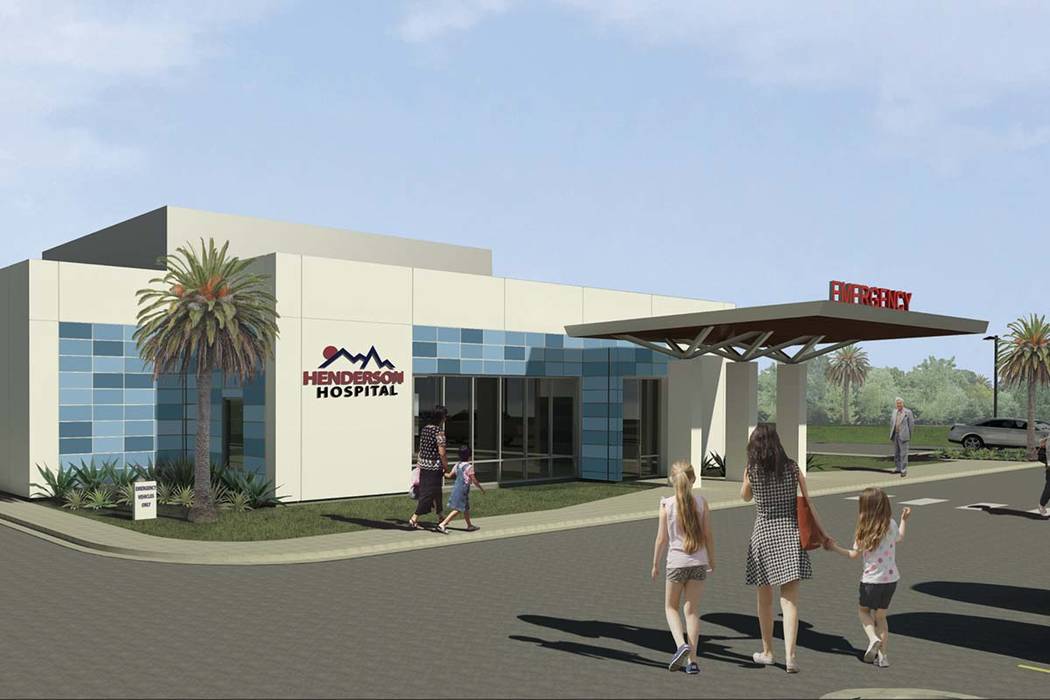 Henderson Hospital is set to break ground on the city's first free-standing emergency room.
The 24-hour facility will feature eight treatment rooms with three additional rapid medical exam rooms; advanced imaging services such as CT, ultrasound and X-ray; and an on-site laboratory.
"There are a lot of horror stories out there about long wait times and overcrowdedness in emergency rooms," hospital CEO Sam Kaufman said. "We want to alleviate that problem by providing another high-quality patient experience. It will have many of the same services as a hospital emergency room department."
A groundbreaking is set for 9 a.m. Tuesday on the northeast corner of St. Rose Parkway and Coronado Center Drive. The event will also commemorate the hospital's first full year in business.
The 10,500-square-foot facility is slated to open in 2018. It will cost approximately $13 million, which includes land, the building and equipment.
Although the facility will be able to deal with most medical conditions, patients with emergencies such as heart attacks — when time is of the essence — are advised to go to a hospital for treatment.
Kaufman added that the facility differs from urgent care centers because those are not typically open 24 hours a day and lack similar high-tech equipment. The facility will focus on getting patients with less acute medical issues out in 100 minutes or less.
The ER will use the Cerner FirstNet electronic medical record system that will let patients access their private health information online.
Contact Sandy Lopez at slopez@reviewjournal.com or 702-383-4686. Follow @JournalismSandy on Twitter.
Special activities for Oct. 31:
• First case performed in new ambulatory surgery center, located in the medical office building adjacent to Henderson Hospital
• Freestanding emergency room groundbreaking set for 9 a.m.
• Blood Drive from 8 a.m. to 3 p.m. at Henderson Hospital
• Health Fair from 4 to 6 p.m. at Henderson Hospital
• Trunk or Treat from 4 to 6 p.m. at Henderson Hospital