Henderson initiative to teach values, not just facts, to students
March 19, 2018 - 11:36 am
Updated March 20, 2018 - 9:44 am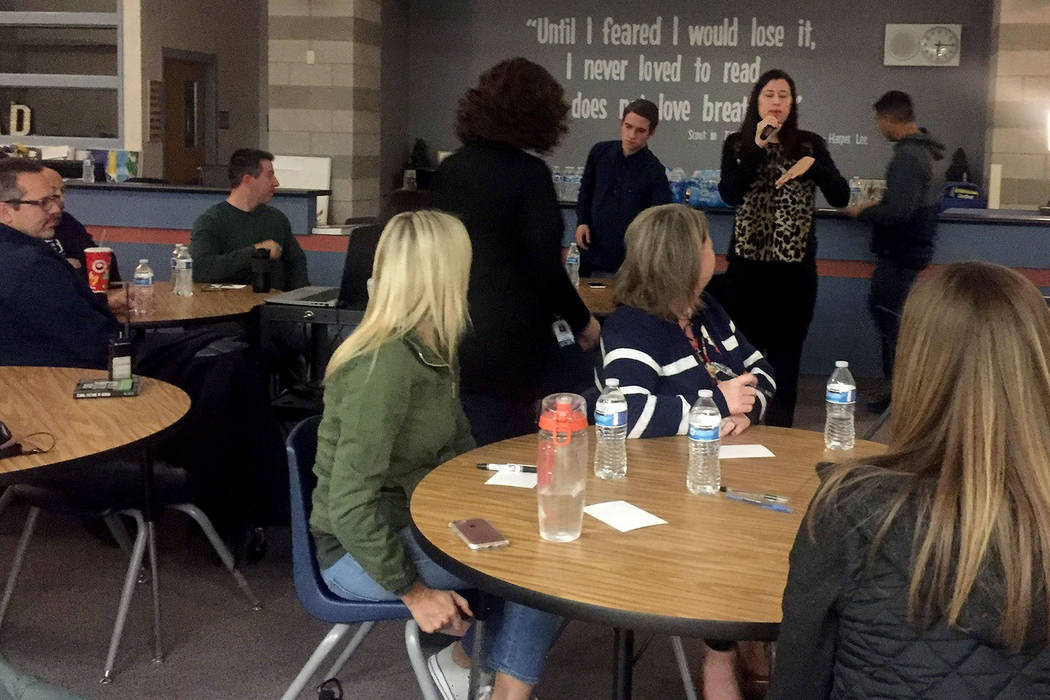 A new initiative to promote "core values" among students in Henderson is picking up steam.
The joint effort, spearheaded by Foothill High Principal Lisa Burkhead, focuses on some of the "softer" aspects of education — not whether students can read, write and add, but whether they are learning the values that will make them well-rounded, responsive citizens.
The initiative, which extends through all elementary and middle schools that feed students to Foothill, will make the values part of the regular curriculum, to be taught to and instilled in kids daily .
"We're so fortunate to be in a location that many of our feeder schools are tucked in old Henderson," Burkhead said. "At the high school, we felt we had the responsibility to reach out to start this process."
The initiative is intended to build qualities that school administrators see as lacking in many students — such as respect and engagement.
Feeder schools for Foothill include Mannion and Burkholder middle schools, and various elementary schools such as Smalley, Walker and Newton.
Parents, educators and others came together in February at Foothill for initial discussions. A second meeting is slated for 6 p.m. April 9 at Mannion Middle School, 155 E. Paradise Hills Drive. Organizers aim to settle on the core values that will be promoted in time for the start of the 2018-19 school year.
How the values shake out in each school or at each grade level will be up to the individual schools. What respect looks like for a first-grade student is different from what that may be for a senior in high school.
Because of the school's proximities, there's a stable progression of students, Burkhead said, so a continuum makes sense. But even if students don't end up at Foothill, the skills they've learned will serve them well wherever they end up, she said.
Jamie Gilbert, the mother of a freshman at Foothill and a sixth-grade student at Mannion, went to Basic and, even though the football team was terrible, the community rallied around it game after game.
"That's where the pride developed," said Gilbert, now an assistant principal at Coronado High . "It was grassroots effort, and I think this is the beginning of that."
During the first meeting, attendees brainstormed the "soft skills" that they believe kids are lacking — communication, motivation and self-reliance were among the traits listed — and discussed characteristics they'd like to see in high school graduates, including responsible, trustworthy, engaged and kind.
It was an encouraging first step for Patrick Detken, the father of a freshman at Foothill and a seventh-grader at Mannion. Detken, a police chaplain and pastor, has been involved heavily with Foothill's "culture club."
"Things only change if people start to take ownership of their community," he said. "It's our responsibility to make things better."
Contact Meghin Delaney at 702-383-0281 or mdelaney@reviewjournal.com. Follow @MeghinDelaney on Twitter.
Current core values
Foothill High lists a set of core values on its website:
— Embrace and respect our differences.
— Show care and concern.
— Build trustworthy and honest relationships.
— Develop a positive family spirit.
— Be responsible, dependable, passionate.
The new initiative is aimed at ensuring that the new list of core values that is being developed is instilled into kids from a young age.