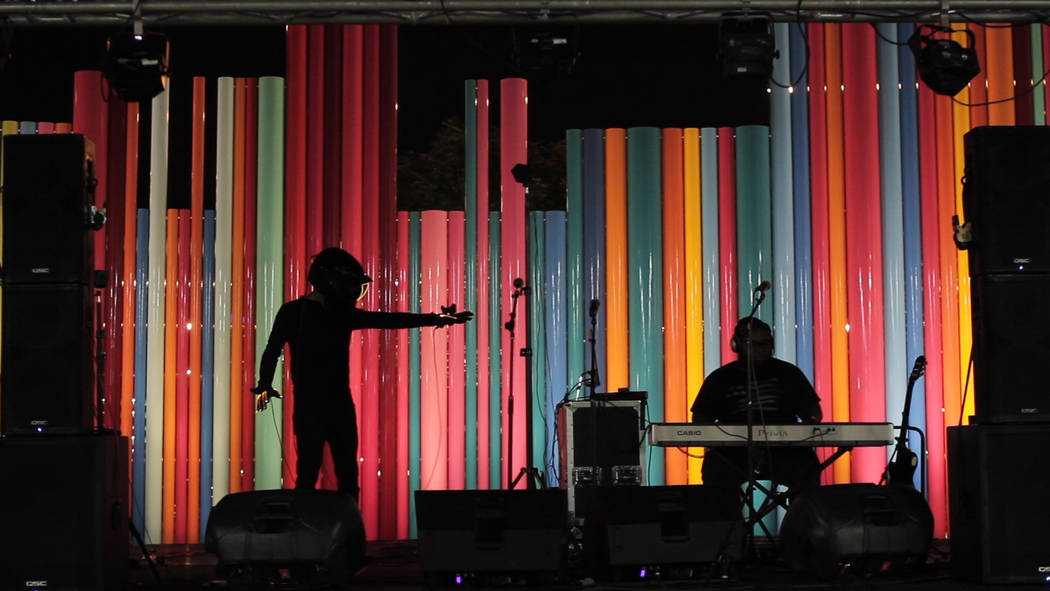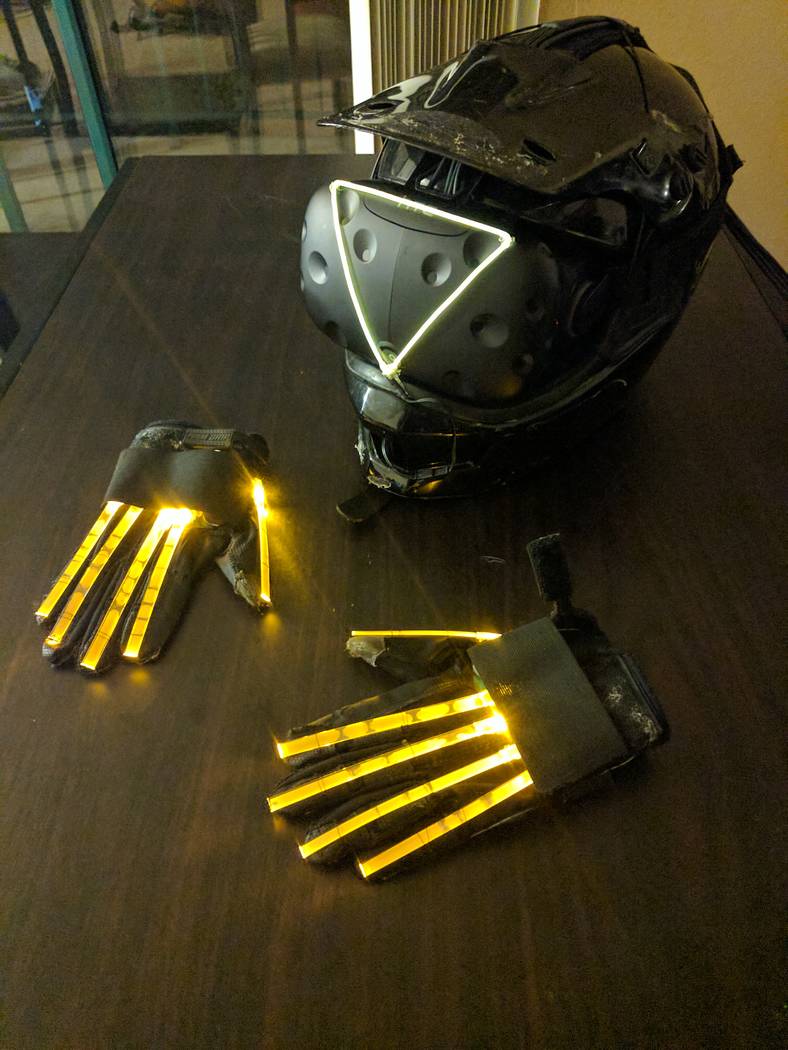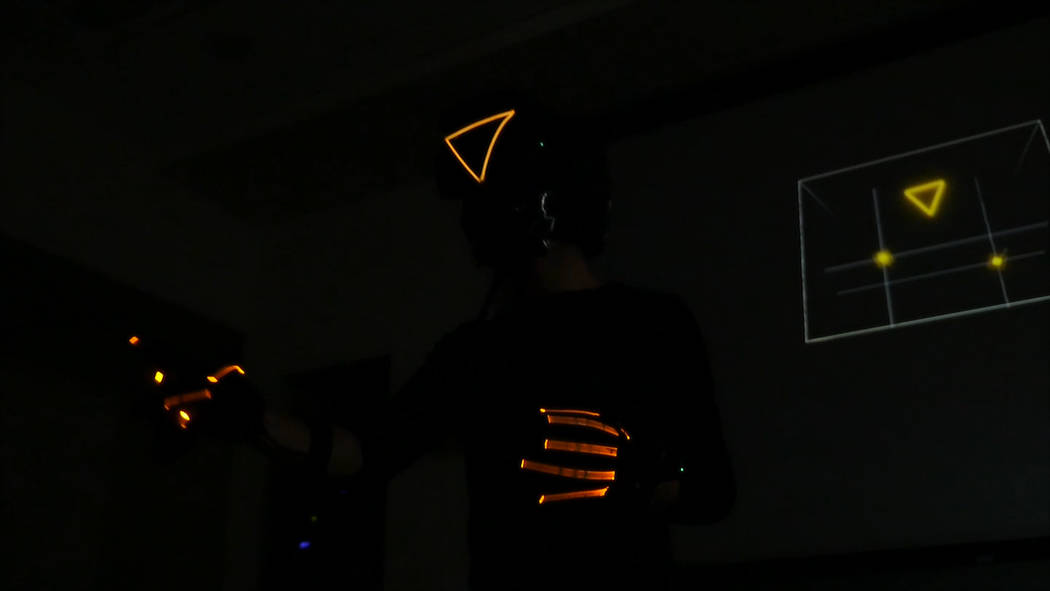 Two Ivy League inventors are hitting the Las Vegas music scene after quitting their jobs in pursuit of their creation.
Cornell University graduates Ray Li and Michael Ndubuisi moved to Henderson in March. The pair, who use the name Spectrum, now perform original electronic dance music songs with visual software and instrumental technology they engineer themselves.
"We could be looking at a new shift in music where artists will begin to construct sound through dance and movement," said Las Vegas artist Blake Hartshorn, who befriended Li and Ndubuisi after watching a video of their performance . "They aren't just making music; they're innovating it."
In the video performances Spectrum posts on its YouTube channel, Li motions with glow-in-the-dark gloves to differing music notes while a backdrop of moving shapes is projected behind him. He wears a masked helmet accented by a glow-in-the-dark prism.
Li and Ndubuisi hope to convey to viewers that Li is in fact performing live: while Ndubuisi plays a note on a keyboard behind him, Li manipulates the tone and quality of the note with his hand movements, thereby controlling the composition of the song. The mask he wears shows him a virtual "sound world" in which he creates the music.
"We were interested in, 'How can we expand the musical possibilities and the expressiveness of electronic music with our instruments?'" Li said.
The gloves were initially part of a college assignment, and the pair briefly considered selling them.
Li was studying applied physics with a music minor when he conceived of an electric instrument controlled by movement. His first creation was a one-string electric cello he named the Saber.
"It was the first time I considered my two interests, music and physics, as being combinable," Li said.
Li worked on a succession of instruments during his senior year when he began rooming with Ndubuisi, who was studying computer science. Li's idea of controlling the quality of sound with motion quickly metamorphosed into the music-wielding gloves, which he dubbed Aura.
The intent was to place motion sensors in the gloves that would signify to a computer what notes to play depending on movement, Li said. He would then be able to create and control tone quality with his fingertips.
The first prototype was "literally just this thing with strings coming out of it," Li said, laughing.
"It was one night over winter break that I got these random messages," Ndubuisi said. "(Li) said this was something he built and I remember thinking 'This is crazy. Who builds a musical instrument?'"
With limited knowledge of the advanced software needed to program his creations, Li invited Ndubuisi into a partnership. Together, the pair created a piano-like board with sliding keys that controlled the volume of each note, as well as the second prototype of the Aura gloves.
Before their 2014 graduation, the duo brought on a team of student architects and designers to finalize their creation, which they renamed Soundspace. The latest design has the gloves embedded with flex sensors along the fingers and touch sensors on the fingertips.
Li can manifest musical pitch bends, song filters, distortion and vibrato, depending on how he rotates his wrists and fingers.
Li and Ndubuisi showcased the gloves for the first time at a 2014 Cornell orchestra concert to an "excited crowd," Li said. The pair then parted ways; Li headed to Columbus, Ohio, as a web developer and Ndubuisi went to Seattle as a software engineer for Amazon.
Li performed with the gloves around Columbus and introduced them at tech startup pitch events in the following years.
"By the end of two and a half years, everyone knew me as the guy with the weird gloves," Li said.
He remained in contact with Ndubuis. They discussed starting a tech company to sell the gloves as a mass product for disc jockeys or musicians but were reluctant to give up control of their creation.
After realizing their mutual desire to explore musical interests, Li and Ndubuisi turned the gloves into a virtual reality experience with the coordinating masked helmet and wrote a handful of electronic songs with dubstep/trap influences.
They quit their jobs and chose Las Vegas as the location of their debut for its electronic nightlife and proximity to Los Angeles. The pair are now roommates again in an instrument-filled apartment in Henderson, which they use as their workspace and studio.
"We saw this as a once-in-a-lifetime opportunity where we're the only ones right now using this type of technology to perform," Li said. "Because we're the only ones, we're hoping that's going to be our angle."
Ndubuisi is building a virtual reality space from gaming software Unity to serve as the visuals for each of their performances, brightly lit moving shapes that portray what Li sees in the mask.
"Our original tech was built on software we created from the ground up," Ndubuisi said. "Now we're repurposing Unity for our sound world to make it brighter, more colorful."
Li intends to add multi-colored flashing LED lights to a new pair of Soundspace gloves for future shows. They're also finalizing an EDM mashup of hit pop songs from artists such as Ed Sheeran and Adele.
Spectrum has performed at downtown community festival First Friday since arriving in Las Vegas. They have an another show scheduled for June 30 at Millennium Fandom Bar at 900 S. Las Vegas Blvd., Suite 140, in the Arts District.
The duo hopes this is just the beginning.
"They're ahead of the market, maybe even the new market," Hartshorn said. "The world just needs to find them."
Contact Alex Meyer at ameyer@viewnews.com or 702-383-0496. Follow @alxmey on Twitter.
Spectrum
More information: 847-208-2957 or discover@musicofspectrum.com