Henderson, with 23 accounts, has embraced social networking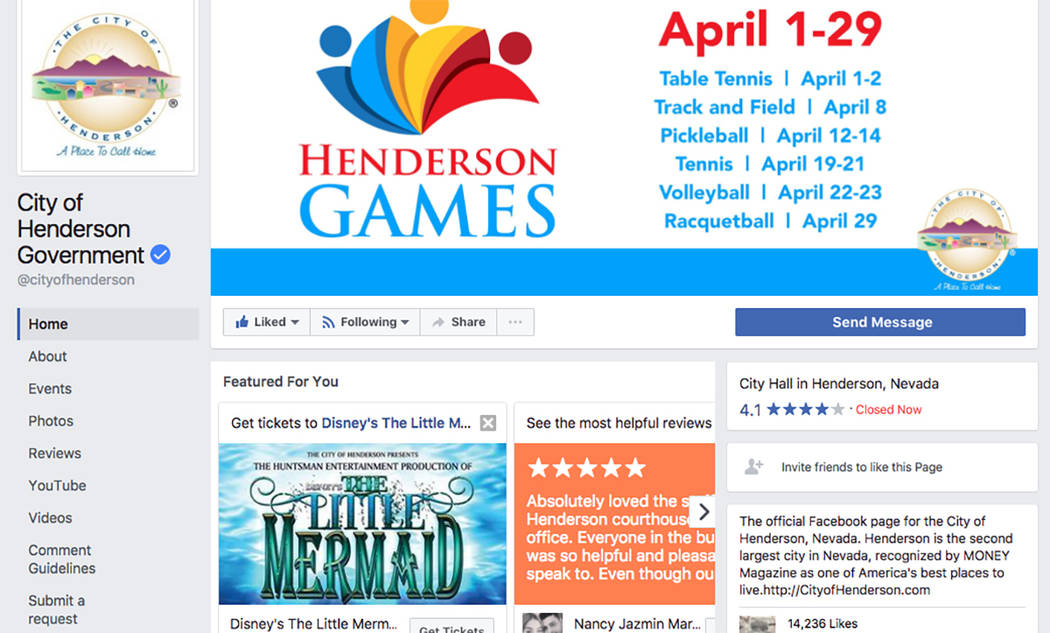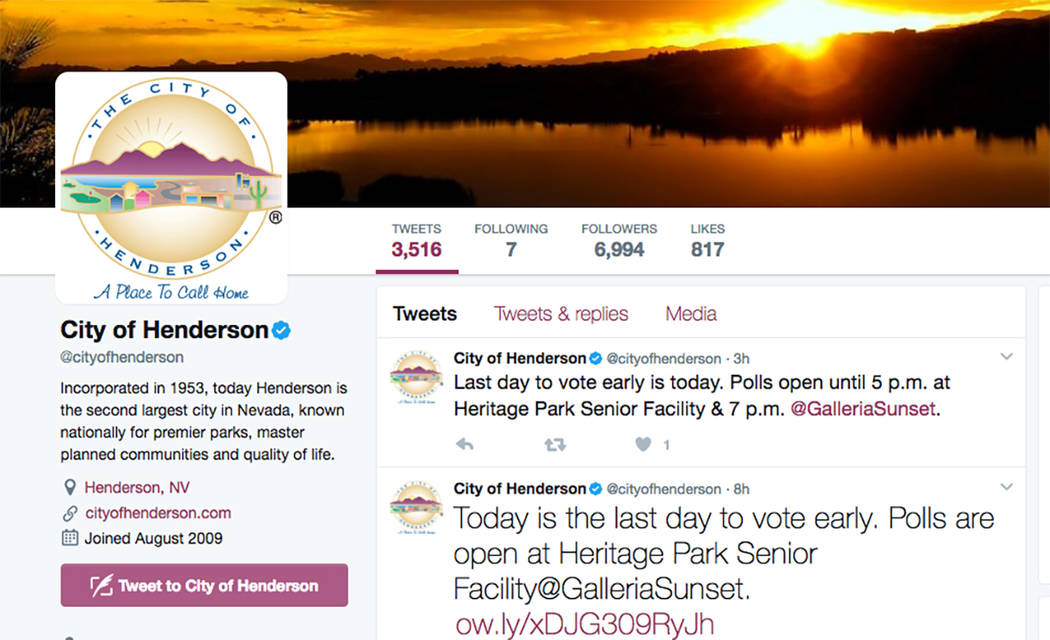 As social media avenues have evolved, so have the city of Henderson's strategies for engaging with residents.
"We try to be as attentive as we can," said David Cherry, Henderson's communications manager. "I won't promise we're there 24 hours a day … but we try often as we can to respond other people's questions and follow what's going on."
The city has 23 social media accounts — 11 Facebook, seven Twitter, three Instagram, one YouTube and one Nextdoor. The accounts cover different departments, such as Parks and Recreation. Henderson's police and fire departments maintain their own accounts.
The city and police department each have mobile apps for iOS and Android.
Cherry oversees the bulk of the city's social media activity. The accounts have amassed a combined 43,801 Facebook likes, 13,904 Twitter followers and 2,353 Instagram followers as of March 30.
Cherry believes in the potential for growth across all platforms through cross-promotion and sharing among accounts.
"When there are services the city offers, we do (cross-promotion) just so we can try and get the word out to as many people as possible," Cherry said.
Behind the social media curtain
Three of the city's five public information officers handle most of the postings for their respective departments.
Kathleen Richards handles the fire department's accounts; Kim Becker manages all things parks and recreation; and Michelle French handles the police side.
While French is tasked with letting residents know of potential crimes and police happenings throughout the city, she also makes it a priority to show the community outreach of Henderson PD. The department has been featured visiting high schools to raise awareness of drunken driving among juniors and seniors. Another post, from March 21, showed Henderson Police brightening a child's day. James Kish, 9, who has been dealing with a Grade 4 brain tumor since April 2015, was made an honorary traffic member for the department.
Each month, in partnership with Animal Control, French posts a video showcasing pets that are up for adoption.
"We do so much more than just police work," French said.
French understands the importance of Facebook and Twitter, but said the police department's use of Nextdoor has become a vital component of its day-to-day operations.
Nextdoor is an app and website in which Henderson residents can inform one another about crimes throughout the city. French said Henderson's audience is larger on Nextdoor than on Facebook or Twitter.
"Most of our feedback has come through Nextdoor," French said. "When we go to public events, we'll let them know there are multiple ways to connect with us."
Growing its audience
French sees Instagram as a good opportunity for growth because of its visual appeal. French created the police department's Instagram less than four months ago and has 315 followers as of March 30. Nearly one-third of the posts are mugshots of arrested suspects and their details.
"A lot more people seem interested in photos of what happens with the police department," French said. "We're slowly trying to provide more photos, whether it's at an event or something unusual, just to get the word out to a different audience."
Cherry said posts on the city's Instagram might not even be related to Henderson. It can be something as simple as a sunset.
"Sometimes, people just like a good photo," he said.
GIFs, which are displayed as moving images and often are humorous, also are used by the city. In the lead-up to Henderson's April 4 primaries, the city tweeted GIFs to encouraging residents to vote.
Snapchat, a mobile messaging app in which users' photos disappear after a brief period, is an avenue Cherry said the city is looking at, but finding a consistent use and purpose for it may take some time to develop.
Live video could be coming sooner rather than later, Cherry said. He said Mayor Andy Hafen's State of the City address is something that the city would consider livestreaming.
"As it becomes easier, that's a real opportunity," Cherry said. "We're looking forward to doing it."
Cherry said communicating with residents on social media is just as important as providing updates.
"We don't want to just be a source for people, for events," he said. "If there were ever an emergency, we want to be a trusted source."
Contact Danny Webster at dwebster@viewnews.com or 702-380-3834. Follow @DannyWebster21 on Twitter.
City of Henderson's Social Media Pages
Facebook:
https://www.facebook.com/cityofhenderson/
https://www.facebook.com/hendersonfiredepartment/
https://www.facebook.com/HendersonPD/
https://www.facebook.com/HendersonPavilion/
https://www.facebook.com/Henderson-Convention-Center-66231061318/
https://www.facebook.com/Henderson-Events-Plaza-78423693915/
https://www.facebook.com/HendersonHappenings/
https://www.facebook.com/hendersonsportsandrecreation/
https://www.facebook.com/destinationhenderson/
https://www.facebook.com/waterstreetdistrict/
https://www.facebook.com/CityofHendersonJobs/
Twitter:
Tweets by cityofhendersonhttps://platform.twitter.com/widgets.js
https://twitter.com/hendfiredept?lang=en
Tweets by HendersonNVPDhttps://platform.twitter.com/widgets.js
Tweets by HendHappeningshttps://platform.twitter.com/widgets.js
Tweets by HendSportandRechttps://platform.twitter.com/widgets.js
Tweets by COHPavilionhttps://platform.twitter.com/widgets.js
Tweets by Visit_Hendersonhttps://platform.twitter.com/widgets.js
Instagram:
https://www.instagram.com/cityofhenderson/
https://www.instagram.com/hendersonpavilion/
https://www.instagram.com/hendersonpolicedepartment/
YouTube:
https://www.youtube.com/user/cityofhenderson
Nextdoor:
https://nextdoor.com/