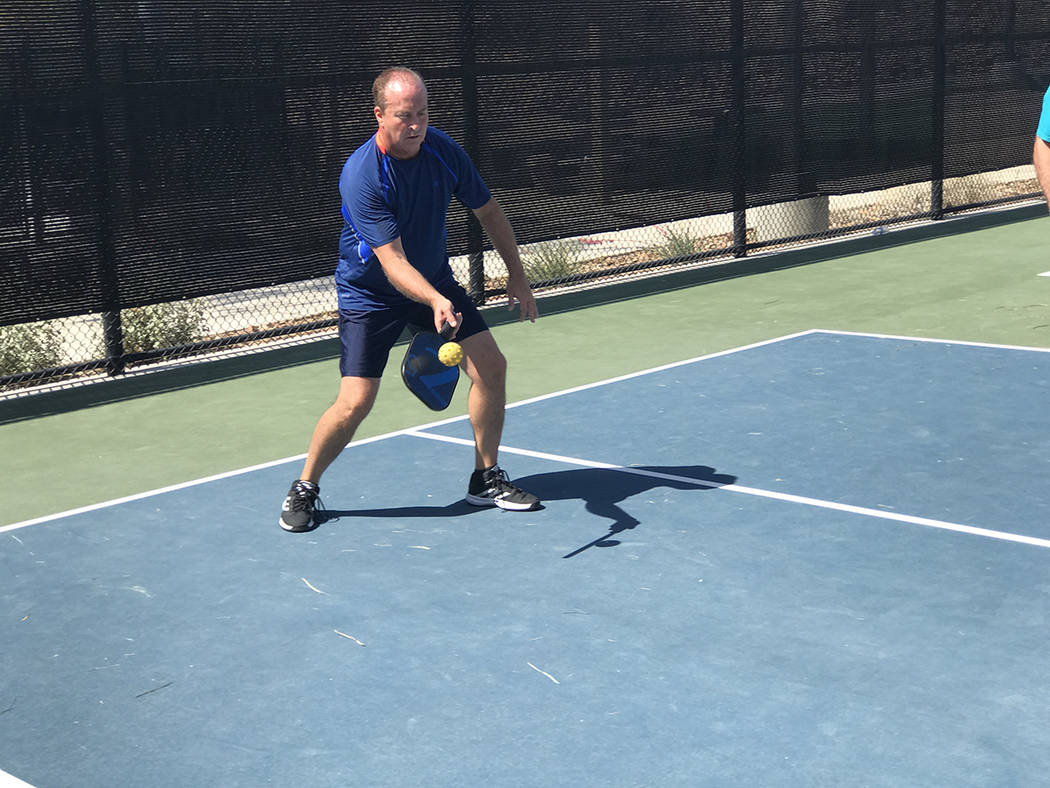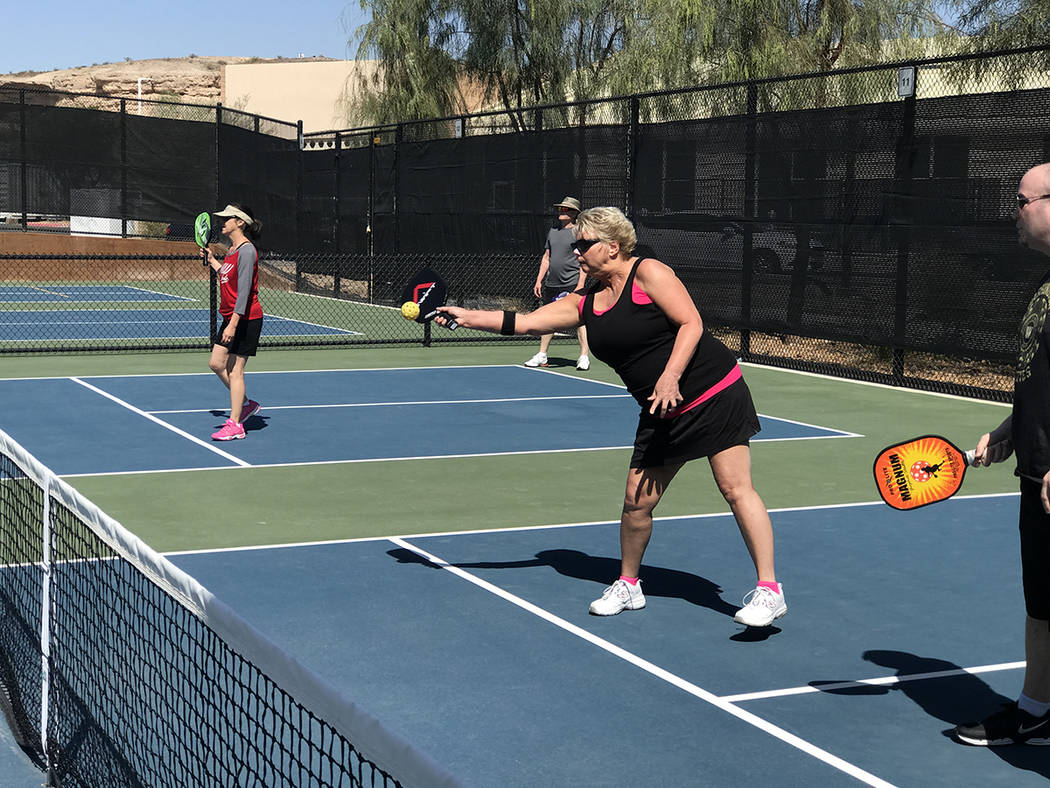 The city of Henderson debuted four dedicated pickleball courts April 24 at Whitney Mesa Recreation Area, 1661 Galleria Drive. It is the city's fourth set of pickleball courts.
"A lot of older people have told us pickleball has been more fun because of how fast-paced it is," said James DiNicola, recreation services supervisor for the city of Henderson. "People that want to stay fit, who don't necessarily want to play tennis, it gives them that excitement."
Pickleball was created in 1965 in the Seattle area. The court has the same dimensions as a doubles badminton court at 20 feet by 44 feet. It's significantly smaller than a tennis court.
The net is 36 inches tall at the baseline and dips to 34 inches in the middle. The paddle is smaller than a tennis racket but bigger than a pingpong paddle.
The ball is slightly heavier than a whiffle ball.
The rules of pickleball are similar to those of table tennis. Rules vary for singles and doubles matches.
Henderson resident Dean Price started playing two years ago.
"The cardio helps you when you get older," Price said. "You don't have to run side to side like in tennis."
The courts at Whitney Mesa are fenced off like the adjacent tennis courts to help reduce wind . The city has one indoor court at the Downtown Recreation Center, 105 W. Basic Road.
"I played tennis when I was a kid, and didn't know anything about this," said Debbie Kirk, a Washington state resident visiting her son, Ryan. "Someone just mentioned the word 'pickleball,' and I tried it, and it's been great."
Price said Kirk is the one who got him involved in the sport, and he's played in about 10 tournaments over the past two years. What's drawn him to the sport is its accessibility to all ages.
"I know an 82-year-old that plays daily, and she's really good," he said. "She can beat up on people."
Pickleball is not done growing in Henderson. Shari Ferguson, assistant director of the city's Public Works, Parks and Recreation Department, said tennis courts at the Black Mountain Recreation Center, 599 Greenway Road, will be turned into pickleball courts this summer.
"It's very social," Debbie said. "You meet some great people here, especially at the Henderson courts. It's a sport where you can have fun with no consequences."
Contact Danny Webster at dwebster@viewnews.com or call 702-477-3834. Follow @DannyWebster21 on Twitter.
Places to play pickleball:
Whitney Mesa Recreation Area: 1661 W. Galleria Drive (6 a.m. to midnight daily)
Downtown Recreation Center: 105 W. Basic Road (6 a.m.-8 p.m. Mondays through Thursdays; 6 a.m.-6 p.m. Fridays; 9 a.m.-3 p.m. Saturdays; closed Sundays)
Mission Hills Park: 551 E. Mission Drive (6 a.m. to midnight daily)
Siena Heights/Amargosa Trailhead: 2570 Siena Heights Drive (6 a.m. to midnight daily)
Equipment is not provided. Players must bring their own paddles and ball.