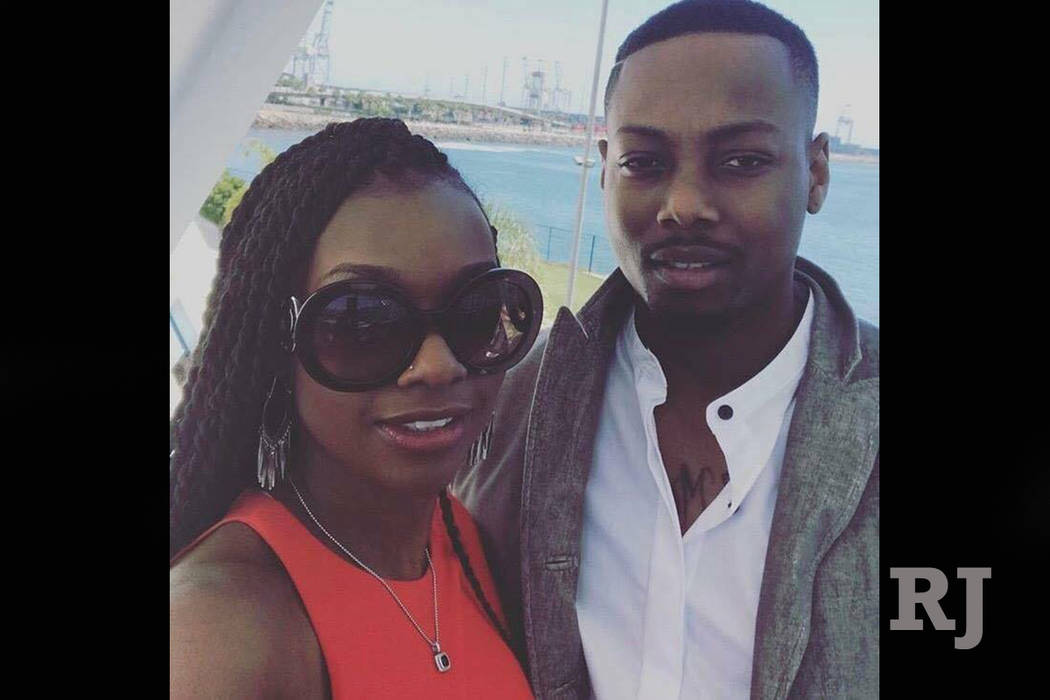 Her brother will miss her smile the most. Her husband's, too.
"They both had that big smile on their face pretty much the whole time," Chris West said.
He said his sister, Brande West-Stewart, her husband, Danny Stewart, 29 and another man were killed Saturday night in a Henderson crash.
West said his sister was 30. Clark County spokesman Dan Kulin said Jorge Botello, 33, was the third person killed in the crash. Attempts to reach Botello's family Tuesday were unsuccessful.
Henderson police said a Jeep Liberty drove over the median and crashed into oncoming traffic, hitting a Dodge pickup near Stephanie Street and Russell Road about 11 p.m Saturday. The Jeep rolled onto its roof and caught fire. Its driver and passenger died at the scene.
The pickup driver died at Sunrise Hospital and Medical Center. Police said speed was a factor in the crash.
West said family thinks Danny was driving Brande's Jeep. He had picked her up from work.
A neon wedding
Brande and Danny loved the same things. They adored fashion, movies, trying new food or music. And where they didn't agree — she liked seafood and he didn't — they would compromise.
"I just looked at them like the perfect people, perfect couple together," West said.
They met in high school but started dating sometime after.
After several years together, they married March 15, 2015, at the Neon Museum. West gave his sister away at the wedding and walked her down the aisle.
"To see Danny's face looking at her was just one of those moments that will be with me forever," he said.
He said the two wanted children, but first wanted to get their financial footing. She worked retail for Louis Vuitton on the Strip, and a friend of Danny's, Vince Whitley, said he had worked a few jobs on and near the Strip. Whitley remembers him as an ambitious "young kid, (who) always wanted to do better."
Whitley knew Danny through work, when Danny worked at the Sugar Factory on the Strip. Everybody goes through their ups and downs, Whitley said. Yet Danny never wore his downs on his sleeve.
"Everyday he came into work, he always had a smile," Whitley said.
Growing up, West said, Brande was always the outgoing sibling, capable of making friends with anyone. She had a knack for bringing people together. West, 34, was the shy kid.
"It was almost, 'Hey, I want to be like my little sister,'" he said.
Danny was a positive role model for his kids, who loved him, West said. He projected those positive traits onto West's kids, West said. Danny was a big Philadelphia Eagles fan, and he introduced West to fantasy football. West isn't sure he's going to play it now that Danny is gone.
A birthday gift
Brande and Danny visited Chicago to see West and other family a few months back. That was the last time West saw his sister and brother-in-law.
Tuesday was West's 4-year-old daughter's birthday. She opened her present from Brande, not knowing her aunt had died. None of his four children knew yet knew.
"I'm already dreading that moment when I have to tell them," West said.
He said Brande had given her niece clothes. She was always good at picking out clothes.
Contact Mike Shoro at mshoro@reviewjournal.com or 702-387-5290. Follow @mike_shoro on Twitter.
Stephanie Street and Russell Road, Henderson, NV