Repeated stings rile neighbors of Henderson beekeeper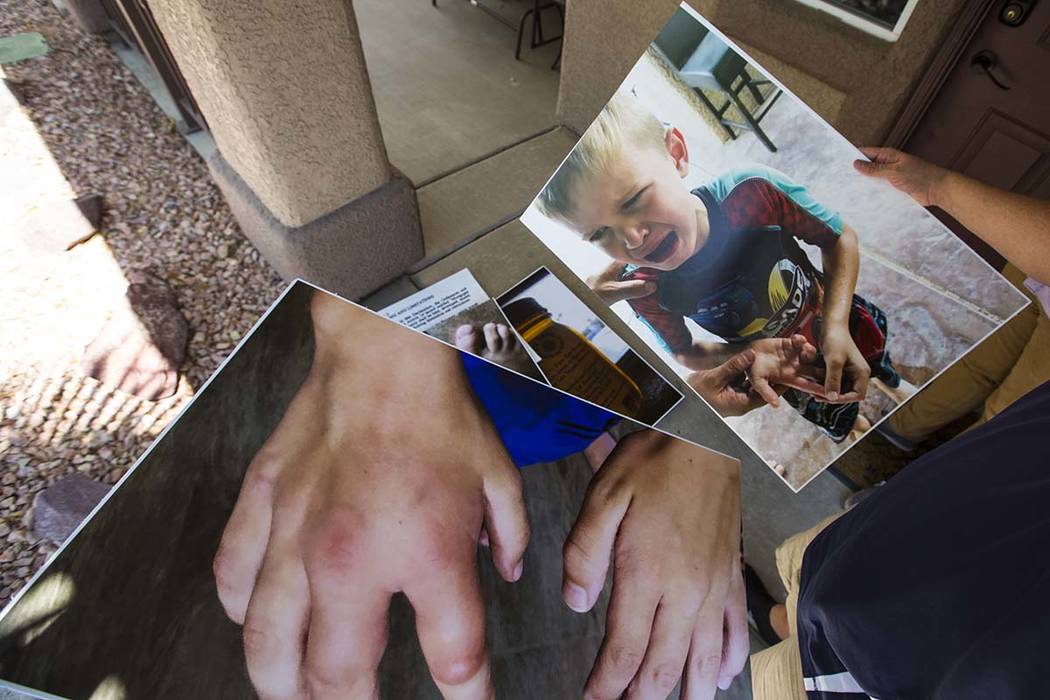 The first couple of bee stings only caused pain and redness for the Henderson boy.
His parents, Brandon and Kerri Ann Hulet, quickly blamed a beekeeper who has tens of thousands of bees in his backyard just two doors down from the family on Lynbrook Street, near Horizon Ridge Parkway and Stephanie Street.
But the Hulets' yearslong trudge toward enjoying their backyard and protecting their children from bees took another step last week, when the Henderson City Council unanimously approved an ordinance on beekeeping, partially because residents kept pressure on public officials during their feud with their beekeeping neighbor, David Sharpless.
"I'm in mama-bear mode now because it affects my child," Kerri Ann Hulet said Thursday.
Since 2015, the couple's son, Mason, now 6, has been stung a total of five times, said his father. Brandon Hulet said doctors determined that Mason had developed an allergy after the numerous stings.
In the most recent incident, the boy was rushed to urgent care for treatment of a swollen hand and arm, Kerri Ann Hulet told the City Council during the Aug. 21 meeting.
"Now he has to carry an Epi­Pen wherever he goes," Brandon Hulet said at his Henderson home Thursday morning.
Kerri Ann Hulet said it is not uncommon for dozens of bees to be gathered around her family's pool.
A Henderson official said code enforcement officers have visited a property directly next to the hives several times but have not felt threatened or overwhelmed by bees. Brandon Hulet said the bees are mostly an issue when children are playing in the pool.
Brandon Hulet said he approached Sharpless after the first two times Mason was stung and was told that there was no proof that Sharpless' bees had stung the boy.
Beekeeper responds
Sharpless told the Review-Journal on Thursday that he was unaware of the severity of his young neighbor's most recent stings and insists that other pool owners in the area have not experienced similar issues with bees.
"If I didn't have bees, he's still at risk of getting stung," Sharpless said. "I mean, we have tons of feral bees around here."
The ordinance, which took effect Friday, caps the number of hives a keeper is allowed to have on lots ranging from 5,500 square feet to a half-acre at two. Sharpless would not say how many hives he has, but city officials said last week he had about six.
The law also gives city officials the power to fine violators $500 per day per violation. To obtain zoning approval, beekeepers are required by the ordinance to participate in the Nevada Department of Agriculture voluntary beekeeping registration program and, at the city's discretion, provide proof of competency in raising bees.
In the previous version of Henderson's beekeeping ordinance, the only guideline that could be acted upon was whether the bees were a nuisance, Henderson planner Eddie Dichter said at the Tuesday meeting.
"The code now gives us the teeth to enforce and to make sure that things are operating a little bit safer," he told councilmembers.
Sharpless said establishing parameters for beekeeping is a good thing.
"I understand rules are rules, and I don't have any problems abiding by them," he said.
The new ordinance is part of a larger city effort to bring urban agriculture to Henderson, but the section that concerns beekeeping environments, known as apiaries, was expedited because of issues raised by residents of the neighborhood, city long-range planning manager Lisa Corrado said at the Aug. 21 meeting.
The city said safely operated bee habitats in resisdential areas are important to supporting neighborhood and community gardening as well as local food production and security.
Council members also approved a $5,000 donation from the Bayer North American Bee Health Program to increase pollination at the Bird Viewing Preserve. The city is in talks with Sharpless but has not finalized a deal for him to bring bees to the preserve.
"Our team has spent an inordinate amount of time researching apiary ordinances nationwide," Corrado told the council.
Yearslong feud
Sharpless' bees have drawn the ire of several neighbors, but he insists that only a small group has complained. Between October 2015 and June 2018, Henderson code enforcement officers visited his home six times, but no citations have been issued, a city spokesman said.
The feud in the neighborhood drew the attention of Assemblyman Keith Pickard, whose district includes the neighborhood.
"The proposal does not address at all the public health issues surrounding bees generally," Pickard wrote in a letter to councilmembers.
City officials said they addressed Pickard's concerns in a revised version of the ordinance that the city passed.
Council members held more than 40 minutes of discussion about beekeeping at the Aug. 21 meeting, which included public comment from the Hulets and several of their neighbors.
"I think that there's ways that would make a lot of people happy and still keep our neighborhoods safe," said Councilman John Marz, who represents Ward 3.
The council also discussed the possibility of opening community apiaries, which both Brandon Hulet and Sharpless agree is a good idea. The City Council will revisit the ordinance in December, but Hulet said he is happy with the reaction from council members so far.
"I just want to sit out here and relax while my kids swim in the pool," he said. "Bottom line."
Contact Blake Apgar at bapgar@reviewjournal.com or 702-387-5298. Follow @blakeapgar on Twitter.