Women, minority-owned businesses eligible for free Henderson space
Updated September 12, 2018 - 8:11 am
Women and minority business owners have the opportunity to work in a free office space in Henderson for a year.
The Henderson Chamber of Commerce announced Aug. 30 that a selection committee from the Chamber Foundation Board will select one recipient. A grant from MGM Resorts International is subsidizing the rent.
The grant was awarded to help support two demographics that are underrepresented among business owners; only 31.6 percent of firms in Nevada are minority-owned, and only 36.3 percent are women-owned, according to a 2012 report from the U.S. Census Bureau.
Supporting such businesses in Henderson provides an "opportunity for business development and growth and assists with overhead expenses that normally contribute to the failure of businesses within the first 3 to 5 years," Tony Gladney, vice president of national diversity relations at MGM Resorts International, said via email.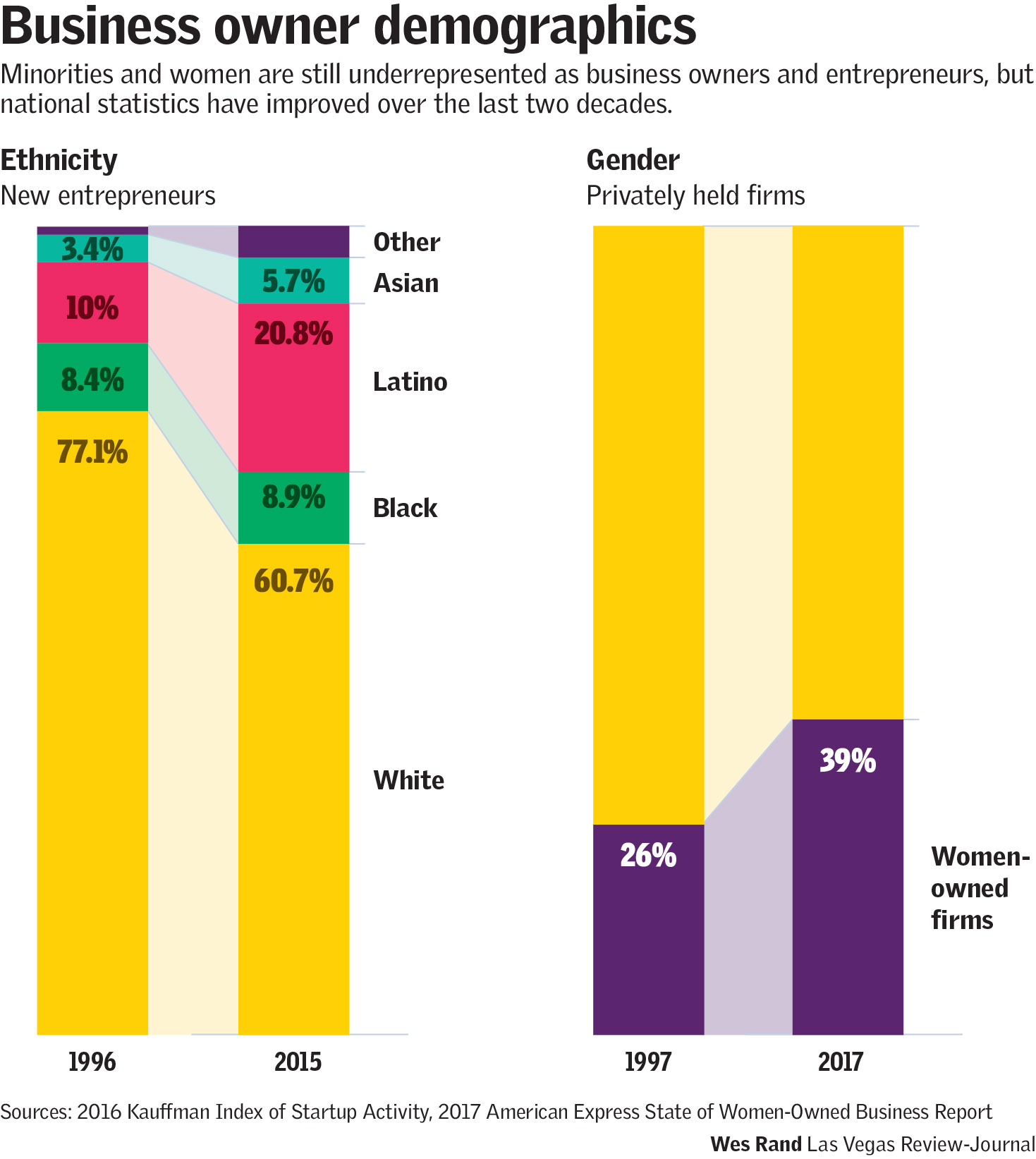 The office is inside the Henderson Business Resource Center, near Lake Mead Parkway and South Boulder Highway, and can accommodate up to four employees. The furnished office includes utilities, as well as resources like free business counseling and seminars.
The last time free space was offered in the resource center was in 2016, when USAA Bank awarded the chamber a grant to provide a year of space to 22 Warriors Foundation, a Henderson-based nonprofit that works to eliminate veteran suicides. The grant was later extended to add another year of space for the veteran-operated nonprofit.
The office space could give an entrepreneur without access to an office an opportunity for success, said Kelly Green, executive director of the Chamber Foundation.
"It's a long, slow, hard process for entrepreneurs when they just get started," she said.
Applications will be accepted through Sept. 21, with the move-in date scheduled for Nov. 1. The recipient will also be awarded an annual membership to the chamber.
To qualify, the business must be less than two years old and owned by a U.S. citizen. A woman-owned business must be at least 51 percent controlled by a woman or women who manage day-to-day operations and make long-term decisions. A minority-based business must be at least 51 percent owned, operated and controlled by someone at least 25 percent black, Asian, Hispanic or Native American. The minority owners must manage the company and control daily operations.
Contact Bailey Schulz at bschulz@reviewjournal.com or 702-383-0233. Follow @bailey_schulz on Twitter.
How to apply
Applications can be downloaded here and sent to Kelly Green, executive director of the Henderson Chamber of Commerce Foundation, at KGreen@HendersonChamber.com.