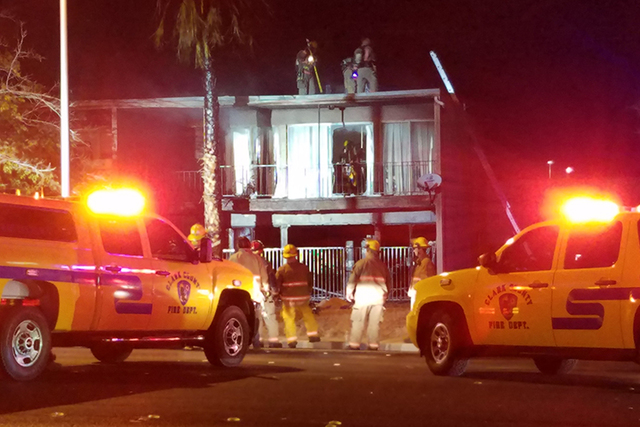 Nobody was hurt and 10 people were displaced after a building fire near South Maryland Parkway and East Desert Inn Road overnight.
Crews with Clark County Fire Department found flames coming from the lower unit of a two-story apartment building at 1332 E. Desert Inn Road before midnight Monday. Battalion Chief Chris Blackburn said the fire appeared to have started in the lower unit's kitchen and spread to the second floor via a utility chase.
Blackburn said the fire displaced a family of four in the above unit and a family of six in the below unit. He said there were people stuck on the second-floor unit's balcony who dropped their children over the side. He said he wouldn't normally recommend doing so as a method of escape, but he added it was "hard to armchair quarterback" when he didn't know the circumstances with which they were faced.
"You can't say never, but there's times when it's appropriate to do," Blackburn said.
The fire's cause wasn't yet known. Blackburn said the Fire Department knocked it out shortly after arrival.
Westbound traffic between Maryland and Oneida Way was temporarily shut down. Blackburn said about 1:15 a.m. he expected it would reopen shortly.
Contact Mike Shoro at mshoro@reviewjournal.com. Follow @mike_shoro on Twitter.