$1.5 million delivered to City Hall — mob style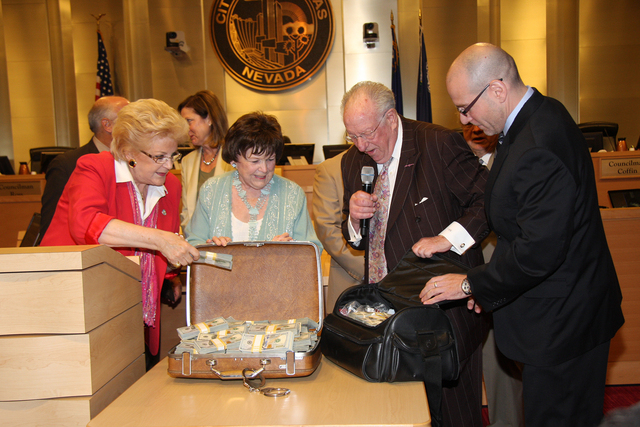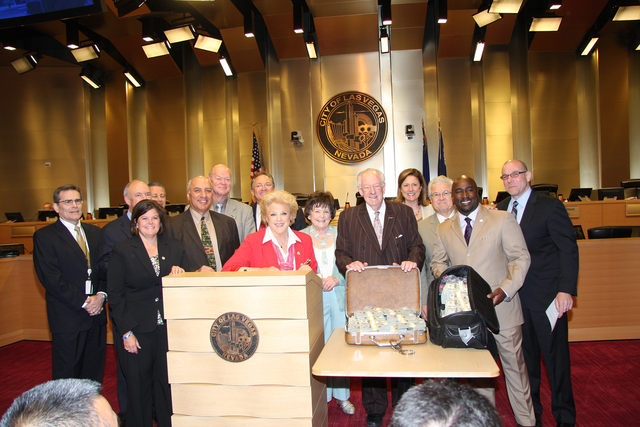 A serious matter — the Mob Museum's equity payment to the city of Las Vegas — became a comedy routine Wednesday when former Mayor Oscar Goodman entered the City Council chambers with a briefcase handcuffed to his wrist.
The briefcase and a black satchel contained $1.5 million in cash.
For real.
His wife, current Mayor Carolyn Goodman, as well as other council members, were drawn to touch, almost caress the cash.
"Today, we are not here to shake you down, again," joked Ellen Knowlton, former head of the Las Vegas FBI and chairman of the museum's board. She and Jonathan Ullman, the museum's executive director, were there to deliver the first of four annual equity payments of $1.5 million each.
In walked Oscar Goodman, flanked by security, carrying a briefcase so packed with money that it couldn't carry it all, so a black satchel held the rest.
"A lot of people thought this day would never come, but when the Mob Museum scores big, everyone gets a piece," said Oscar Goodman, former mob attorney and proud of it. In the Goodman routine, he told his wife she could count it. She fingered the money, then declared, "This one is a little light, I can tell."
He reached into his suit jacket and brought out one packet of bills. When she expressed doubts, he pulled another packet.
The mayor signed a receipt and offered the pen to Knowlton in presidential fashion.
"I don't think the president uses a Bic," Knowlton said.
The $42 million museum, which opened in 2010, was a "dauntingly complex transaction," Ullman said. He predicted the museum's 500,000th visitor is expected in a few weeks. "We are proud to say the museum carries no debt."
The cash payment is returning to the city a portion of its original investment through the Federal Historic Tax Credit Program used to encourage historic preservation. The museum restored the former federal courthouse and U.S. Post Office to house the artifacts.
Contact Jane Ann Morrison at jmorrison@reviewjournal.com or 702-383-0275.