1 dead, another missing after Las Vegas apartment fire
Updated June 6, 2023 - 9:32 pm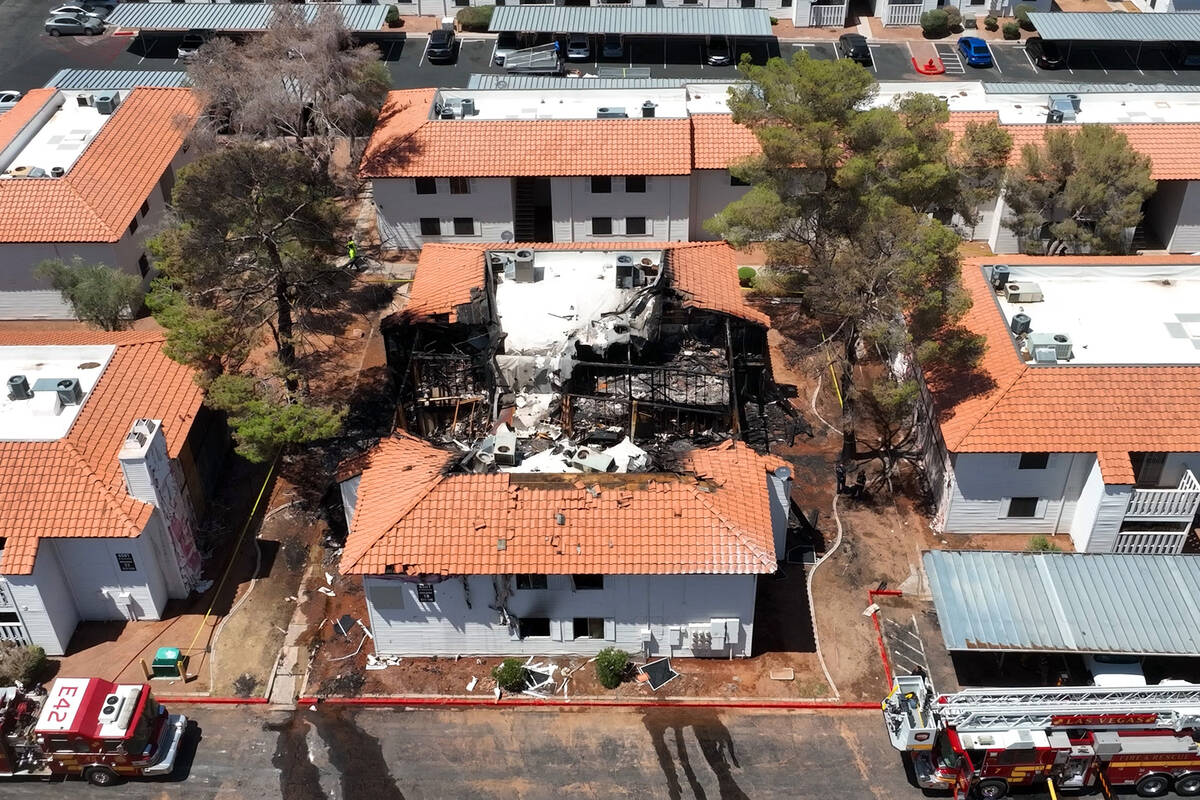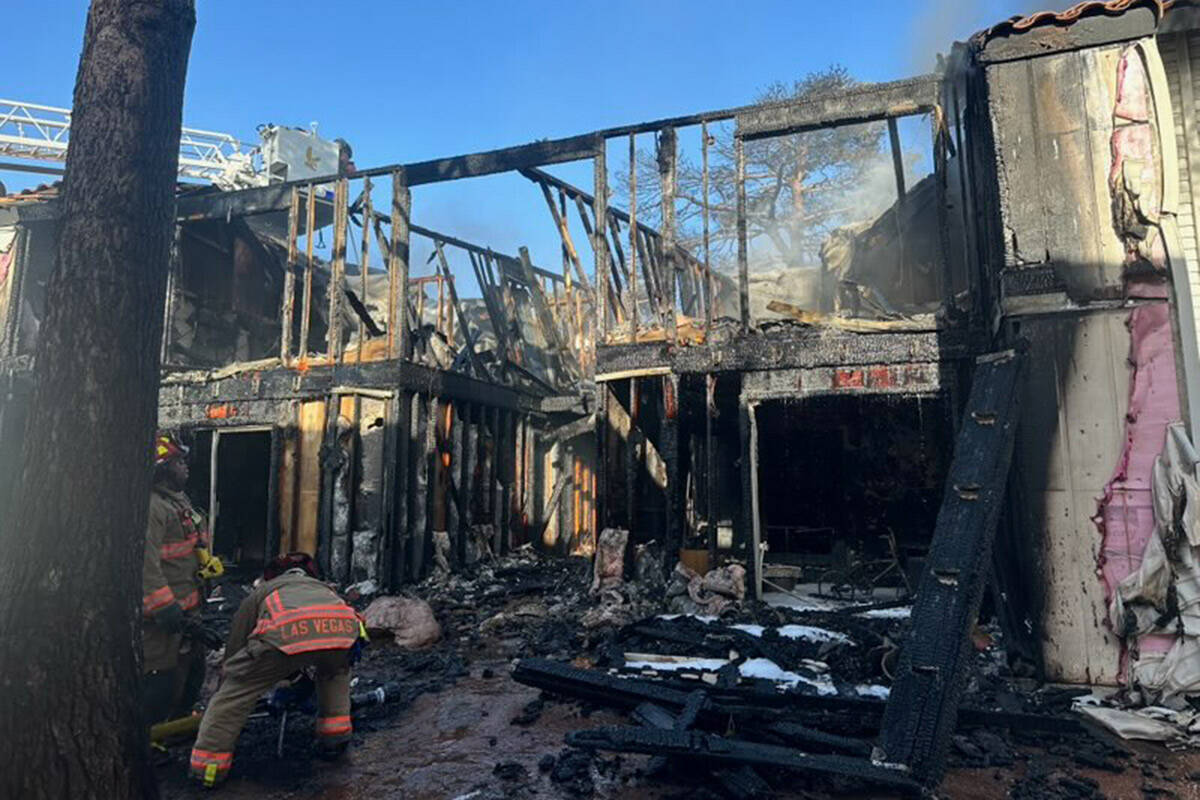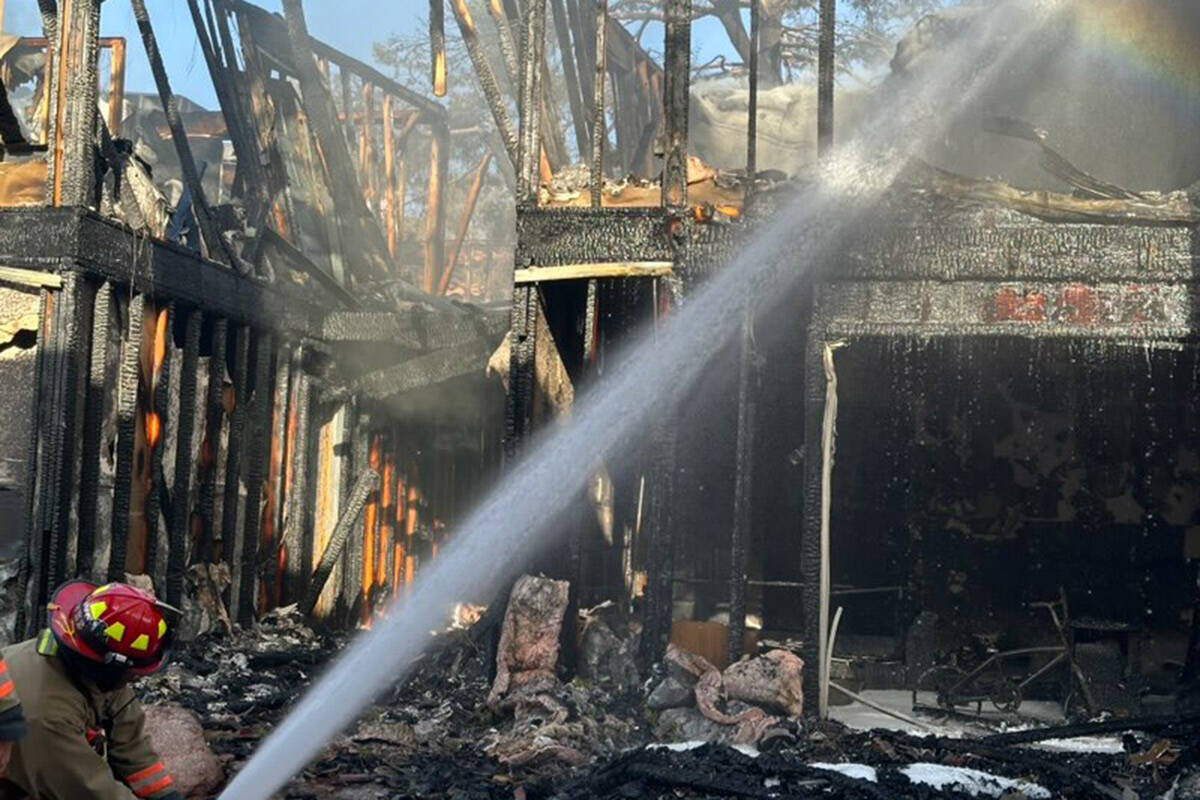 One person was found dead and another was missing after a fire ripped through a west Las Vegas apartment complex Tuesday morning.
Six residents and one firefighter were injured and 18 people were displaced after a fire broke out at the Tides on Charleston apartment complex around 5 a.m., according to a news release from the Las Vegas Fire Department.
One of the buildings at the complex, at 6501 W. Charleston Blvd. just west of South Torrey Pines Drive, was gutted by the blaze. A large portion of the roof had been completely burned off the structure.
Firefighters said it was a total loss.
"Portions of the building were already untenable for firefighters to search upon arrival, due to a lack of structural integrity," the Fire Department news release said.
Crews were at the scene all day Tuesday and heavy equipment was requested for assistance.
No further information was released about the person who was found dead.
"One additional person has yet to be accounted for, and we will continue our search efforts," the Fire Department said.
Metropolitan Police Department vehicles were blocking off areas near the burned building around 4:30 p.m. Tuesday.
The entrance on the Charleston side of the complex was blocked by police who were checking with cars pulling in before letting people continue.
Firefighters said six people were hospitalized with injuries.
A spokesperson for University Medical Center said two people had been released from the hospital by 1:30 p.m., and four others were in fair condition.
A firefighter suffered minor injuries, but he was cleared and returned to duty, firefighters said.
Maintenance workers were deciding Tuesday morning whether two other buildings would need to be evacuated.
Firefighters said the second-alarm blaze was extinguished at about 6:40 a.m. A second alarm means that additional resources were needed to put out the fire, officials said.
Authorities had not immediately determined what caused the fire. The Fire Department said that whenever a deceased person is found in a fire, three agencies investigate.
They include the Fire Department's arson investigators, the Metropolitan Police Department's homicide section and the Clark County coroner's office.
A PMG Property Management logo appears on the Tides on the Charleston complex's website.
A voicemail to PMG Property Management seeking comment wasn't immediately returned Tuesday afternoon. PMG Property Management's website says the company is based in Scottsdale, Arizona. Multiple other Tides apartment complexes are located throughout the Las Vegas Valley.
An American Red Cross truck was parked in the complex Tuesday afternoon, and the parking lot was still flooded with water eight hours after the blaze.
Contact Brett Clarkson at bclarkson@reviewjournal.com. Contact Sabrina Schnur at sschnur@reviewjournal.com or 702-383-0278. Follow @sabrina_schnur on Twitter.
Review-Journal staff writer David Wilson contributed to this report.