4 nonstop shuttles will offer rides to Golden Knights fans
September 27, 2017 - 7:19 pm
Vegas Golden Knights fans who don't want to deal with traffic jams at T-Mobile Arena can opt for a low-cost, nonstop ride aboard a bus service that launches service on Thursday, when the team plays an NHL preseason game against the Colorado Avalanche.
Buses bearing the Golden Knights Express route name will offer rides from four pickup locations in the Las Vegas Valley for $2 per ride, according to officials with the team and the Regional Transportation Commission of Southern Nevada.
Free parking will be available at each of the pickup locations: the J.W. Marriott Las Vegas in Summerlin; P.T.'s Ranch in Henderson; Born and Raised sports bar in the southwest valley; and the Centennial Hills Transit Center in the northwest valley.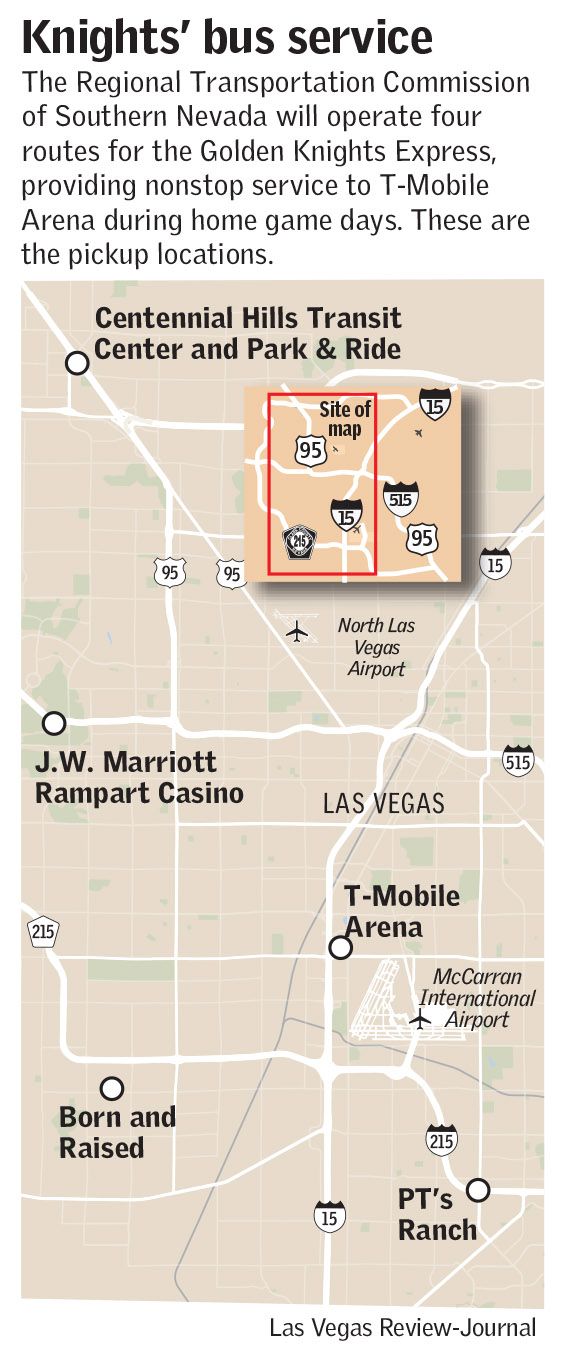 Each route will make three trips at varying times before the game to the arena, team officials said. Headed back, each route will depart 20, 30 and 40 minutes after the game. If the final trip of any route reaches full capacity, another bus will be dispatched within 30 minutes.
Bus passengers will be dropped off at the northwest corner of the Excalibur parking garage, adjacent to a designated ride-share stop for game days. From there, hockey fans will be able to take a 10-minute walk along Frank Sinatra Drive to access the arena.
The RTC will cover the $156,000 operational cost to run the special bus routes during the NHL season, commission spokesman Brad Seidel said. In turn, the Golden Knights will provide $156,000 worth of advertising and marketing to promote RTC transit services through various digital display boards, media campaigns, ticket giveaways and the team's website.
"We are committed to ensuring an enjoyable game day experience for our fans," Golden Knights President Kerry Bubolz said in a statement. "The routes offered through the Golden Knights Express will provide our fans with additional options for arriving to and departing our home games in a convenient manner."
Contact Art Marroquin at amarroquin@reviewjournal.com or 702-383-0336. Follow @AMarroquin_LV on Twitter.
Golden Knights Express routes
— J.W. Marriott Las Vegas, 221 N. Rampart Blvd., Summerlin. Departs: 2 hours; 1 hour 40 minutes; and 1 hour 20 minutes prior to game time. Length: 40 minutes.
— P.T.'s Ranch, 2430 E. Pebble Road, Henderson. Departs: 1 hour 45 minutes; 1 hour 25 minutes; and 1 hour 5 minutes prior to game time. Length: 25 minutes.
— Centennial Hills Transit Center and Park & Ride, 7313 Grand Montecito Parkway, Las Vegas. Departs: 2 hours 5 minutes; 1 hour 45 minutes; and 1 hour 25 minutes prior to game time. Length: 45 minutes.
— Born and Raised, 7260 S. Cimarron Road, Las Vegas. Departs: 1 hours 50 minutes; 1 hour 30 minutes; and 1 hour 10 minutes prior to game time. Length: 30 minutes.
Source: Golden Knights and Regional Transportation Commission of Southern Nevada