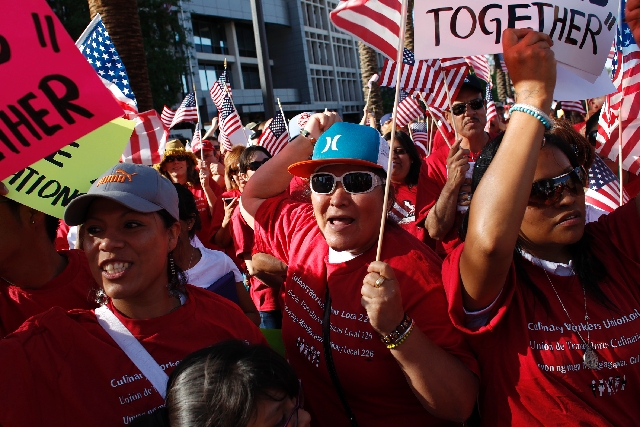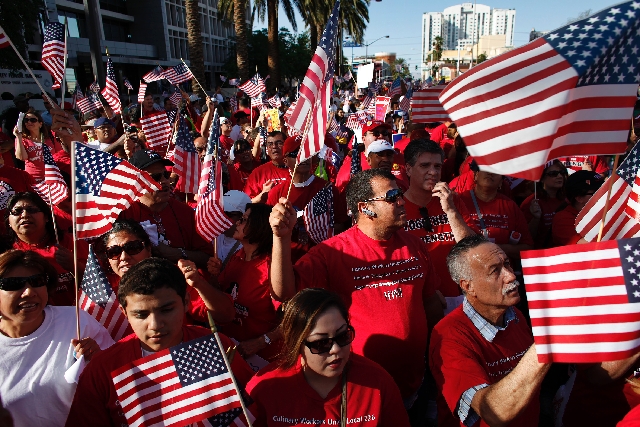 Amid thousands of cheering people outside the federal courthouse on Wednesday, a war of words began between U.S. Sen. Harry Reid, D-Nev., and a lone tea party member with a megaphone.
"Read the bill!" shouted Gregg Cummings from the curb as Reid spoke on immigration reform. "Defend the Constitution! Secure the borders!"
Reid finally addressed the man's comments, telling the crowd: "There are some people who don't want me to talk, but I'm going to talk. Drowning out voices is not going to work this time."
He then went on to say that America is a land of immigrants and now has 11 million undocumented workers. They will have the chance to become U.S. citizens under a controversial immigration reform bill now under consideration by federal lawmakers.
It has to get through the U.S. House of Representatives first, Reid said.
"This is personal to me, and it should be personal to you," he said to cheers and to chants of "Si se puede!" or "Yes, we can!"
In the midst of the chanting, supporters waved American flags and a few Mexican flags. And there were signs, dozens of them, proclaiming "Citizenship: because no person is second class" and "Teachers love DREAMers."
The scene turned into a march from the courthouse to the Stratosphere, ending without a hitch.
It was just one of dozens of marches held throughout the country.
The children of those who are undocumented, or DREAMers, talked publicly about their fathers being deported. They spoke openly about what it's like to be called "illegal." Some recited the Pledge of Allegiance before the crowd, as though in proof they knew it and love this country.
There were tales of rags to riches, rising from the depths of poverty in places like Nicaragua and Bolivia and coming to the United States.
Not since 1986 has there been such a major overhaul proposed in U.S. immigration. There have been changes, as in the Patriot Act of 2001 and the Immigration Act of 1990, but nothing on the scale that is being proposed on Capitol Hill by the bipartisan Gang of Eight, a group of U.S. senators.
It's being taken seriously by people like Salvador Zamora, who entered his 22nd day of a hunger strike Wednesday.
He, like the tea partyer with the megaphone, has been traveling the country trying to effect change.
While Cummings pushes for more secure borders and fewer immigrants living in this country illegally, Zamora is drinking nothing but water and honey in hopes that more immigrants will be given a chance to become U.S. citizens.
"It's all for the cause," said a Spanish-speaking Zamora, 51, whose last job was in Oxnard, Calif., picking strawberries.
Mexican immigrants like Zamora aren't the only ones who will benefit from the bill. It would affect people from all countries, from Mexico to the Philippines, Laura Martin said.
"This is about immigrants, all of the country's immigrants," said Martin, who helped organize the march for the Progressive Leadership Alliance of Nevada.
"There's no one group that we're particularly singling out. Immigration and immigrant labor is what makes America great. Everybody knows that."
The march was made up of nearly 30 different labor and Latino groups in Nevada — the AFL-CIO, the Progressive Leadership Alliance of Nevada and Culinary Local 226 chief among them.
"We're all here for one reason: To make sure all workers have rights in Nevada, whether documented or undocumented," said Anthony DeAngelo, communications coordinator for the Nevada State AFL-CIO, a federation of 120 unions throughout Nevada.
"Why is this march different from past marches? We've never been this close. This is going to put us over the finish line."
Contact reporter Tom Ragan at tragan@reviewjournal.com or 702-224-5512.