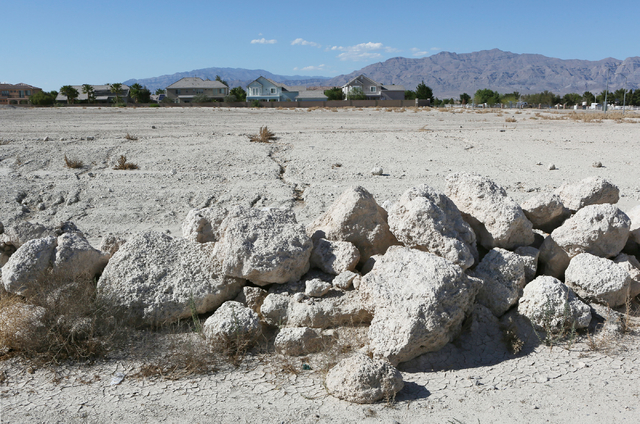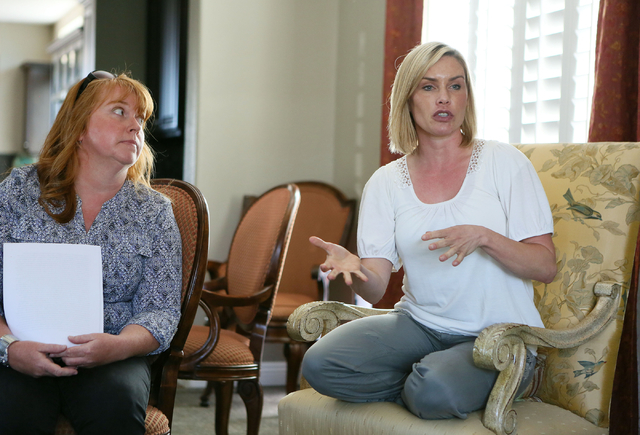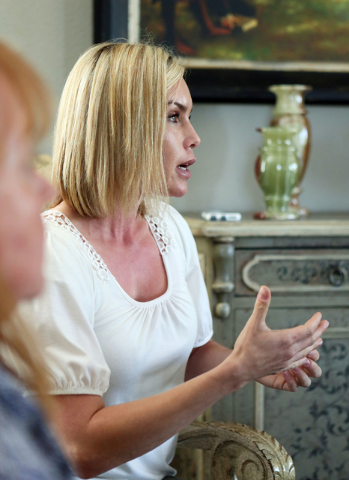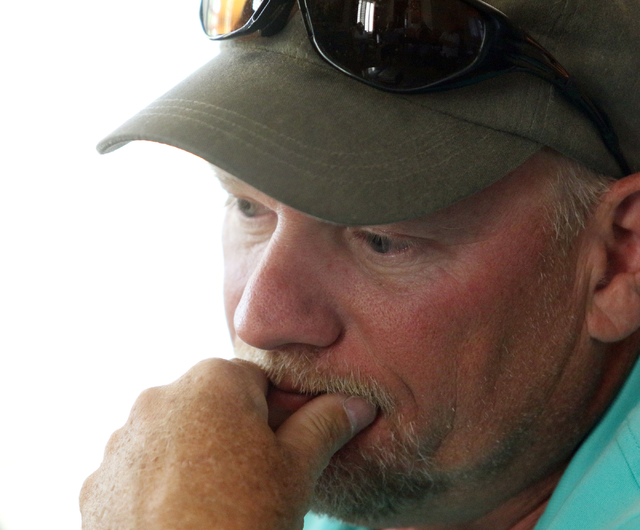 There is an idyllic quiet at Lamplight Estates. There has been nothing quiet about attempts to keep it that way.
A three-story, 261-unit apartment complex planned next door to the tiny, affluent northwest valley subdivision brought more than a dozen residents to Las Vegas' May 20 City Council meeting.
Some booed and jeered as developers presented the project. Others shouted down City Council members considering approval for the complex, a move that was eventually postponed until June 17.
Every one of the 18 homeowners in attendance spoke out against the apartments — planned near North Tenaya Way and Farm Road — which they fear will bring crime, drive down property values and attract poor, transient residents. Rents at the proposed complex would range from $1,000 to $1,400 per month.
It wasn't the first time some of those same homeowners had spoken out against a proposed development near the estates.
Six years ago, they railed against Paxton Walk, a now-abandoned mixed-use retail and housing development some have since likened to Tivoli Village just east of Summerlin or The District in Henderson.
Many residents have since warmed to that proposal, one they now see as the lesser of two evils proposed by property developers at Blue Marble Development, a wholly owned subsidiary of Shiron Development LLC.
They hope that, in the absence of reviving Paxton Walk, developers can be persuaded to convert the 10.5-acre second phase of the proposed apartment complex into "something quieter" — perhaps housing for retirees and others older than 55.
Several residents who spoke with the Las Vegas Review-Journal called on longtime Councilman Steve Ross to help lead those efforts, asking that he delay approval for the apartments until developers and Lamplight residents reach a compromise on the project. Ross, who will be termed out of council office and plans to run for a Clark County Commission seat in 2017, said his hands are tied.
"I hope you all understand, these are going to be multifamily," Ross said late last month. "There's nothing we can do to change that. The zoning is the zoning, and they received it in 2006."
Reached for comment Friday, the three-term Ward 6 councilman said he was put off by some of the "ugly stuff" Lamplight residents had to say about the apparently remote possibility of living next to poor people.
Ross expects city leaders will take action on the apartment proposal later this month. He declined to promise support for it before seeing revised site plans from the developer, though he did offer one assurance:
"I'm telling you right now, not everybody's going to be happy."
BUILDING A BUFFER
Lamplight Estates is laid out in a figure eight, with tall trees, well-manicured lawns and wood-sided houses wrapped around a lush, green pocket park. It's bracketed by large, rural horse properties and almost equally upscale subdivisions, all of which make it hard to remember you're in Las Vegas, or just about any other major metropolitan area.
This is exactly what Juliette Berkabile hopes to preserve.
Berkabile, a mother of 10 who moved into the neighborhood two months ago, soon could peek over her back wall and find a multistory parking garage where she once expected the "high-end town homes, shopping and (dining) options" pitched as part of Paxton Walk.
But things change. The Great Recession, with a still-recovering housing market, has given many developers good reason — or at the very least, good cover — to convert their blueprints into higher density housing complexes.
Blue Marble President Deirdre Waitt didn't see her company reviving plans for Paxton Walk but said it would take a look at converting part of its plan into housing for residents 55 and older.
She also noted such a move "doesn't necessarily fit" the company's marketing plan for the site, which she stressed would not be converted into low-income housing.
On Thursday, Berkabile unfurled an 8-by-4-foot white banner on her back wall. It pleads for help to stop "760 low income apartments" from going up in her backyard and lists Ross' phone number above a plea to "Demand integrity for our neighborhood!"
Berkabile is far from alone in assuming the planned apartments will be low-income despite Ross and the developers' assurances to the contrary.
Betty Johnson, a longtime resident and president of Lamplight's homeowners association, estimates home prices in her neighborhood start around $300,000 and climb into seven figures on some blocks across the street.
Johnson recently wrapped up a long-planned addition to her upscale home. Now she wonders why she bothered, given the anticipated hit to her property values.
She and others would like to see the city force developers to build buffer at least 4 feet to 6 feet tall to separate apartment residents from her neighborhood.
She sounded less enthusiastic about topping that wall with a series of wrought iron or metal-spiked palisades that Mayor Carolyn Goodman first suggested at a May City Council meeting.
RURAL CHARACTER
Just about every Lamplight resident who spoke with the Review-Journal said they moved into the neighborhood under the impression they would be living next to Paxton Walk, not a three-story "monstrosity."
So why not take up matters with Shiron Development? Why lay those concerns at the city's feet?
Residents contend the development company has been less responsive than city leaders in catering to their concerns about the project, which was narrowly recommended for denial by planning commissioners in August. Planning Board members who voted against the complex did not return requests for comment Friday.
John Haverly — a military veteran and nearby resident who has been around long enough to see developers pitch both Paxton Walk and the new apartment project — isn't too worried about the slim possibility of living next to federally subsidized housing. After all, he said, many such units are rented out to veterans.
He does think the city needs to account for the fact that some residents who could be affected by the project say they did not receive notification mailers from the city.
He said that if nothing else, city officials also need to answer calls to preserve the neighborhood's character.
There aren't a lot of places like Lamplight left, he added. And frankly, it isn't cheap to live there.
"I realize we're in a city here, but you still have that rural flavor," Haverly said. "This (project) will kill it.
"Some of us are a still a little upside-down, or a lot upside-down," he added. "The power is with the City Council. They can say no to projects like this."
Contact James DeHaven at jdehaven@reviewjournal.com or 702-477-3839. Find him on Twitter: @JamesDeHaven.