Another thunderstorm barrage hits Las Vegas Valley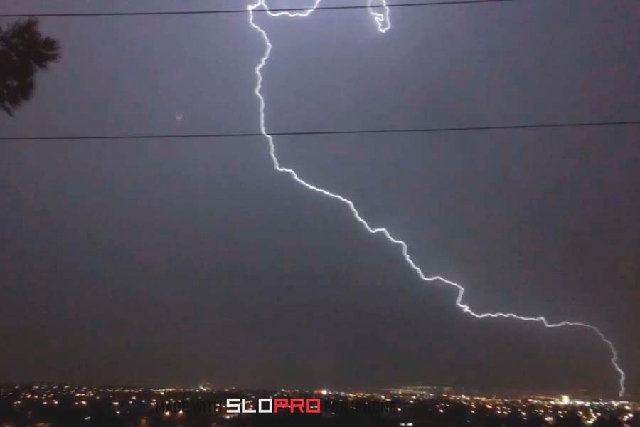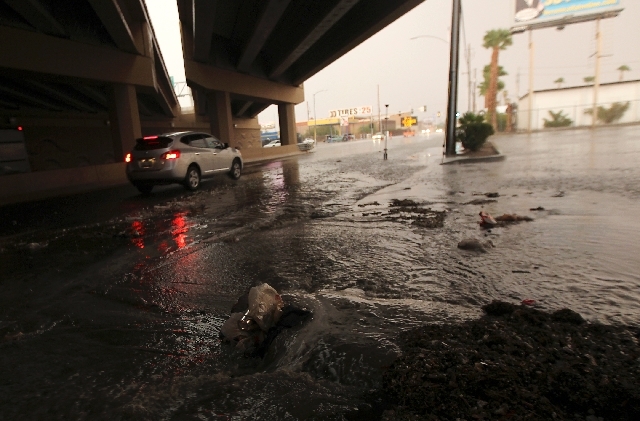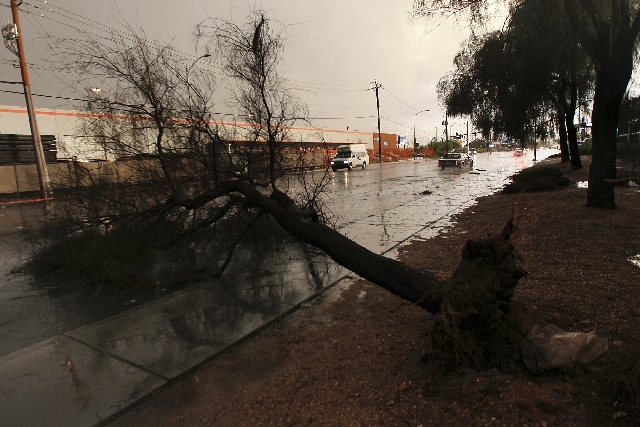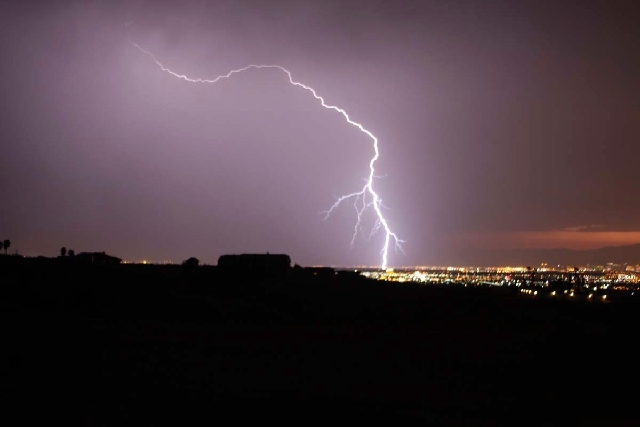 Maria Martinez, straight from the Panhandle of Texas, got a taste of that region's Tornado Alley as a monster thunderstorm struck her two-bedroom apartment near Pecos Road and Washington Avenue on Friday night.
It toppled trees, spit hail and spawned lightning and high winds, knocking out the electricity and gas at the Atrium Garden Apartment Complex, where Martinez was getting ready to take her children to a movie about a snail that crawls real fast.
"The kids were screaming, 'We're all going to die!' and I said, "No, no, no, we're not! Just get inside!" recounted a Spanish-speaking Martinez on Saturday from inside the Torrey Pines High School cafeteria, where the Red Cross opened a shelter for a few of the displaced families — an estimated 50 residents.
Well, Friday night's storm was only the beginning.
More drenching rain and powerful winds swept into the Las Vegas Valley late Saturday night.
Henderson and Boulder Highway were getting slammed by hail the size of golf balls and heavy rains, as much as 0.59 inches in a span of 5 minutes. And the winds were back, reaching as high as 61 mph at McCarran International Airport, said Ryan Metzger, a National Weather Service meteorologist.
In the Mount Charleston areas destroyed by the Carpenter 1 Fire, everything seemed to be running smoothly in all three canyons as of about 9 p.m., he said.
Lee, Kyle and Trout canyons were in stable condition and no major mudslides had been reported, although a flash flood warning was in effect much of Saturday after­noon and was extended until at least 10 p.m.
Smaller thunderstorms are expected to dampen the valley until Monday, with the chances of rain decreasing as the week progresses, Metzger said.
IT'S MONSOON TIME
The monsoon season is upon Southern Nevada.
It's that time between mid-July and mid-September when flash floods sucker punch residents, bringing high winds that aren't much different from Southern California's Santa Ana winds during the winter.
Friday's sudden thunderstorm had some serious horsepower. It blew down trees and light poles, caused gas leaks and brought more than 700 cloud-to-ground lightning strikes, as recorded by the weather service.
Michelle Knoll, spokeswoman for the Treasure Island on the Strip, said the resort's Western-themed Gilley's Bar was closed after water poured through openings in the ceiling caused by that storm.
"We had several bad leaks on the dance floor," she said.
The Clark County Fire Department assisted motorists who stalled in water on roads east of the Strip.
The storm forced the cancellation of an outdoor concert at Mandalay Bay Beach, whose long-standing motto is "rain or shine." High winds whipped sand into the faces of concertgoers and rendered the wave-maker obsolete.
Extra repair crews were working to restore power to 1,500 people in the valley as of 6 p.m. Saturday, according to a spokeswoman for NV Energy.
The northeast and southeast parts of the valley saw the worst of the storm which recorded wind gusts up to 71 mph.
The storm decreased in strength as it traveled down Interstate 15 late in the night and passed through Primm.
CAR SAVED, CARPORT LOST
A raging fire on Mount Charleston, the likes of which has never been seen in years?
Flash floods turning some Las Vegas streets into waterways?
Heck, there were even premonitions, like the one Isaac Hearne, a 79-year-old retired auto mechanic, had moments before the rain came around 7:45 p.m. Friday.
He was having his traditional Friday night root beer at the Denny's across from the Stratosphere when he got this uneasy feeling about his cherry white 1989 Lincoln Town Car.
So he beat a path in his beater Ford Expedition to save his Lincoln — and just in the nick of time.
"No sooner had I driven that thing out did I hear this bang, and a crack, and then the carport came tumbling down. The wind just tore that thing apart," said Hearne, who suspects it might have been lightning but can't be certain.
"If it was, I just missed it by the time I turned around," said Hearne, who goes by "Nolan" among friends.
"All I know is this: My car would have been demolished, and I love my car. Something was just telling me that I'd better get home, and get home quick.
"It was a premonition."
In the more than six decades that Hearne has lived in Las Vegas, he's never experienced a storm of this magnitude.
Same goes for Martinez, who last lived in Texas, in Amarillo, in an area known as Tornado Alley.
"It was just this big swirling storm of wind and water," she said as children played nearby inside the high school cafeteria. "We couldn't see a foot in front of us."
Any readers with photos from the thunderstorm are encouraged to send them to content@reviewjournal.com.
The Associated Press contributed to this report. Contact reporter Tom Ragan at tragan@reviewjournal.com or
702-224-5512. Contact reporter
Annalise Porter at aporter
@reviewjournal.com or 702-383-0264. Contact reporter Steven Slivka at
SSlivka@reviewjournal.com or 702-383-0264.