Arizona men surprised to find their Vegas wedding a public milestone
January 1, 2016 - 6:37 pm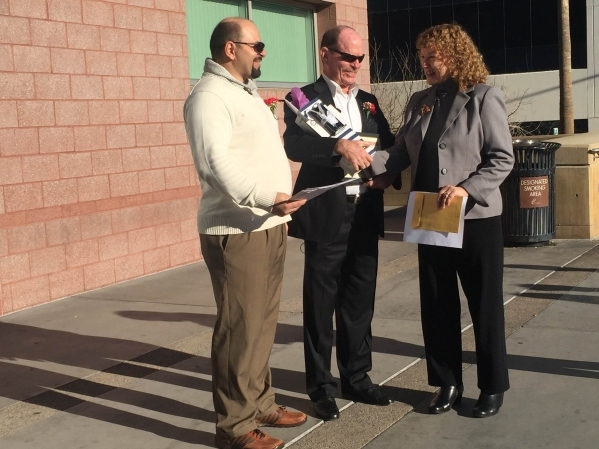 The Phoenix businessmen had planned to start the new year with a low-key Las Vegas wedding in one of the city's small downtown chapels.
Little did they know the new chapter in their history would become a milestone in Las Vegas' story as well.
Standing in line on New Year's Eve to get their marriage license, the couple noticed an air of excitement start to hum in the marriage license bureau.
Then came the explanation: "Congratulations!" said a clerk.
Ronald Bauman, 69, and Dumitru Alexeev, 35, were the 5,000th same-sex couple to get a Las Vegas marriage license.
What they'd thought would be a quiet affair became just the opposite. Just 30 minutes after they married on New Year's Day, the couple headed back to the marriage license bureau to be interviewed by media so the moment could be memorialized and marketed.
The Clark County clerk showered the couple with gifts from casinos, as well as a bottle of champagne from Clark County, but not until after television crews had picked the perfect spot for the moment to occur — one that would keep reporters' shadows out of the frame.
"Las Vegas welcomes you, obviously," Clark County Clerk Lynn Goya said after presenting the couple with their gifts as the couple held a "CONGRATULATIONS 5000th" framed certificate.
Goya said Clark County was overjoyed when the bureau was finally able to start issuing same-sex marriage licenses in October 2014. County workers had been tracking the numbers, planning to make the 5,000th couple's experience special, Goya said.
Although the milestone falling on New Year's Eve was somewhat inconvenient — reporters are busy; county workers are off — it was also a wonderful way to kick off 2016, she said.
"We welcome same-sex couples and wanted to mark the milestone and wanted to make sure same-sex couples are aware we welcome them with open arms," Goya said. "It's a wonderful celebration, and I think everybody is happy that we have a new market to market to and that raises the profiles of weddings in Las Vegas because it's still the best place in the world to get married. And I think this shows how welcoming the community is for all couples."
Bauman and Alexeev have been together for five years. They met shortly after Alexeev moved to Phoenix from his home country of Moldova, where he'd worked at an orphanage.
Bauman hadn't been to Moldova, but knew Eastern Europe well. He was also passionate about working with children, serving on the board of the YMCA for 20 years. The two found they had much in common, even though they operate differently. Alexeev is an extrovert and Bauman is more of an introvert. Within six months, Bauman ended up joining his future husband in Moldova so he could visit with his grandmother on her deathbed.
The trip drew the two closer together.
On Friday, standing in front of news cameras and trying to explain their story, the couple appeared bemused by the sudden attention. Alexeev took the lead, explaining that being No. 5,000 was a blessing and the gifts were wonderful. In between the questions the two locked eyes, chuckling to themselves at the fanfare.
Reporters inquired if anyone had taken photos of the special day. The couple had one cellphone photo Alexeev offered.
"We'll take it!" a television reporter said.
Then, Alexeev remembered their wedding package had come with a DVD. Bauman appeared nervous about the idea of handing the couple's wedding memento off to the media, but left negotiations up to his husband. Alexeev smiled as he started to explain the professional quality of the video.
The two men stood, bathed in sunlight, red rose boutonnieres pinned to their chests, chatting with the television crews about how to best make public the private moment that had occurred just a half-hour earlier.
Contact Bethany Barnes at bbarnes@reviewjournal.com or 702-477-3861. Find her on Twitter: @betsbarnes.